ECNL announces 2017-2018 Overall Club Championship results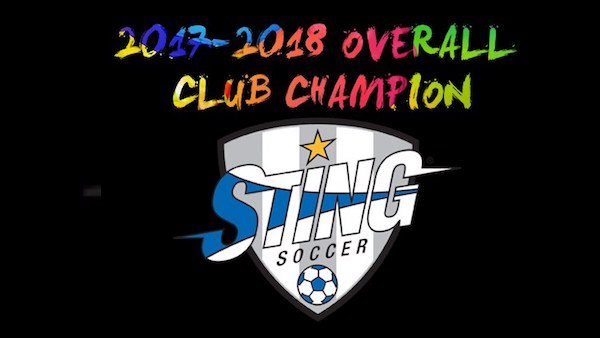 RICHMOND, VA (Via ECNL) – The ECNL Overall Club Championship is the most coveted award in the Girls ECNL, as it recognizes consistent excellence across every age group through the season.  This season, this prestigious award has been claimed by a new winner – Sting Dallas.
Sting Dallas is a founding member of the Girls ECNL, and has finished in in the top 25 of the Overall Club Rankings every year in the league, including four top 10 finishes. Leading the way for the club in 2017-18, the U14, U16 and U17 teams finished first in the Texas Conference, while the U18/U19 finished second and the U15 team finished third.
Sting Dallas was one of only three Girls ECNL clubs to qualify all five age groups into the Champion's League Playoffs this season, with the Girls ECNL U14 team advancing to the Girls ECNL Finals in Richmond, Virginia last week. The Sting Dallas U14 team went on to earn third place at the 2018 ECNL National Finals.
+Photo Gallery: 2018 Girls ECNL National Finals
"Our position to be an "All-In" ECNL Member Club has been the right decision for us from day one. To finish as the overall club National Champion affirms the commitment from our staff and the Sting organization to the league," Sting-Dallas Director of Coaching, Kenny Medina, said about their ECNL Overall Club Championship. "The competition we faced through conference play, national events, and through the national playoffs and finals was tremendous. It's this competition that continues to propel our players and teams to excel, and this honor is evidence of that. We are so proud of the teams, the staff, the administration, and all the supporters of our players, and our organization, that have made this possible, it's truly a team effort."
Congratulations to Sting Dallas for this fantastic accomplishment, as they join a prestigious club of previous winners (2015-16), Michigan Hawks (MI) (2016-17, 2014-15), PDA (NJ) (2012-13, 2013-14), Slammers FC (CA) (2015-16, 2011-12), and Eclipse Select (IL) (2010-11).
+READ: Boys ECNL announces 2018-2019 club membership
Girls ECNL Crowns 2017-2018 Champions League National Champions



The Girls ECNL Champions League is one of the most difficult and demanding female youth soccer competitions in the world, requiring consistent performance at the highest levels throughout the entire year, against the most competitive teams in the United States. Teams that win the Girls ECNL Champions League have proven over 12 months to be the best teams in American female youth soccer.
The 2017-2018 Girls ECNL Champions League National Champions are:
U14 – MVLA SC
U15 – Slammers FC
U16 – So Cal Blues SC
U17 – So Cal Blues SC
U18/U19 – McLean YSA
Congratulations to these teams and players for their achievements. A special congratulations goes to both MVLA SC and McLean YSA for claiming their first ever ECNL Champions League National Championships.