California clubs sweep U14-U17 ECNL National Finals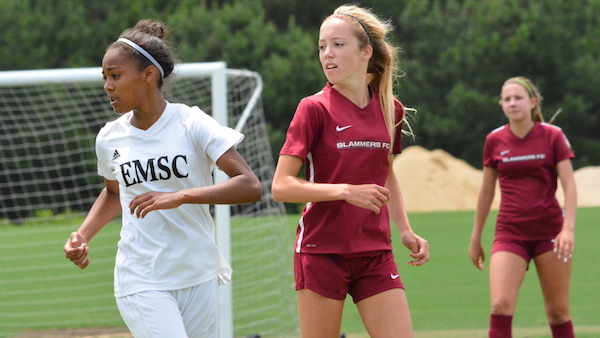 The ECNL wrapped up the 2017-2018 season over the weekend with the National Finals in Richmond, Va. As sides competed across the U-14, U-15, U-16 and, U-17 age groups for top honors, tensions were high as were the emotions.
Both tears of joy and sadness were shed at West Creek Park on Saturday as some players, coaches, and parents celebrated victory while others contemplated finishing second, third, or fourth. While only some walked away with silverware all earned the respect of the spectators watching for their hardwork, determination, and desire to succeed.

+Full ECNL National Finals Results
U-14
Champion: MVLA | Finalist: FC Stars
MVLA claimed top honors in the U-14 Champions League over the weekend with two close wins. On Friday, the Northwest Conference side defeated San Juan SC 3-1 with a hat trick from Amalie Pianim (30′, 35′, and 81′). She received help in her attacking efforts with assists from Joelle Jung (first goal), Charis Toney and Allison Montoya (second goal), and Freya Spiekerkoetter (third goal).
In the Finals, MVLA faced an FC Stars side that had given up just four goals in five games. But MVLA hit the Stars early and often, earning a 3-1 win to capture the Champions League crown. Leah O'Brien struck first in the eighth minute, finishing off a pass from Montoya to give MVLA the early 1-0 advantage. After netting two assists in two games Montoya opted to take a chance at goal herself, scoring in the 11th minute to make the lead 2-0. Pianim added a third in the 30th to put her side ahead for good. Stars get one back in the final ten minutes of the match but it was too little, too late.
+READ: ECNL announces 2017-2018 Overall Club Championship results
Sting Dallas finished in third place after having defeated San Juan 3-0. Although their 2-1 loss to Stars on Friday (with Kennedy Clountz scoring for the Sting) will certainly be on their minds in the offseason their players put on an incredible show during the National Playoffs and Finals, having scored 15 goals throughout the tournament. Their high-powered offense was on full display against San Juan with Clountz, Bibi Mata and Leah Diaz each scoring for the Sting.
What a day it was here in Richmond on Championship Day at the #ECNLFINALS!

Let's take a look back on the great day that was!!!! Congrats to all the victors! #GAMECHANGER pic.twitter.com/WSMuzdQQU3

— ECNL (@theECNL) July 7, 2018
U-15
Champion: Slammers FC | Finalist: East Meadow SC
Anytime a tournament can end with a Gatorade bath is a sign that it was a pretty good tournament. On Saturday afternoon Slammers FC and their head coach Walter Camargo closed out the ECNL U-15 Champions League tournament with a 2-0 win over East Meadow SC. For their hard work, Slammers earned a prestigious ECNL Championship and Camargo was able to cool off with a bucket of lemon lime sports drink.
Both clubs entered the match having grinded through their semifinal match-ups. Interestingly enough in penalties their scorelines mirrored one another with both sides defeating their opponents 4-2 in sudden death. Slammers drew 1-1 with Strikers FC to force extratime while East Meadow tied Crossfire United 4-2.
In the final though neither side looked for penalties instead taking it to each other from the start of the first half. Both sides would trade attacking chances until the Slammers Kaitlyn Pakua slotted home her chance, after picking up a rebound inside the box, in the 30th minute to give her side the 1-0 advantage.
While play had been rather even until that point with both sides getting their fair share of chances it was the Slammers were forcing East Meadow more into their defensive, persistently following their opponents and forcing multiple intercepted passes. Their determinism was not lost on their coach Walter Camargo post-match.
+Photo Gallery: 2018 Girls ECNL National Finals
"We have been working on that in practice non-stop," said Camargo. "Those second chances you never know if a goalie drops a ball what can happen.  But we have been working on it, practice after practice so to see that and to execute that and to get the rebound and the goal was big time for us."
In the second half, East Meadow ramped up their attacking efforts early in the hopes of earning equalizer and changing the course of the match. They continued their pattern from the first half of using their speed down the right flank to try and open up Slammers tightly knit defense. Goalkeeper Grace Koslinski contributed a world class save in the 60th minute, and helped organize the dominant Slammers back line. On the day, the Slammers defense limited Meadow's ability to create chances within the box, which in turn allowed their side build plays from the back.
"Our defense has been tough all year," said Camargo. "They have already been in some pressure moments in the semifinals and in the quarterfinals so they've been there. They kept things compact and got the job done for us."
Slammers' hard work on the defensive end would pay off by giving them additional opportunities on the attacking end to put the game away. In the 84th minute of the match, McKenna Pua connected on a corner kick from one of her teammates at Meadow's backpost, cooly tapping in the insurance goal that would see the Slammers through.
+READ: Girls ECNL announces club membership list for 2018-2019 season
2-0 has often been said to be one of the most leads to hold on to and Meadow certainly put that to the test late, creating several attacking chances that appeared to be goalbound. But the Slammers defense held firm earning the shutout.
"It was a hard fought match," said Camargo on Meadow. "We already knew coming into this tournament that Meadow was a tough side and that it was a team that we could possibly face for the championship. They are fast, technical, fit, a good balanced team. So we knew we had to bring our 'A' Game."
With the win Slammers added another chapter of success to their program, which includes 20 national title appearances. For the club winning certainly adds to their storied history. "[Winning this title] brings [our club] happiness, it brings joy, and continues the tradition of Slammers FC. To raise a national championship brings so much to our club."
U-16
Champion: So Cal Blues | Finalist: San Diego Surf
Winning one ECNL title is pretty difficult and two is even more challenging. But winning three? That is near impossible. But as the So Cal Blues U-16 side have proven all season, nothing is impossible if a team can work together. In the ECNL U-16 Final, the Blues capped off their incredible season with a 2-0 win over their in-conference rivals, San Diego Surf.
So Cal pressed the Surf defense down the flank at the start of the first, hoping to use their advantage in speed to get an early goal. In just the sixth minute of the match, So Cal's Reilyn Turner ripped off a half volley just inside the box that forced the San Diego Surf goalkeeper to make an emergency stop. They wouldn't be so lucky six minutes later when on a counter-attack Alexandria Wright broke past their defense and hit a low shot into the back of the net.
"I thought they came out and played very, very strong," said So Cal assistant coach Randy Dodge after the match.  "From the opening whistle they set the tone. Being the defending champion and stepping into another final they invoked their will on them and it was a great game."
Up a goal early, the So Cal defense recognized that the pressure would be coming and thus set up a highly organized back four that limited possession in the middle. Center-backs Marisa Bubnis and Rachel Bastone made several decisive clears inside the box to limit the work of their goalkeeper Shelby Kain. Meanwhile, outside backs Lily Shea and Abby Lynch to go wide, often boxing out wingers near the corners and thus ending their attack.
+READ: Girls ECNL / United Soccer Coaches All-Conference Teams announced
"Marisa Bubnis and Rachel Bastone did a fantastic job and they are two of the best center-backs in the country," said Dodge. "They locked things down and we had Lily Shea in there, Megan [Chelf]  did a great job in there, Abby [Lynch] did a great job in there. Everybody that played on that backline was able to weather their storm and threw everything they had at them." 
As they had done in the first half, So Cal took to the attack early in the second half using the speed of Wright to disrupt the San Diego defense. In the 48th minute, she earned her brace, crushing her chance past the goalkeeper to give So Cal the 2-0 advantage. So Cal was thrown a bit of a wrench late in the second half when Kain was taken off due to an injury. But substitute Lynette Hernaez was more than up to the task, making three quality saves late to keep Surf at bay.
"Credit to Surf because they took a lot of our punches and we were able to get two really great goals by Lexy [Alexandria Wright] that really changed the tone of the game," said Dodge. "Then we held on, we defended well, and we cleaned things up in the second half."
For Dodge, the success of this side through the years in the ECNL is a testament to the relationship between the club's head coach Greg Baker (who was coaching the U-17 side in their Finals at the time of the U-16 trophy presentation) and the players.
"They are a byproduct of Greg Baker and Greg has put together two really great clubs at 2001 and 2002," said Dodge. "He coaches with passion and he loves his kids and our club is a by product of all that he has done. So props to what he has done and to our parents for believing in what he wants to do with these kids."
U-17
Champion: So Cal Blues | Finalist: Davis Legacy
The So Cal Blues claimed the U-17 Champions League title with an emphatic 4-0 win on Saturday over the Davis Legacy. The victory continued a strong run for So Cal in this year's competition which saw them go undefeated through all six matches and yield just three goals to their opponents. They reached Saturday's final having defeated Mustang SC 4-0 in the semifinals.

And the U17 @socal_blues are champions, joining their 16s in the Winner's Circle, today. They defeat @davislegacy, 4-0, to claim the title.

Congrats to the team and the club on a great day! #ECNLFINALS pic.twitter.com/9JIHqnWaWK

— ECNL (@theECNL) July 7, 2018