Eastside FC '98 girls win Washington's first national title in 14 years
By Liviu Bird
The Eastside FC 1998 Red girls defeated YMS Xplosion '98 (Eastern Pennsylvania), 2-1, on Saturday to earn the under-14 title at the U.S. Youth Soccer National Championships.
Joanna Harber scored in the first half to give Eastside the lead, and Ellie Bryant added a second four minutes after halftime to double it. Julia Lindsey pulled one back for YMS with 10 minutes left, but her team could not find another late breakthrough.
"The girls were able to pull together against a really good team," head coach Tom Bialek said in a Washington Youth Soccer press release after the game. Bialek is one of the club's directors of coaching, a former University of Washington player who won national championships as a professional with the Seattle Sounders (A-League) and SeaDogs (Continental Indoor Soccer League).
Eastside goalkeeper Molly Monroe did not concede a goal until the final. She anchored a back line that gave up just five goals in 16 games throughout the championship series, from state to regionals to nationals.
Incoming Bellevue High School freshman Harber scored four goals to lead all four teams, continuing her pace from the state and regional events. She also scored five goals at the state tournament.
"I am proud of the team and the accomplishment," she said. "I am so happy to be a part of this team."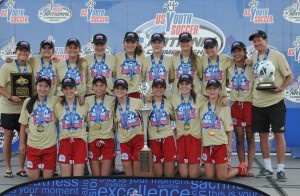 In its five previous years, Michelle French coached the team. She left in February to take the head coaching job for the U.S. U-20 women's national team.
"[I'm so] proud of team and their accomplishment," French said. "The grit, determination and overall passion the team displayed throughout the entire tournament was outstanding. It is an incredible accomplishment for an incredible coach, team and group of families."
The road to Overland Park, Kan., started in Eastside's backyard at the 2013 Washington State Championships. After cruising through their group with three wins, scoring nine goals and conceding zero in the process, the Reds put away their quarterfinal and semifinal opponents just as easily.
But in the final, they lost to Washington Rush, 6-5 in penalty kicks after a 0-0 tie. Thanks to a wildcard, the team knew it would be headed to Regionals either way before the state final kicked off.
The Region IV Championships provided a tougher test. After breezing past the Alaska Rush 3-0 in its first group game, Eastside tied La Roca FC (Utah) and Ahwatukee Foothills SC (Arizona), advancing to the quarterfinals on goal difference.
The next two matches were one-goal nail-biters, as Eastside beat Colorado Storm North and Pride Predators (Colorado) to set up a rematch in the final against La Roca. This time, Eastside won comfortably, 3-0.
Between the regional final and the first match at nationals, the team bonded during a trip to Camano Island, northwest of Seattle. Players also created a music video set to a local favorite artist's song: Macklemore and Ryan Lewis' "Can't Hold Us."
"The secret to their success has been their ability to stay loose and have a lot of fun," Bialek said. "They do not take it too seriously and know how to compete very hard when it is time."
After a month of waiting for the first match in Kansas, Eastside jumped on the competition. However, 2-0 and 1-0 wins in the first two matches weren't enough to secure a spot in the final — Harber scored all three goals — but a 0-0 tie against Trophat (Georgia) in the last group game was.
In the national final, Eastside defeated YMS Xplosion for the second time in the tournament.
Eastside became the first Washington team to win a U.S. Youth Soccer national title since the U-18 boys of FC United (since absorbed by Washington Premier) in 1999. Before that, FC Royals (also now Washington Premier) won the U-17 and U-18 girls divisions in 1996, and Goalpost of Federal Way was the first Washington club to win one, at the U-16 boys level in 1983.