Eastern Illinois University announces Ronnie Bouemboue as men's soccer head coach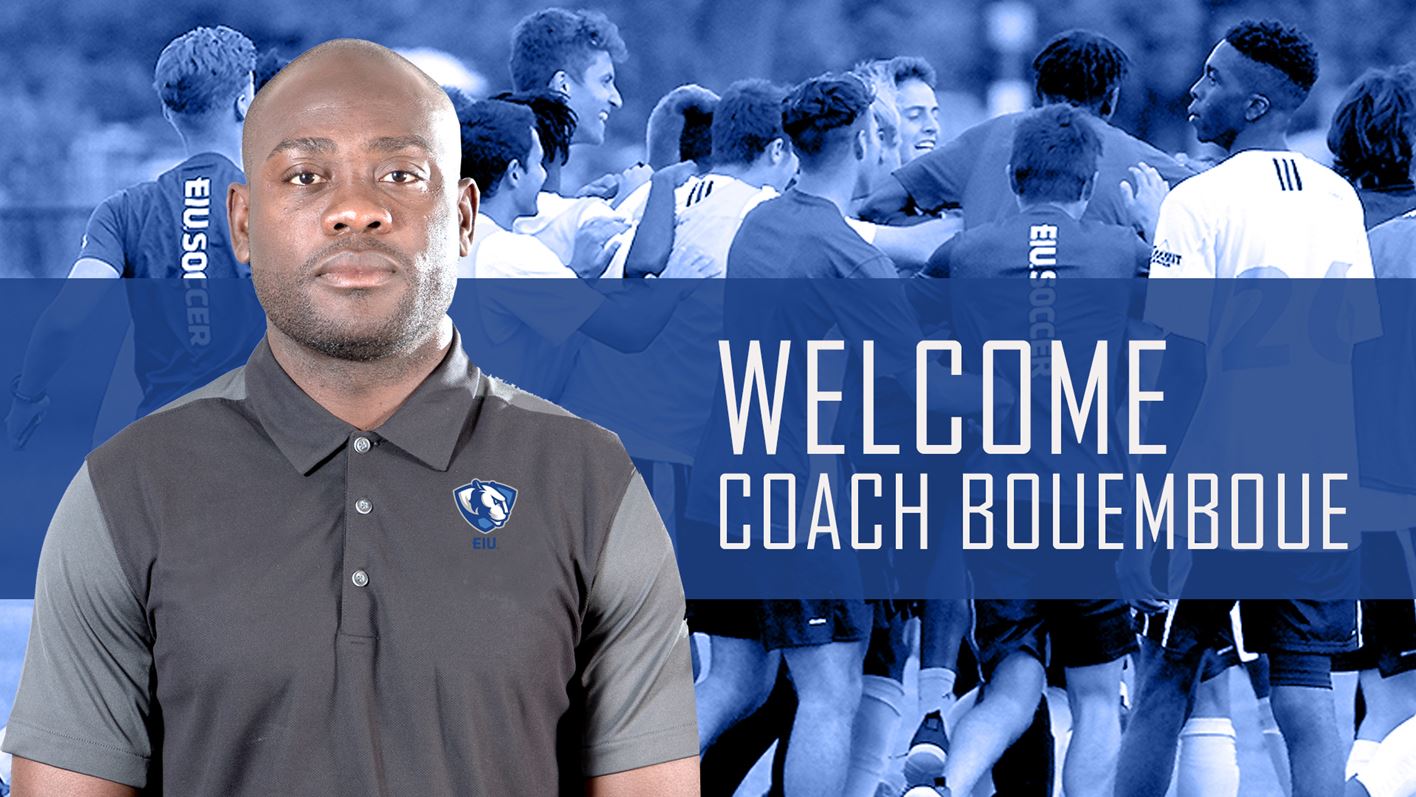 Eastern Illinois University Director of Athletics Tom Michael has announced the hiring of Ronnie Bouemboue as the Panthers new men's soccer head coach. Bouemboue becomes the 10th head coach in program history.
A highly-regarded rising coach, Bouemboue was recently selected to participate in the 30 Under 30 Program sponsored by the United Soccer Coaches.  He was one of fifteen selections for the program from more than 350 applicants in the United States.
Bouemboue comes to EIU following four seasons as the head assistant coach at former Summit League rival IUPUI.  During his time with the Jaguars program he helped them transition from the Summit League to the Horizon League which included making the Horizon League conference tournament in 2018, the first post-season appearance for the program since 2013.   Bouemboue has been instrumental in helping build the IUPUI program not only on the field but also in the community and classroom.  During his time with the Jaguars they had two Horizon League All-Freshman selections, eight academic all-conference selections and have completed over 300 community service hours annually.
"First off, I want to thank my family for all of their continuous support, President Glassman, Athletic Director Tom Michael, Sr. Associate Athletic Direct Mark Bonnstetter and the search committee. I'm beyond excited and look forward to leading the men's soccer program here at EIU," said Bouemboue.  "I chose EIU because the words resilience and relentless kept ringing in my mind throughout the interview process. EIU showed me that as a university and athletic department, they are resilient and relentless in the pursuit to be a top regional institution and provide a quality student-athlete experience. I look forward to contributing to those efforts and to continue to build on the  success of this program.
"We are excited to welcome Ronnie to our EIU Panther family," said Michael.  "We had strong interest in the head coaching position for our men's soccer position which says great things about where our program stands.  During the interview process, both on the phone and on-campus, Ronnie's qualities as both a great soccer mind and a great person were evident.  With his experiences both as a player and the programs he has learned under, I'm confident that he will continue to build upon the foundation that has been put in place over the past several years here at EIU."
A former All-ACC performer at North Carolina State, Bouemboue began his coaching career as the director of soccer operations at NC State from 2010-13.  He would later return to the program as a volunteer assistant for the 2016 season prior to joining the staff at IUPUI.   Bouemboue served as an assistant coach for one season at Bradley between his two stops at NC State.  During the 2013 season, Bradley advanced to the NCAA College Cup after winning the Missouri Valley Conference championship.
In addition to his coaching at the collegiate level, Bouemboue has been actively involved with the development of young players and clubs in the areas in which he has lived.  In Indianapolis he was co-director of the Square Mile Soccer Academy while in Peoria he was camp administrator for the Central Illinois Soccer Academy.
Bouemboue holds both a Bachelor's (2008) and Master's (2013) degree from North Carolina State where he played for the Wolfpack from 2005-09.  During his time he was a two-time All-ACC selection while earning All-Freshman team honors in 2005.  NC State made NCAA College Cup appearances in 2005 and 2009 with Bouemboue on the roster.  In addition he was a two-time team captain and two-time Academic All-ACC selection.  As a senior in 2009 he was a Lowe's Senior Class Award Finalist.  Following his collegiate career he was invited to the MLS Players Combine in 2010.