Dure: NWSL can't remain subservient to national teams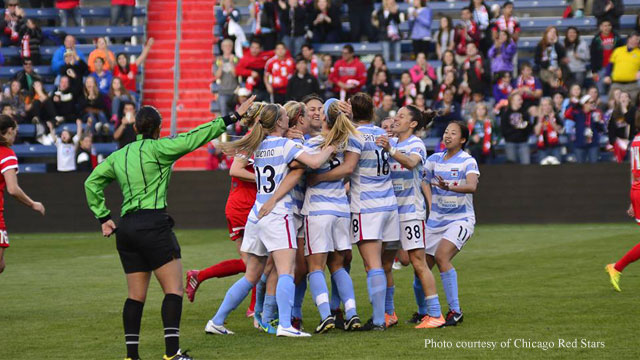 Want to know how much the NWSL means to its rank-and-file players as it enters Year 3?
Check in at Houston, where Dash players are taking their practice-field competition to the front office, picking up the phones and selling tickets for Friday's season opener against Washington.
"I had a lot of fun in the office competing and trying to sell tickets," Houston forward Kealia Ohai said on this week's NWSL season-preview conference call.
Her teammate Stephanie Ochs may have had an unfair advantage, teaming up with Houston Dynamo and U.S. men's national team veteran DaMarcus Beasley:
Only a few days left 4 the @HoustonDash opener. Remember to buy your tckts here https://t.co/NHNTsYTe9h PW:beasley help @stephochs7 n I win!

— DaMarcus Beasley (@DaMarcusBeasley) April 7, 2015
But Ella Masar was the leader in the clubhouse, according to the Houston Chronicle:
Masar and her Dash teammates went into the club's ticket offices for two hours last week to call fans. Masar proved to be the top seller while bringing in nearly $2,500 in two hours.
"I see that you were a season-ticket holder last year," Masar would say. "Remember the girl that took her shirt off? Yeah, well, that was me."
Yes, some players are stepping away from the game in their mid-20s, no longer finding it prudent to put off academic and business ambitions for four-figure salaries and temporary housing with a random host family.
But some players are clinging to this league like a lifeline, willing to play as amateurs for a reserve team so they can get a couple of games with the pro team while national teamers are busy with the Women's World Cup.
Just check the middle school field in Northern Virginia, where the first members of the Washington Spirit to turn out for a clinic with a local youth club included people who aren't under pro contract. No matter. Their warmups said Washington Spirit. Coach Mark Parsons introduced them with the same enthusiasm he mustered for well-traveled midfielder Joanna Lohman or recent national team call-up Tori Huster.
+READ: Washington Spirit open NWSL season in Houston on Friday [Live Stream]
But to flip a popular (if imprecise) inspirational legend, the same word for "opportunity" can also mean "crisis." In this case, that crisis is the fact that international play so thoroughly overshadows the professional game.
NWSL commissioner Jeff Plush sees the glass as half-full. The league once again is entering a season without a national broadcast deal — in its first two seasons, broadcasters have picked up games later in the season — but he thinks that'll be a good thing in the long run.
"There's a lot of excitement about our kickoff to the third season, but there's also the World Cup [to boost interest]," Plush said. "I'd imagine our television deal — a large focus of it will be on the second half of the season."
The current national teamers need these players to challenge them. A hard-fought NWSL game is better for national teamers' sharpness than a cakewalk friendly.
Yet Plush's league also has to deal with extended national-team absences. Mexican national team players may not report to their NWSL teams until late July. U.S. players missed the entire preseason to participate in the Algarve Cup and then a friendly vs. New Zealand that didn't tell Jill Ellis much more about her team. Then they'll have friendlies May 10, May 17 and May 30 in advance of the World Cup, which starts June 6.
+READ: USWNT cruises to 4-0 win over New Zealand
By comparison, the U.S. men left MLS early last year but didn't play a friendly until May 27, with the World Cup kicking off June 12. European men kept playing club soccer longer — England's FA Cup final was May 17, and the Champions League final was May 24.
In men's soccer, players sometimes retire from international soccer and continue playing club soccer — Brad Friedel is still under contract with Tottenham Hotspur a decade after his final appearance for the U.S. men.
Women's soccer has often been the opposite. In years with no clear-cut first division in the USA, many U.S. women have opted for residency rather than club soccer. Even this year, Abby Wambach won't be playing in the NWSL this season, and some players might not return from the World Cup.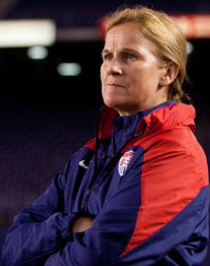 The NWSL could make a few changes. Maybe it's time to go to a Bundesliga-style schedule, taking a two-month break. But that could hurt the non-international players — the ones taking the phones in the ticket office or training wherever they can be seen for a possible first-team call-up. They need other jobs to make ends meet.
And this league is about them.
The NWSL exists to grow women's soccer's fan base and its player pool. The fan base is getting there — though attendance is spotty in some cities, the league seems stable, and Plush spoke optimistically of possible expansion. The player pool is not getting there, as Ellis has reversed Tom Sermanni's efforts to call in more NWSL standouts to the national team.
+READ: Sources: Other USWNTers to follow Abby Wambach's lead, skip out on NWSL's summer schedule
And the current national teamers need these players to challenge them. A hard-fought NWSL game is better for national teamers' sharpness than a cakewalk friendly.
So this league, while apparently stable, needs to grow. It needs to give more players an opportunity to play and more fans an opportunity to get engaged. It cannot remain so subservient to the international game.