Dreadlocks holiday: Kyle Beckerman's late, unexpected World Cup arrival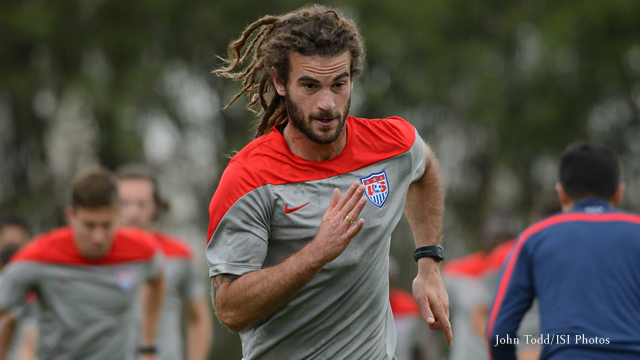 NATAL, Brazil – Jurgen Klinsmann, like most international coaches, hardly ever reveals anything about his starting lineup before an important match.
But those who've grown accustomed to reading the U.S. Men's National Team head coach's tea leaves detected a hint of a clue in one of the German-American's answers at Sunday's press conference on the eve of his team's World Cup match against Ghana at Arena das Dunas.
It's still just an educated guess, but it sounds like Kyle Beckerman will start against the Black Stars.
[ +READ: World Cup: "Ghana is the more talented team," says Gyan ahead of USMNT clash ]
"Kyle is a very special player in the way he kind of brings himself into the whole team concept. He's a giver, we always discuss that," said Klinsmann when asked why he brought the veteran holding midfielder back into the USMNT setup when he took the head coaching job in 2011, ending Beckerman's two-year absence from the international level.
"He's there for his teammates, he's cleaning up in front of the back line, he's there when you need him," added the coach. "And those are very rare players in the way that Kyle is doing it."
Klinsmann, in his classic style, didn't actually answer the question directly. But the readiness with which he showered praise on Beckerman – a player who barely a year ago looked like a 50/50 bet to even make this World Cup roster – suggested that the dreadlocked 32-year-old from Maryland will get the call in his first-ever experience on the planet's biggest stage.
Context for that moment from Sunday's press conference comes from the USMNT's 2-1 friendly win over Nigeria in Jacksonville, Florida on June 7, the team's last match – and best performance – before their departure for Brazil.
That afternoon Beckerman anchored the midfield of a new "Christmas Tree" formation, protecting the USA's unproven back line and freeing Jermaine Jones, Michael Bradley and hybrid winger Alejandro Bedoya to roam from box to box in both directions ahead of him. The U.S. possessed the ball with purpose, limited their African opponents' looks at goal and crafted perhaps the most attractive goal of the Klinsmann era, a purposeful 14-pass buildup started by goalkeeper Tim Howard and capped by a tap-in from striker Jozy Altidore.
"Michael and Jermaine have a lot of different tools. One thing about playing Kyle in there is that he frees those guys up," Howard said last week. "Kyle is probably the most natural No. 6 we have, and I think Michael and Jermaine will tell you that – they have tools that can be used on the flanks and going forward. Obviously they help out defensively, but with Kyle you always have that rock.
"So I think that allowed us to get higher up the field, not only with the goals, but allowed us to press higher, recover balls quicker. It was good."
After months – years, actually – of fans and pundits fretting over how Klinsmann would make his preferred Jones-Bradley pairing work in central midfield, the coach has suddenly stopped seeing Beckerman as that duo's competitor for playing time, and started using him as their facilitator.
Was it the results? Last year the USMNT went 8-0-1 in matches Beckerman started, a span comprising six Gold Cup games, two World Cup qualifiers and a friendly. Or perhaps it was personal comfort: Klinsmann has gushed often lately – "He's just a positive nature, 24/7," he said on Sunday – about the Real Salt Lake man's hard work and selfless ethos.
[ +READ: MLS, USMNT star Kyle Beckerman honors 7th-grade social studies teacher ]
More likely, it was the aesthetics. While Jones and Bradley have been treated as d-mids ("No. 6s") by their club managers, in the U.S. setup they now serve as "No. 8s," rangy greyhounds who push into more advanced positions in support of the front line and the overlapping fullbacks. And Beckerman, a disciplined, sound-decision-making safety net, lets them do it.
"Maybe for the Brazilians to have a comparison, it's definitely Dunga from the '94 team. He just cleaned up things in front of the back line and just played simple passes, he passed them on to the creative players," said Klinsmann, rather stunningly comparing Beckerman to the captain of the 1994 World Cup champions.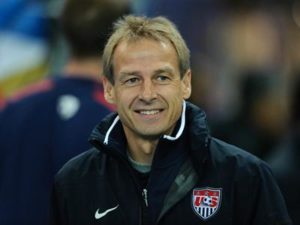 "Dunga was never the creative one but he organized the whole orchestra … That's these special roles for No. 6s. No.6s are sometimes described differently. I think Michael Bradley is a player that can go both ways, but Kyle is more likely one that, we want him to sit there, we want him to protect his back line and just get his job done. And this is what he is doing, every game."
Beckerman has become, to borrow a term from other U.S. sports, the 'glue guy.'
"Kyle is a guy, he loves to make the 'shit work' for the team," said Jones outside the USMNT's hotel in Sao Paulo on Friday. "He's always one of the guys who pushes the team, pushes the players to never give up and sometimes you need that kind of players on the team. Outside of the pitch, he's a really quiet guy, sometimes he makes a joke and everybody's like, 'Oh, Kyle, are you here?' He does a really nice job.
"He's the guy who always gives us the back[ing] that we can go in front and don't care so much to come back, that he's the guy who stays."
If Beckerman really has become essential, and not merely the subject of kind words from his co-workers, two incongruities stand out prominently.
[ +READ: World Cup gives MLS a chance to show what it's made of ]
First is the fact that Klinsmann tried to do something just like this earlier in his tenure, shoehorning Danny Williams into the midfield alongside Jones and Bradley in an attempt to maximize the USMNT player pool's area of strength. It didn't work. The team lacked width and fluidity, holding plenty of possession but little incision – and it helped create the low-water mark of the current World Cup cycle, the 2-1 loss at Honduras on February 6, 2013.
Second: Beckerman appears to represent Klinsmann's view of "the worst of both worlds" when it comes to American players. He's never tested himself overseas at a foreign club, having served with distinction for three MLS team since graduating from the inaugural class of U.S. Soccer's Bradenton Residency program – alongside bigger names like Landon Donovan, DaMarcus Beasley and Oguchi Onyewu – in 1999.
He's nowhere near as big, fast or powerful as Jones, and he doesn't pass with Bradley's range. On paper, he doesn't even match up well with U.S. midfield counterparts like Williams or Maurice Edu; his contributions are more cerebral.
Many wrote him off as an international-caliber player way back in September 2012, when he took a big share of the blame for Jamaica's 2-1 comeback win over the USMNT in a qualifier in Kingston. (It was his foul that set the stage for the deflected free kick that wrongfooted Howard on the Reggae Boyz' first goal.)
Now, 20 months after that rough night, three years after his national-team exile ended and 15 years after he and his Bradenton classmates nearly won the FIFA U-17 World Cup and gave U.S. Soccer a glimpse of what was possible with rising young talent, Beckerman is poised for the biggest moment in his career.
"I always wished it happened a little earlier, but it just happened the way it did," he told the Washington Post of his international breakthrough last month. "I told myself to stay ready. At times, I didn't think about it. It wasn't realistic. I didn't have a chance. So when Jurgen started calling me in, I felt this is an opportunity I can't let slip."