Amid World Cup's uneven refereeing, can USMNT dodge officiating bullets?
NATAL, Brazil – It's become an unwelcome World Cup tradition: Every four years FIFA issues new directives to the tournament's referees, and every four years at least a few games are affected by the officials' inconsistent, if earnest, attempts to follow those orders.
Past examples include crackdowns on tackles from behind and jersey tugs. Players, coaches and fans are often left guessing, and fuming. And some teams' World Cup dreams are crushed as a direct or indirect result.
That's the fate the U.S. Men's National Team are hoping to avoid, starting with their crucial opening match against Ghana at Arena das Dunas Monday night (6 p.m. ET, broadcast live on ESPN, Univision).
[ +Check out SoccerWire's World Cup 2014 home page for more coverage ]
The USMNT hope that pre-Cup information sessions – and the fact that their first game takes place on the tournament's fifth matchday, providing a few useful examples in previous contests – keep them on the right side of the men in the middle.
"We had a meeting [with the referees] two days ago to where we heard what things they are looking for and what they are going to be reffing in terms of yellow cards, red cards, stuff like that," said U.S. captain Clint Dempsey in Sunday's pre-match press conference. "We will work hard to see what we will have to do. And we will be prepared."
Probably the biggest flashpoint thus far has been the penalty-kick decision against Croatia in Thursday's opening match, a 3-1 Brazil victory that hinged on referee Yuichi Nishimura's punishment of Dejan Lovren's grab on Brazilian striker Fred.
"Which penalty? I didn't see one," said veteran U.S. goalkeeper Tim Howard before the team left Sao Paulo on Friday. "But I don't have a whistle. So we'll have to take it into account and hopefully don't touch anybody in the box.
"I don't have a problem with the Brazilian player going down. I would encourage my own players, if they feel contact in the box, to go down. It's the referee's job, obligation, responsibility, that he gets it correct."
[ +READ: "Ghana is the more talented team," says Gyan ahead of USMNT clash ]
Center back Matt Besler (pictured at right), a World Cup rookie, will spend plenty of time jostling with opposing strikers in and around the penalty box this month. Given the extraordinarily high stakes, it's essential that he find the line that each referee sets for physical contact.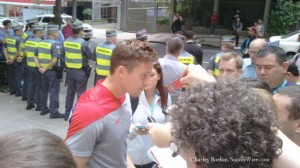 "Yeah, as a defender, that was a tough one to see," he said of the call against Lovren. "But I think it's a good one to see, because it's a lesson that some of us learn just by watching. It's going to be called tight in the penalty box and so we've got to be careful."
Most observers saw it as an example of everyday defending in high-level soccer hardly worthy of a PK, but viewed in the context of FIFA's directives, Nishimura may have just been following orders.
"Before the tournament starts, we have two or three days where the referee was inside our hotel and give us the news – they already say what we have to watch out with hands in the box, on corner kicks," said USMNT midfield pit bull Jermaine Jones on Friday. "We know the rules and we have to be careful, yes. But we have to play our game. We don't have to change something.
"If we've got somebody who has to take a foul for the team, maybe he has to do it," added the tenacious German-American, who joked about his own proclivity for collecting yellow cards. "If he has a red card and he's outside, we have a good group, we have some guys on the bench that will be the same importance as the guys who are starting."
[ +READ: World Cup: Natal's biblical rains complicate USMNT match vs. Ghana ]
The USMNT have suffered four red cards in World Cup play, and it should come as no surprise that they are winless (0-2-1) in the matches in which they were awarded.
And the Yanks have been burned at the spot, too, conceding two penalty kicks in the 2002 edition (both saved by Brad Friedel, setting a World Cup record) and one in 2006 – a disastrous one that proved to be Ghana's game-winner in the match that eliminated the U.S.
"You have to watch out for tangling in the box, holding on corner kicks and all that stuff," said Jones. "I think every team had the referees in the hotel, so we know this: Don't touch the guys in the box."
On the other hand, many tend to regard referees like the weather, crowd noise and other factors beyond their control: Something unpredictable to be endured, and perhaps quietly cursed. The second-biggest refereeing controversy of this World Cup so far was two incorrect offsides decisions which ruled out goals for Mexico in their 1-0 defeat of Cameroon here in Natal on Friday.
And there's not much players can do about those.