Downtown Las Vegas SC hires U.S. Soccer Hall of Famer Eric Wynalda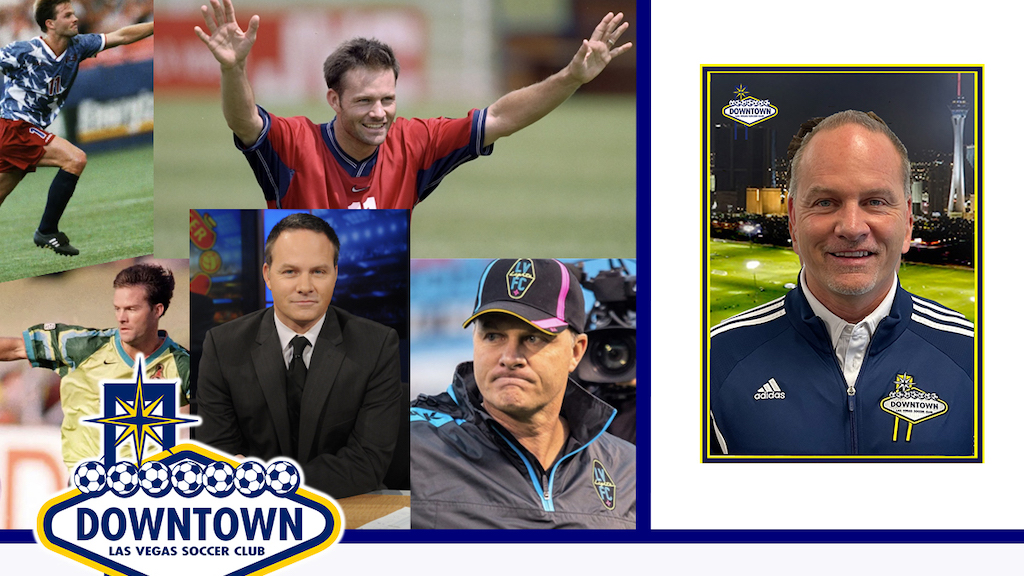 LAS VEGAS, NV – Eric Wynalda has joined the Downtown Las Vegas Soccer Club (DLVSC) as a Staff Director. Wynalda is the former coach of the Las Vegas Lights and a member of the U.S. Soccer Hall of Fame.
As a Staff Director, Wynalda's primary goal will be developing DLVSC players and teams to compete at the highest level. Wynalda has a diverse history as a coach. He also coached the Atlanta Silverbacks of the NASL and Cal FC in the U.S. Open Cup.
Wynalda is best known for his play on the field. He made 106 appearances for the United States National Team and scored 34 goals. He played in three World Cups and scored a goal in the 1994 tournament. He was selected as a member of the CONCACAF team of the decade for the 90s. Wynalda was the first American born player to play with a top team in the German Bundesliga. Wynalda played for both FC Saarbrüeen and VfL Bochum. In 1994 Wynalda was selected to play for the San Jose Clash where he scored the first goal in MLS history. Wynalda also played with Miami Fusion, New England Revolution and Chicago Fire. Wynalda was inducted into the National Soccer Hall of Fame in 2004.
When his playing career ended, Eric began a lengthy career as an analyst and commentator for ESPN and ABC Sports, then Fox Sports.
The Downtown Las Vegas Soccer Club was founded in 2004 as a non-profit 501(c)(3) youth soccer organization. For years, the club has developed some of the most successful players from Las Vegas, including current New England Revolution player and former Glasgow Rangers Matt Polster, and former USL players Blake Malone, Christain Volesky and Robbie Sagel.
DLVSC develops players from age 6 years old to 19 years old, both boys and girls. The club is the co-host of the Las Vegas Mayor's Cup. This year, the club won two Nevada state championships and competed in the US Youth Soccer National League as well as the National League Desert Conference. The club plans to compete as the only non-California team in the SoCal league.
"The reasons why I wanted to come to Downtown are very simple, it is because they have always had a direct line of what they wanted to do, what their mission was, and their vision, to help the kids in this town get better," Wynalda said.
"I would like to help the younger kids most, that foundation," Wynalda continued. "Too many times in this country we alter the path of getting players better faster, so my role here will be to get the players better, to get the coaches better and to help the families understand the pathway opportunities for their players."