Division titles decided at Jefferson Cup U10-U14 Girls Weekend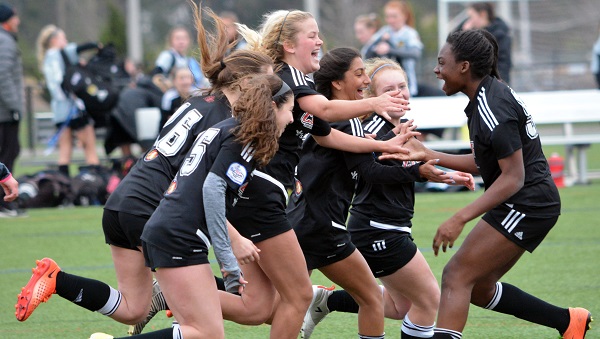 Follow the Jefferson Cup
Twitter | Instagram | Facebook
Full Results: U10-U14 Girls Weekend
The 2018 Jefferson Cup U10-U14 Girls Weekend came to an exciting finish on Sunday, as division titles were decided across the 43 total brackets. Continue reading for recaps of the Championship Divisions, along with a full listing of champions and finalists.
U-10 Championship
North Carolina FC 08 Jrs Gold South made it a perfect 4-for-4 on the weekend, defeating Baltimore Union SC Elite 08 2-1 to earn top honors in the U-10 Championship. After dispatching Bethesda SC Academy Blue '08 3-0, NCFC put two more past Baltimore Union to increase their goal total in the tournament to 15.
U-11 Championship
Only one side in the U-11 Championship Division went the entire weekend without conceding a single goal. That side is FC Dallas Youth 07 Blue, who continued their shutout streak in Sunday's final, defeating Loudoun '07 Red 2-0 to win the U-11 Championship Division title.
U-12 Championship
Two of the top Under-12 sides in the nation did battle on Sunday afternoon at River City SportsPlex in Richmond. With the Jefferson Cup U-12 title on the line, Michigan's Nationals Union '06 Black narrowly defeated in-state foe Michigan Jaguars Green '06 2-1 in an evenly-match game.
Jefferson Cup Attending Club Feature Articles
READ: Marin FC | Penn Fusion SA | Tampa Bay United
U-13 Championship
While there certainly will be plenty of tired legs among the World Class FC 05 Pre-ECNL side after doing battle in the Jefferson Cup U-13 Championship Division, the end result will be worth it. On Sunday, the team earned a tough 1-0 win over Cincinnati United Premier 05 North to claim the division title, finishing an unbeaten weekend with a 3-0-1 record.
U-14 Championship
Carolina Elite 04G Pre-ECNL 2- Philadelphia SC Coppa Swarm 04 1
Despite facing a barrage of shots and their fourth match in as many days, Carolina 04 Pre-ECNL held on to defeat Philadelphia SC Coppa Swarm to capture the Jefferson Cup U1-4 Championship title.
Philadelphia earned their spot in the title match after having finished in the top spot in Group C (1-0-1, 13 points) and having beaten Group B winners Woodbridge Strikers SC 04 Blue 1-0 in the semifinals. As for Carolina, their road to the final was a little more difficult, having drawn twice in Group A (0-0-2, 11 points) and advancing only on a single point difference. In the semifinals, they defeated Group D winners and ECNL Mid-Atlantic rivals Richmond United 2-0.
As has been the case for both sides throughout this year's tournament, possession was the name of the game in the first half. Coppa worked their magic through the center of the pitch with forward Lauren Sullivan sending passes out to midfielders Isabelle Sontheimer and Chelsea Ritter out wide. That would in turn create space for Sullivan and fellow forward Keri Gontz. In just the tenth minute, they nearly had a breakway chamnce using this formula with Sullivan finding space down the flank against Carolina defender Jilwa Alikhail for a surging Sontheimer. Although she was able to get past her initially and appeared destined for goal, Alikhail caught her and made the clearance. But it would prove to be a good experiment for the side, who would consistently tested Carolina's outside backs.
Carolina meanwhile used their size and height advantage to push the ball down the center of the pitch. In the 22nd minute off of the counter-attack, Carolina forward Chidubem Dike turned around her defender and slotted her shot past Coppa goalkeeper Maya Naimoli for the game's opening goal.
Down a goal, Coppa continued to execute their game plan. In the 28th minute off of a picture perfect pass from forward Lauren Sullivan, forward Keri Gontz would get past her initial defender and appeared destined for goal. But credit to Carolina midfielder Bailey Manfredi for catching up to her, boxing her out, and making the clearance.
+READ: Jefferson Cup U14 Girls Championship Division Day 1 Recap
In the 32nd minute, Sullivan found Gontz once again with space to play. This time she would make the most of her chance, burying it in the back of the net past Carolina goalkeeper Victoria Kucaba to go level.
With the two sides even entering the second half, tensions would start to mount. Carolina forward Brinley Murphywould got the first shot off after getting through a thicket of Coppa defenders. Her shot in the 36th minute looked like it might find the back of the net, but Coppa goalkeeper Ellie Stratz was there to make the stop.
Needing a goal Carolina, once again turned to Dike who would deliver for her side. After a successful defensive effort, Murphy found her with ample space to operate down the right flank. Her shot was low, on target, and enough to beat Stratz and give Carolina the lead in the 37th minute.
With a goal advantage and close to half an hour left to play, Carolina's defense would be tested. In the 49th minute, Naimoli – who played the second half of the game at forward – hit a low shot on target but would eventually be stopped by Kucaba. In the 52nd minute, Sontheimer and Naimoli pressed down the right flank with a series of passes aimed at dislodging the Carolina defense. Although Coppa looked like they might be able to get a chance, but Manfredi would make the clear and end the scoring chance.
"It is certainly hard to play four games and two days so I think they were feeling it towards the end a little bit," said Carolina coach Cole Atkins of his club's defensive effort at the end of the match. "But I am happy that they were able to hold and I am happy that we were able to get the win."
Coppa's last chance for an equalizer would come in the 67th minute when Gontz hit a high shot. But Kucaba keeper would make the stop once again, sealing the victory.
With ECNL play set to continue next week, the victory for Atkins' side at the Jefferson Cup is the perfect way to start 2018.
"It is very tight at the of our conference right now," Atkins said. "[They are currently in second in ECNL's Mid-Atlantic Division] and we are trying to qualify for the national playoffs, so this is a really great way to get us prepared for winning those games in May."
The Jefferson Cup will continue March 23-25 as U15-U19 teams compete in the Girls Showcase Weekend. The tournament comes to a close with the Boys Showcase Weekend, running from March 30 – April 1.
Jefferson Cup 2018 Championship Division Previews
Boys: U-16 | U-17 | U-18
Girls: U-15 | U-16 | U-17 | U-18
U10-U14 Girls Weekend Champions and Finalists
U-10
Championship Division
Champions: North Carolina FC 08 Jrs. Gold South (NC)
Finalists: Baltimore Union SC Elite 08 (MD)
Elite Division
Champions: McLean 08 Green (VA)
Finalists: FC Virginia 08 Elite (VA)
Superior Division
Champions: NJ Stallions Wayne Utd 08 White (NJ)
Finalists: Chantilly 08 Purple (VA)
U-11
Championship Division
Champions: FC Dallas Youth 07 Blue (TX)
Finalists: Loudoun 07 Red (VA)
Elite Division
Champions: Cincinnati United Premier 07 North (OH)
Finalists: CSA Impact United 07 Nike Black (OH)
Superior Division
Champions: Beadling 07 White (PA)
Finalists: Carolina Rapids 07 Burgundy (NC)
Platinum Division
Champions: Pennine Utd 07 (OH)
Finalists: North United Fire (PA)
Classic Division
Champions: FC Europa 07 Elite (PA)
Finalists: Hereford Hotspur (MD)
Premier Division
Champions: West-Mont United 07 (PA)
Finalists: PA Classics Nova Fire 07 (PA)
U-12
Championship Division
Champions: Nationals Union 06 Black (MI)
Finalists: Michigan Jaguars Green 06 (MI)
Elite Division
Champions: PA Classics Academy 06 (PA)
Finalists: Arlington SA 06 Red (VA)
Superior Division
Champions: Beach FC 06 Red (VA)
Finalists: Connecticut FC 06 Pre-ECNL (CT)
Platinum Orange Division
Champions: Richmond Strikers 06 Elite (VA)
Finalists: FC Bucks North 06 Thunder (PA)
Platinum Black Division
Champions: FC Virginia Elite 06 (VA)
Finalists: PDA Dynamite (NJ)
Platinum White Division
Champions: Bethesda SC Academy Blue 06 (MD)
Finalists: Philadelphia SC Coppa Elite (PA)
Classic Division
Champions: FC Copa Academy 06 Black South (NJ)
Finalists: Inter Atlanta FC 06 Elite (GA)
Premier Orange Division
Champions: NJ Wildcats Adams – NPL (NJ)
Finalists: Herndon Lightning Black 06 (VA)
Premier Black Division
Champions: PA Classics Nova Storm (PA)
Finalists: Gunston SC Spirit NPL 06 (VA)
U-13
Championship Division
Champions: World Class FC 05 Pre-ECNL (NY)
Finalists: Cincinnati United Premier 05 North (OH)
Elite Orange Division
Champions: North Carolina FC 05 Elite (NC)
Finalists: Michigan Jaguars Green 05 (MI)
Elite Black Division
Champions: Bethesda SC ECNL 05 (MD)
Finalists: Century Gold (PA)
Superior Orange Division
Champions: MD Rush Montgomery Academy Coyotes Blue 05 (MD)
Finalists: Baltimore Celtic 05 Elite (MD)
Superior Black Division
Champions: Charlotte SA Predator (NC)
Finalists: Northern Virginia SC o5 CCL (VA)
Superior White Division
Champions: Beadling SC 05 Elite (PA)
Finalists: Maryland United FC 05 ECNL (MD)
Platinum Orange Division
Champions: Arlington SA 05 Red (VA)
Finalists: Bayside FC 05 NPL (RI)
Platinum Black Division
Champions: WNY Flash 05 ECNL (NY)
Finalists: Wake FC 05 Blue (NC)
Classic Orange Division
Champions: SYA Cardinals 05 Red (VA)
Finalists: Cedar Stars Academy Bergen 05 Green (NJ)
Classic Black Division
Champions: Inter Atlanta FC 05 Elite (GA)
Finalists: STA 05 EDP (NJ)
Premier Orange Division
Champions: Charlotte SA Torsion (NC)
Finalists: NJ Wildcats O'Halloran – NPL (NJ)
Premier Black Division
Champions: SOCA Elite 05 (VA)
Finalists: Syracuse Development Academy 05 (NY)
Juniors Division
Champions: Concorde Fire 06 Central Black (GA)
Finalists: Concorde Fire North Elite (GA)
U-14
Championship Division
Champions: Carolina Elite 04 Pre-ECNL (NC)
Finalists: Philadelphia SC Coppa Swarm 04 (PA)
Elite Orange Division
Champions: Cincinnati United Premier 04 Gold (OH)
Finalists: Sunrise Sting 04 Black (FL)
Elite Black Division
Champions: FC Revolution Dynamo (PA)
Finalists: NC Fusion 04 ECNL (NC)
Superior Division
Champions: BRYC Elite Academy (VA)
Finalists: North Carolina FC 04 ECNL (NC)
Platinum Orange Division
Champions: Wilmington Hammerheads 04 White (NC)
Finalists: Harrison SC Dynamite (NJ)
Platinum Black Division
Champions: Virginia Legacy CCL 04 Elite (VA)
Finalists: Lehigh Valley United 04 Black (PA)
Platinum White Division
Champions: Loudoun 04 Red (VA)
Finalists: West-Mont United SA Premier 04 (PA)
Classic Orange Division
Champions: Cedar Stars Academy Monmouth 04 Green (NJ)
Finalists: GPS NH 04 NPL (NH)
Classic Black Division
Champions: Fredericksburg FC 04 Black (VA)
Finalists: Piedmont Triad FC 04 Lady Black (NC)
Classic White Division
Champions: TSF Academy 04 (NJ)
Finalists: Triangle United Gold 04 (NC)
Premier Orange Division
Champions: Herndon Crush 04 (VA)
Finalists: Cleveland FC 04 (OH)
Premier Black Division
Champions: Force FC 04 (NY)
Finalists: Charlotte SA CAB / HVille Elite (NC)