Division champions decided at 17th Annual FC DELCO Players Cup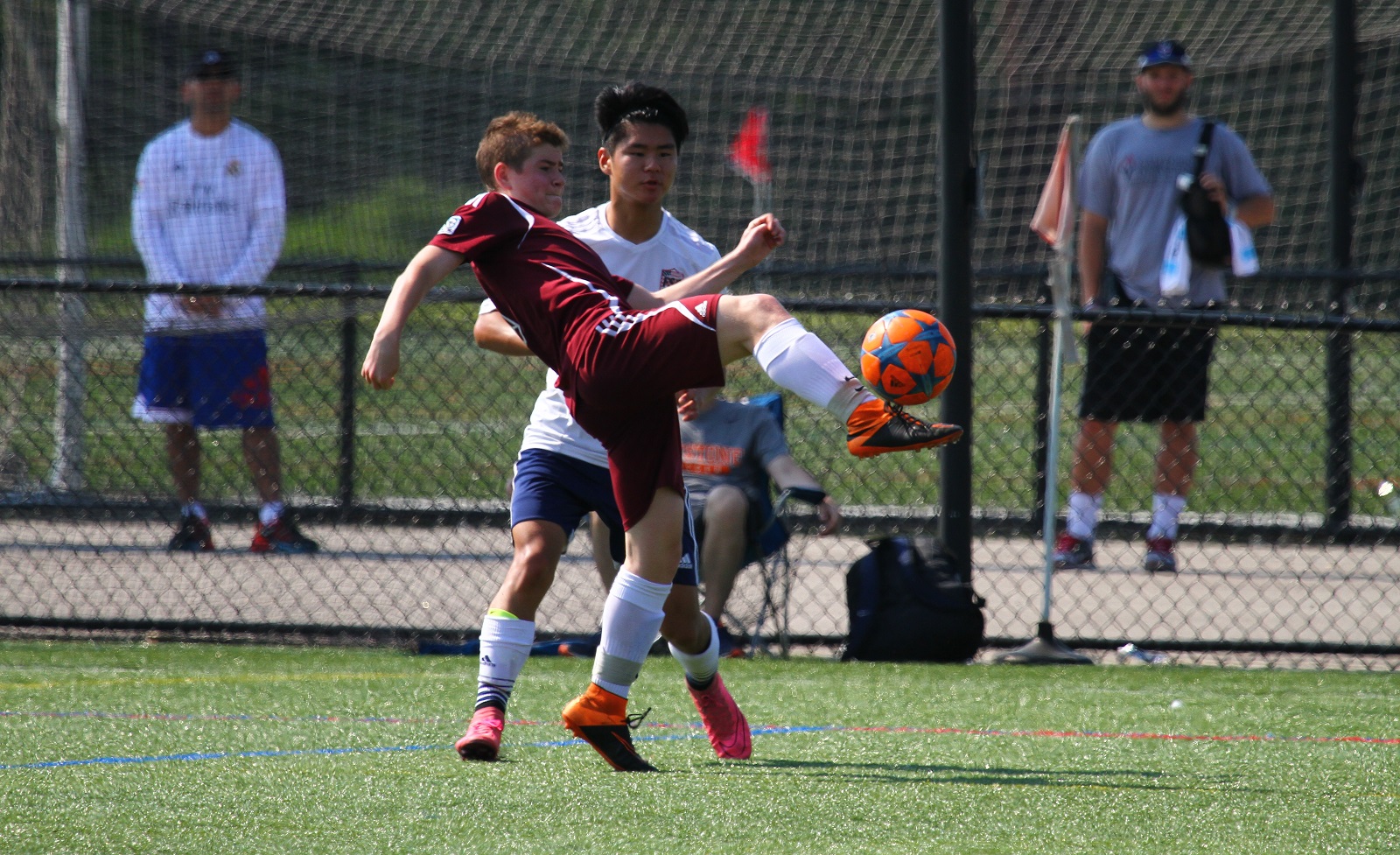 Follow the FC DELCO Players Cup: Twitter | Facebook
Results | College Coaches
A total of 779 teams participated in the 17th Annual FC DELCO Players Cup over Memorial Day weekend throughout the Philadelphia area, with college showcase divisions playing in front of over 100 college coaches.
See below for a recap of the U-14 through U-17 Championship Divisions on both the boys and girls sides.
Boys
U-14 Championship Division
After finishing atop Bracket B in group play, Levittown Gunners FC went on to claim the division championship by defeating BRYC 01 Elite 2-1 in the semifinals and Penn Fusion 01 Elite 3-0 in the final.
Levittown's biggest margin of victory in the tournament came on Monday in the title match, as the attack put up its highest goal total and the defense secured its second clean sheet of the event. Romeo Lepe netted two goals and Aiden Glynn scored one in the final against Penn Fusion, while Justin Weinert and Vasilios Brisnovalis anchored the back line for the Eastern New York State Cup semifinalists.
U-15 Championship Division
Connecticut powerhouse FSA FC Elite 00 dominated both ends of the pitch in every game at the FC DELCO Players Cup, outscoring its five opponents by a combined scoreline of 23-2. After sweeping Bracket C with three straight victories, FSA overpowered Pennsylvania East State Cup champions Lower Merion SC Sabertooth Rats 4-1 in the semifinals and routed Alexandria Red Stars 8-0 in the final.
Michael Suski racked up 4 goals for FSA in the title match, while Elliott Brown, Ben Pierce, Jackson Dropck, Carter Veley and Eli Gould netted one each.
The FSA back line, composed of Brown, Veley, Tyshawn Rose, Aidan O'Brien, Jameson Webber, Kevin Krupa and Joey Colaccino, was nearly impenetrable throughout the tournament, including in Monday's final as they earned their third clean sheet of the event.
U-16 Championship Division
Three-time reigning Maryland State Cup champion Fewster FC showed once again why it has long been considered one of the best teams in the country in this age group, making seemingly easy work of some very talented opponents in Bracket B. Fewster posted a perfect 3-0-0 record in group play, outscoring Region I semifinalist North United SC 99 Premier, World Class FC 99 NPL and New Jersey State Cup semifinalist Match Fit Academy FC 99/00 Black by a total of 8-1.
In Monday's final against Pennsylvania State Cup finalist FC Montco Die Mannschaft, one of the top-ranked teams in the nation, Fewster used tough defense and an efficient attack to grind out a 2-1 victory. Alejandro Arbelaez scored both goals for Fewster, coming off assists from Ben Stitz and Nick Richardson. Brandon Knapp & Richardson anchored the defense, and goalkeeper Ryan Miller had another strong performance in goal.
U-17 Championship Division
Holmdel FC NJX Sounders followed up a championship run in the second division at the U-16 level at the 2015 Players Cup by winning the top U-17 flight this weekend.
Holmdel edged out nationally-renowned squads SDFC Rangers and FSA FC Elite 98 to place first in Bracket A before going on to defeat BRYC 98 Elite 2-1 in the final on Monday. After going down 1-0, Holmdel netted back-to-back goals within a 10-minute span to take the lead which they would not relinquish, securing the division title.
The equalizer for Holmdel came when Steve Johnson won a ball in the midfield, shook a defender and unleashed a stunner from 30 yards out, over the head of the BRYC 'keeper for an unassisted goal. The game-winner also came in transition after a steal, when Holmdel right back Max Lane won a ball and quickly pushed it forward to Mauricio Caballero, who made multiple defenders miss before slotting the ball to Patrick Kollman with a lead pass. Kollman received the pass in stride, making three quick touches before beating the goalkeeper to the right for the go-ahead strike.
Defensively, Sam Sapner, Scott Misson, Jacob Labinger and Lane locked down the BRYC attack for the majority of the match, continuing their outstanding work on the back line all weekend while goalkeeper Tyler Haines had another solid performance in net.
"It was a great weekend for us and a very well-run tournament," said Holmdel FC NJX Sounders coach Colin Schmetzer. "It was a total team effort and I couldn't be happier for my guys."
Girls
U-14 Championship Division
Michigan side Waza FC East 02 Black became increasingly harder to score against as the tournament wore on, culminating with 3-0 and 1-0 clean sheet victories in the semifinals and finals of the U-14 Championship Division.
Waza overpowered reigning Pennsylvania East State Cup champion 1775 United FC Xtreme 3-0 in the semifinals on Sunday before going on to blank NJ Wildcats Averbuch NPL 1-0 in the title match on Monday.
The championship victory over NJ Wildcats avenged a 3-2 loss in group play for Waza, the team's only loss of the event. Also in group play, Waza defeated US Youth Soccer Region II finalist Total FA Elite 01 and Pennsylvania East State Cup finalist PA Classics Academy by 1-0 and 3-1 scorelines.
U-15 Championship Division
Once again, Maryland side Premier SC Strikers utilized one of the top defensive units in the nation at the U-15 level in route to another premier level tournament title. After showing a great deal of offensive prowess in group play, racking up 12 goals over the course of three wins, Premier earned back-to-back clean sheets in 1-0 and 2-0 victories in the knockout stages against NVSC Jr. Majestics 00 and SUSA/FCLI Lady Arsenal 00.
Continuing in form with their division title run at the Jefferson Cup in March, Kalli Bell, Emily Crusse and Alexandra Roloson anchored the dominant Premier defense while goalkeeper Alyssa Minnick's post-to-post range and instincts were on display as well.
U-16 Championship Division
Western Pennsylvania side Northern Steel Select Intensity earned a first place finish in Bracket A before going on to defeat Bracket B champ Hershey Elite FC 99 by a 1-0 margin in the U-16 Championship Division final on Monday.
Northern Steel went 2-1-0 in group play, earning 1-0 and 3-1 wins against Virginia State Cup finalist McLean Youth Soccer 99 Green and New Jersey's Wall SC Stingrays. In the title match on Monday, the Northern Steel defense secured its second straight shutout behind stifling another stifling effort from the back line composed of Sara Lipniskis, Fallon Curry, Kelly Kriley and Emma Weiss, along with goalkeeper Anna Voelker.
Brittnie Spithaler netted the only goal of the match, as Northern Steel scored one of only two goals allowed by Hershey Elite FC the entire tournament.