Disney Girls Showcase: Potomac area champions and finalists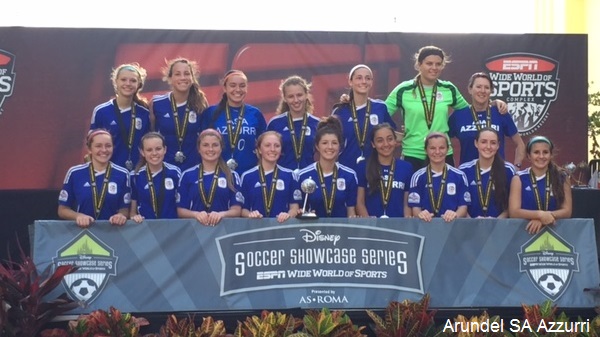 Nine Potomac area girls teams were either champions or finalists at the Disney Soccer Showcase, which ran from Dec. 31 to Jan. 3 in Orlando, Fla. at the ESPN Wide World of Sports. See below for recaps of each team's run to the championship match in their respective divisions.
+Read: Potomac Soccer Wire Best 11 Players: Dec. 29, 2014 – Jan. 4, 2015
FC Virginia United Premier 99 (U-15 Showcase Red Finalist)
A balanced attack fueled a perfect 3-0-0 run for FC Virginia in group play before the ECNL side fell 3-0 to reigning US Youth Soccer National Champions New England FC Elite. FC Virginia gained valuable National League points during group play and are second in the Red Division behind only Legends FC 99 (CA-S). Amari Hopkins netted three goals for FCV at Disney, Amy Thompson had two and Josephine Davis-Allen, Renee Kohler, Emily Kavanaugh, Isabella Ponzi each scored one.
+Read: Top college recruits shine in Disney Girls Showcase championships
Herndon Youth Soccer United 99 (U-15 Premier Black Finalist)
Herndon United 99 advanced all the way to the final where they lost 2-0 to FC Copa Academy Milan (NJ) after finishing group play with a 2-0-1 record. Herndon opened the event with a 3-0 win over West Florida Flames, tied Sting Central (TX) 1-1 and advanced through the group on a 3-1 win over FC Revolution Fury (PA-E). Offensively the team was led by Abby Hoisington and Layne Fadely with two goals each, while Isabella Diz, Rory Donahue and Leah Shaw also found the net.
Loudoun 98 Red (U-16 Showcase Black Finalist)
[player_box id=46950 leftright=right]Loudoun picked up crucial National League points going 3-0-0 in their group at Disney, but fell in a hard-fought match to LFSC (MO) in the final. Loudoun's sturdy back line continued its dominance, shutting out two of three group opponents. Allyson Brown, Emma Kerns and sisters Leah and Anna Deutsch were the goal scorers for Loudoun. Brown is now tied for fifth in the National League U-16 age group with four goals.
FC Virginia 98 ECNL (U-16 Premier Black Champion)
FC Virginia allowed just one goal in four games at Disney, which came in a 2-1 win in the final over Canadian side Erin Mills SC Eagles. Overall FC Virginia outscored opponents 19-1, scoring lopsided group wins over Jersey United Spartans, Rockville Centre Express (NY-E) and Chicago Fire Juniors West Red.
Arundel SA Azzurri (U-16 Premier White Finalist)
[player_box id=49029 leftright=right]Two-time Maryland State Cup champions Arundel SA Azzurri went undefeated in group play, but lost a physical contest in the final against Beadling SC Bulldogs (PA-W) 2-0. Azzurri advanced to the final thanks to a strong back line led by center backs Emily Roberts and Brittaney Reffit, the only two players who played every minute of the entire tournament for ASA. Center mid Allie Brimmer paced the offense with two goals and two assists, and forward Montanna Hill also found the net twice in Orlando.
Maryland Rush Montgomery (U-17 Showcase Gray Champion)
Reigning State Cup champion Maryland Rush Montgomery won the U-17 Showcase Gray Division, holding opponents to a total of three goals in four games at Disney. MRM blanked Carolina Rapids (NC) 1-0 in the final after advancing through Bracket B with a 2-0-1 record. MRM drew Solar Chelsea Elite (TX-N) 1-1 in their first match, then went on to beat Broomfield Blast SC (CO) 5-0 and Global Premier Soccer Elite (MA) 3-1.
VSA Heat 97 West (U-17 Championship Gray Champion)
[player_box id=49056 leftright=left]One of two VSA Heat teams to win a Disney division, Heat 97 West scored 14 goals and conceded just three going a perfect 4-0-0 in Orlando. VSA defeated Florida Creeks Krush 2-0 in the final on a brace from highly-sought college prospect Mary Grace McGregor, who had three goals at the event. 2016 JMU commit Claire Meiser was also dynamic up top for VSA throughout the tournament.
VSA Heat Blue (U-18/19 Showcase Red Champion)
VSA earned its second straight Disney title with a 3-0 win over LFSC and took over the National League Red Division lead going 3-0-0 in group play. Zoe Foxhall was solid in net throughout the event for VSA, while Jacksonville University 2016 commit Lauren Short was a force in the back while also contributing offensively. Eastern Carolina commit Maddie Watson scored VSA's first two goals in the championship and had a brace against SSA Chelsea Elite 97 on the final day of group play. North Carolina State freshman Karina Lacey scored two goals at the event and High Point freshman Michele Micciche made plays distributing to teammates and scored a highlight reel bicycle kick on Jan. 1 against NSA Jaguars.
BRYC 96 Elite (U-18/19 Premier Gray Finalist)
BRYC Elite racked up 15 goals in three games in group play, giving up five and going 2-0-1 to advance to the final to face Florida side Port Orange SC Hurricanes. BRYC fell 2-1 in a tough match, but made a splash in Bracket A with overpowering wins over Tampa Bay United Elite (8-0) and Gulf Coast Texans 97 (5-2).