Development Academy adds 56 clubs to U-12 boys division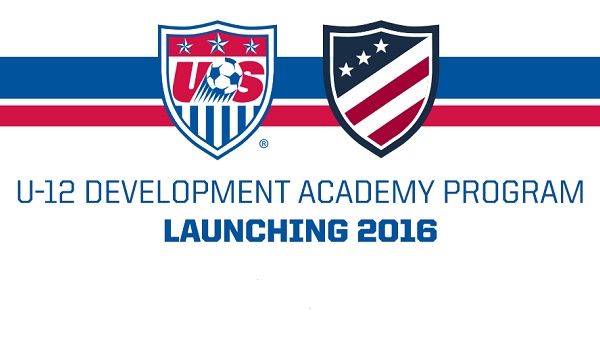 CHICAGO (Via U.S. Soccer) – Beginning with the 2016-17 U.S. Soccer Development Academy Season, 56 youth clubs from across the country will join 78 existing Academy member clubs at the U-12 level to create a total of 134 clubs that will develop players in key markets throughout the United States.
The expansion of the Development Academy at the U-12 level is intended to reduce travel distances between clubs, while also allowing clubs to cast a wider net for committed players in existing and new markets that have the potential to develop into elite soccer players. The Under-12 age group is the youngest age group at which clubs will participate in Development Academy markets.
"Expanding to the U-12 age group and the addition of 56 new member clubs will improve the overall environment at an earlier development stage and help clubs create a more positive step-by-step learning pathway for players," said U.S. Soccer Director of Scouting Tony Lepore.
+Read: Five ways to develop more creative players needed for future U.S. Men's National Team success
The Development Academy clubs reported a total financial commitment of over one million dollars amongst the 56 new clubs, in guaranteed player scholarships. Over 600 players will receive scholarships to contribute to their club, while over 400 players in the Academy will be able to play cost-free.
"The commitment of the new U-12 clubs to provide opportunities and reduce barriers for players is tremendous," said U.S. Development Academy Director Jared Micklos.  "In total, the clubs have committed over $1 million to players in this age group. We believe that these efforts will allow players the opportunity to pursue the sport in quality club environments at a critical young age in their development pathway."
List of Under-12 New Academy Clubs starting in fall 2016:
Bay Area, Calif.: San Francisco Elite Academy, Santa Rosa United
Los Angeles, Calif.: Los Angeles Football Club, Total Futbol Academy
San Diego, Calif.: Chula Vista FC, LA Galaxy San Diego, San Diego Soccer Club, West Coast Futbol Club
Colorado: Arsenal Colorado, Colorado Storm Soccer Association, FC Boulder, Pride Soccer Club
Florida: Albion SC Plantation, FC Florida, Florida Rush Soccer Club, Players Club of Tampa Bay, Wellington Soccer Club
Georgia: AFC Lightning, Atlanta United FC, Lanier Soccer Association, North Atlanta Soccer Association, Southern Soccer Academy, United Futbol Academy
Illinois/Indiana: Campton United SC, Chicago Fire Academy City, FC United Soccer Club, Fort Wayne United FC, Indiana Elite FC, Sockers FC Naperville
New England: Bayside FC, Global Premier Soccer, NEFC, Valeo Futbol Club
New York/New Jersey: New York Cosmos, TSF Academy
North Carolina: Capital Area RailHawks – CASL Del Sol, Capital Area RailHawks – CASL South, Queen City Mutiny
Oregon: BSC Oregon, Capital FC Timbers, Crossfire Oregon, Eastside Timbers, F.C. Portland Academy, Washington Timbers FC Academy, Westside Timbers Soccer Club
Texas: Houston Express Soccer Club,
Washington: Eastside FC, Greater Seattle Surf, Pacific Northwest Soccer Club, Seattle United, Snohomish Youth Soccer Club, Washington Premier FC, Washington Rush
Washington, D.C.: Arlington Soccer Association, Loudoun Soccer, McLean Youth Soccer
A number of the 56 new Academy clubs that will join the existing Development Academy framework have previously developed players who have gone on to play at the highest level with the full U.S. National Team, including: Clint Mathis, Josh Wolf and Ricardo Clark (AFC Lightning), Geoff Cameron (Bayside FC), Damarcus Beasley (Fort Wayne United FC), Jordan Morris (Eastside FC), Bill Hamid (McLean Youth Soccer) and Shane O'Neill (FC Boulder).
In addition to resources and player production, the new Academy clubs joining at the U-12 age level include a new group of qualified technical staff focused on developing youth players. The combined staff among all new clubs will include a group of over 100 U.S. Soccer "A" licensed Academy Directors and coaches.