Dates, locations set for US Club Soccer National Cup XVII Regionals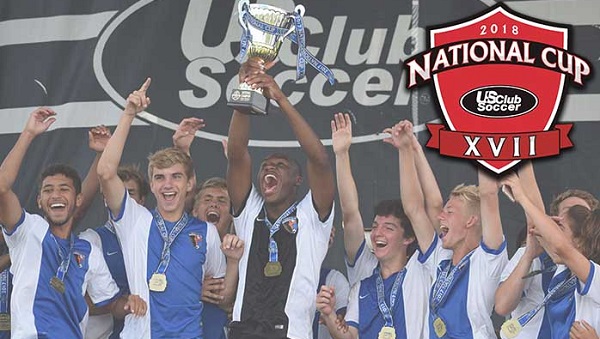 CHARLESTON, S.C. (Via US Club Soccer) – The 17th edition of the National Cup, US Club Soccer's cup-based national championship series, features six Regionals throughout June and early July 2018.
The National Cup includes various state cups, which begin in the spring, before progressing to the National Cup XVII Regionals – held in six locations throughout the country. Ultimately, qualifying teams then compete for national titles at the National Cup XVII Finals, to be held July 20-24 at Aurora Sports Park in Aurora, Colo.
National Cup XVII Regionals will be open to 12-U through 18/19-U boys and girls age groups (2006s through 1999/2000s) in the Mid-Atlantic and West Regionals, while the other Regionals – Midwest, Northwest, South Central and Southeast – will feature 13-U through 18/19-U divisions (2005s through 1999/2000s).
+READ: US Club Soccer Players First: United Soccer Coaches Convention guide
Winning 13-U through 18/19-U boys and girls teams from Regionals and qualifying state cups advance to the National Cup XVII Finals.
Applications will be available in the coming weeks. The National Cup XVII will continue to have Super Group (most competitive) and Premier Group brackets.
Participating teams should be well-versed in official National Cup XVII rules. New in 2018 are:
A Code of Conduct (to be released soon) for coaches, staff, players and parents
Head injuries: passcards will be pulled for players being treated for suspected, serious head injuries. Prior to returning to play, written clearance must be obtained by a doctor/certified athletic trainer.
Substitutions: this is no longer unlimited for 13-U through 18/19-U age groups. Seven substitutions are allowed per half, and once a player is subbed out in any given half, he/she may not return to play.
Rosters: the 18-player game day roster will be strictly enforced.
National Cup XVII Regionals – 2018:
South Central Regional
June 15-18 | Tulsa, Okla.: Mohawk Sports Complex
Web page
West Regional
June 16-19 | Davis, Calif.: Davis Legacy Soccer Complex
Web page
Midwest Regional
June 22-25 | Chicago, Ill.: Waukegan Sports Park / Libertyville Township Soccer Complex
Web page
Southeast Regional
June 23-26 | Winston-Salem, N.C.: BB&T Sports Park
Web page
Northwest Regional
June 29 – July 2 | Boise, Idaho: Simplot Sports Complex
Web page
Mid-Atlantic Regional
June 30 – July 3 | Somerset, N.J.: PDA Soccer Complex / Morningside Farm
Web page
National Cup XVII Finals – 2018:
Finals
July 20-24
 | Aurora, Colo.: Aurora Sports Park
Web page
South Central Regional
This is the first time US Club Soccer will host a South Central Regional – spurred by recent, large membership growth in Texas, Oklahoma, Louisiana and Arkansas. Mohawk Sports Complex boasts 17 fields, including 10 with lights.
"We are so thrilled to welcome US Club Soccer's National Cup XVII South Central Regional to Mohawk Sports Complex in Tulsa next summer," said Vince Trinidad, Executive Director of Tulsa Sports Commission. "Hosting this event provides us with a great opportunity to showcase Tulsa as a preferred destination for youth sports, and our staff and volunteers are committed to working diligently to ensure US Club Soccer's athletes, coaches and fans have the best sports experience here in Tulsa."
West Regional
Many hosting venues in 2018 have a long National Cup history, and Davis Legacy Soccer Complex is no exception. Next summer marks the sixth consecutive year hosting the West Regional. This past year was the first time the West Regional was held on one weekend instead of being held on separate, consecutive weekends for boys and girls team. But, the recent expansion of Davis Legacy Soccer Complex allowed the Regional to be held on the same weekend – and that trend continues in 2018.
Midwest Regional
The Midwest Regional is the longest running host of a Regional, as Libertyville Township Soccer Complex and Waukegan Sports Park enter their seventh consecutive year. Last year's National Cup XVI Midwest Regional included about 250 teams.
Southeast Regional
The BB&T Sports Park hosted the Southeast Regional in June 2017, and before that, the complex – now consisting of 13 full-size fields and a stadium field – hosted a Regional from 2008-10.
Northwest Regional
The Northwest Regional moves to a new location in 2018. The Simplot Sports Complex in Boise, Idaho consists of 161 acres, including 20 grass soccer fields.
Mid-Atlantic Regional
The Mid-Atlantic Regional in Somerset, N.J. concludes the Regional slate. PDA Soccer Complex and Morningside Farm enter their fifth consecutive year hosting the event.
National Cup XVII Finals
This is the first time the National Cup Finals will be a five-day event, as it has previously been a four-day event. The added day is a result of growth and the need for an appropriate game-to-rest ratio. In bigger age brackets in the past, sometimes teams were faced with playing elimination games in the morning and afternoon of the same day.
The National Cup XVII Finals returns to Aurora Sports Park in Aurora, Colo., for the second time in three years and third time in the 17-year history of the cup-based tournament. A week before the National Cup XVII Finals, Aurora Sports Park also plays host to the 2018 Girls NPL Finals.