Josh Sargent named U.S. Soccer Young Male Player of the Year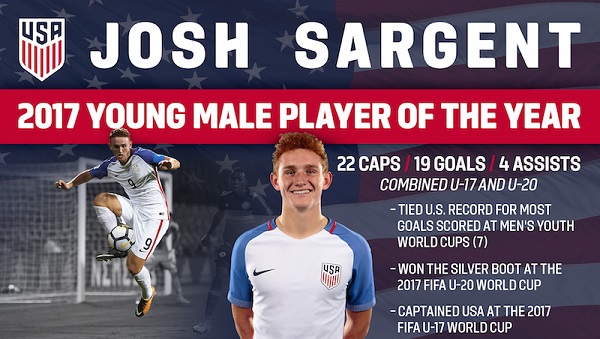 CHICAGO (Via U.S. Soccer) – U.S. Under-17 and Under-20 Men's National Team forward Josh Sargent has been voted the 2017 U.S. Soccer Young Male Player of the Year. Taking part in both the 2017 FIFA U-17 and U-20 World Cups, Sargent's standout campaign saw him tie the U.S. record of seven all-time goals in men's youth World Cup play.
Votes were collected from Men's National Team players that earned a cap in 2017, Men's National Team and Youth Men's National Team coaches, Major League Soccer, North American Soccer League and United Soccer League head coaches, as well as select former players, administrators and media members.
Sargent earned 55 percent of the vote, followed by Tyler Adams (25 percent) and Erik Palmer-Brown (eight percent).
Already a leader with the high-scoring U-17 MNT, Sargent began a remarkable year when he recorded five goals and two assists while captaining the USA to a runner-up finish at the 2017 CONCACAF U-17 Championship.
The O'Fallon, Mo., product was exceptional throughout the tournament, receiving the most attention when he tallied two goals and an assist in a wild 4-3 comeback win against Mexico during the Group Stage. Days later, he was named as the youngest player on the U.S. U-20 World Cup squad and proved vital in the USA's run to the Quarterfinals as he scored two goals in the team's opening 3-3 draw with Ecuador, the lone strike in a 1-0 win vs. Senegal and a goal and assist in the 6-0 Round of 16 win against New Zealand. The four goals earned him the tournament's Silver Boot.
Sargent returned to captain the U-17 MNT during their World Cup, tallying the first goal in a tournament-opening 3-0 win vs. host India, before providing a goal and assist in an emphatic 5-0 victory vs. Paraguay in the Round of 16. While the U.S. fell 4-1 to eventual champions England in the Quarterfinals, Sargent's lone strike in the match made more history, as he tied Freddy Adu for most goals scored by a U.S. player at youth World Cups with seven.
+READ: Sophia Smith named U.S. Soccer Young Female Player of the Year
A product of U.S. Soccer Development Academy club St. Louis Scott Gallagher-Missouri, Sargent finished the year with 15 goals and three assists in 17 international matches for the U-17 MNT and 19 goals and four assists in 22 overall Youth National Team appearances. His exploits led to his first call-up to the U.S. Men's National Team for November's friendly against Portugal.
Upon turning 18 in February, Sargent will begin his professional career when he signs with German Bundesliga club Werder Bremen.
A player can only win the Young Player of the Year award once in his career. U.S. Soccer began awarding Young Player of the Year in 1998, with Josh Wolff taking the first honor.