Dates, locations set for final two 2018 US Club Soccer id2 camps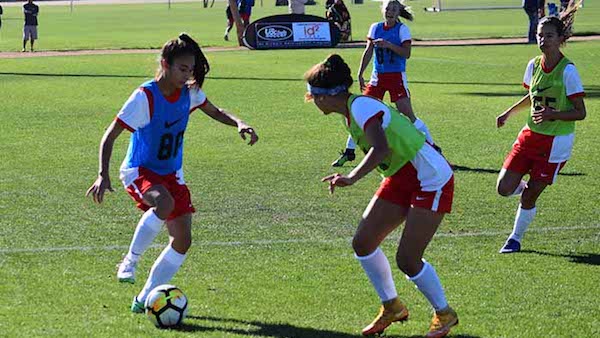 (Via US Club Soccer) – The final two id2 Training Camps of the year and of the current age group cycle – targeting boys born in 2005 and girls born in 2004-05 – will be held in the fall in Kansas and in the winter in Arizona.
Sept. 27-30: Pinnacle National Development Center in Kansas City, Kan.
Dec. 6-9: Grande Sports World in Casa Grande, Ariz.
While these are the last id2 Training Camps of the cycle – coordinated in conjunction with U.S. Soccer youth national team scouting – the ultimate programming of this cycle will be the 2019 id2 National Selection International Tour (boys) and 2018 ECNL/id2 National Training Camp (girls).
The camp in Kansas City will use the respected Pinnacle National Development Center, which is home to Sporting Kansas City. This marks the first time the id2 Program makes a stop in Kansas.
A couple months later, the id2 Program makes a stop at a long-time venue: Grande Sports World. This facility has been used for id2 Training Camps for years, and it also has served as host to preseason gatherings of professional soccer and baseball teams.
Any club's Director of Coaching is able to recommend players with national team potential for inclusion of an id2 Training Camp. These recommendations from coaches throughout the country are a key component of the id2 Program and supplement US Club Soccer's objective scouting process that utilizes a network of scouts at games, tournaments and other high-level events across the country. Player invitations will begin to be sent out in the coming days.
This comprehensive national scouting and recommendation program is used to form a pool from which top players are invited to attend an id2 Training Camp. At the camps, players work with some of the nation's best coaches, play with and against some of the nation's best players in their age group, and are scouted by on-site U.S. Soccer staff. The directors of the id2 Program are Gerry McKeown (boys) and Tricia Taliaferro (girls).
The first id2 Training Camp of the current cycle was held in March in Raleigh, N.C. A week later, US Club Soccer hosted the 2018 id2 National Selection International Tour in Spain, and a month ago, co-hosted the 2018 ECNL/id2 National Training Camp in Portland, Ore. Those latter two National Selection programming elements concluded the previous age group cycle, targeting 2004 boys and 2003 girls.
The id2 Program provides an opportunity for the country's elite youth soccer players to be identified, developed and scouted for inclusion in U.S. Soccer's national team programs. Targeted birth years are established every year in consultation with U.S. Soccer in order to align with the scouting priorities for boys and girls national teams.
There is no cost to players to be identified for or participate in the id2 Program. For id2 Training Camps, all lodging, meals and training gear are provided at no cost by US Club Soccer and Nike. The id2 Program, open to all players regardless of U.S. Soccer affiliation or lack thereof, is an Olympic Development Program approved by the United States Olympic Committee and U.S. Soccer Federation.