National League Northwest Conference forms 15U Boys Academy Division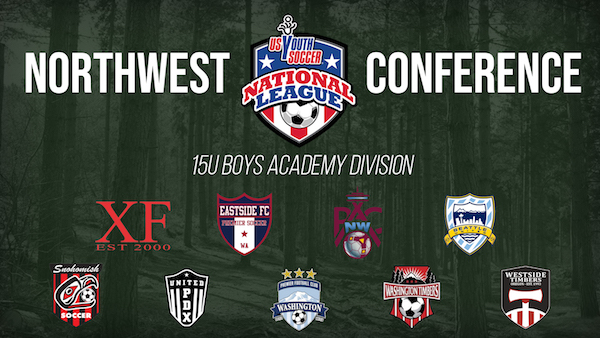 FRISCO, Texas (Via US Youth Soccer) — The 2018-19 season will feature competition in the newly formed 15-and-Under Boys Academy Division in the US Youth Soccer National League Northwest Conference.
The Northwest Conference Academy Division is open to clubs that compete in the 14U and younger age groups of the U.S. Soccer Boys Development Academy. The Academy Division platform provides the clubs and teams with a pathway to transition back to the Northwest Conference and continue participating in an environment that matches the player development model and standards of the Development Academy.
Clubs participating in the Academy Division include Crossfire Premier (WA), Eastside FC (WA), Pacific NW SC (WA), Seattle United (WA), Snohomish United (WA), United PDX (OR), Washington Premier FC (WA), Washington Timbers FC (OR) and Westside Timbers SC (OR).
"United PDX is ecstatic about the opportunity for our players and teams exiting the Development Academy program at 15U to continue having meaningful games across the region, as they integrate back into the US Youth Soccer landscape," United PDX technical director Brandon McNeil said.
In the 2018-19 season, the winner of the Northwest Conference 15U Academy Division will play the winner of the standard 15U Division for the bid to the 2019 US Youth Soccer Far West Regional Championships, as well as the automatic berth into the US Youth Soccer National League for the 2019-20 season.
"PacNW is excited to participate in the Northwest Conference 15U Boys Academy Division," PacNW SC technical director Leighton O'Brien said. "This is a unique opportunity to expand off our boys' Development Academy program. The league offers meaningful games throughout the course of the fall season while still playing high-level competition and keeping professional developmental standards."
The Northwest Conference is one in a network of 13 conferences that comprise the multi-state tier of the US Youth Soccer National Leagues program. Each conference provides high-level competition with opportunities for advancement to the US Youth Soccer Regional Championships and the US Youth Soccer National League.