Dallas Cup to co-host Generation Adidas Cup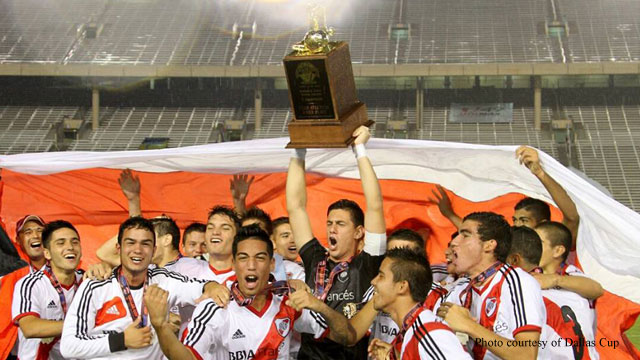 (Via Dr. Pepper Dallas Cup) – The Dr Pepper Dallas Cup has announced that it is hosting, along with FC Dallas, the Generation adidas Cup. An annual competition involving Major League Soccer U17 Developmental Academies and select international teams, the Generation adidas Cup will play their games at Toyota Soccer Center at Toyota Stadium. As co-host, Dallas Cup will manage event volunteers, assist with international team travel, and provide support with tournament operations and logistics. Played during the same week as the Dr Pepper Dallas Cup, the Generation adidas Cup will kick off on Sunday, March 29 and conclude Saturday, April 4.
"For 35 years, the Dallas Cup has contributed to the development of elite youth soccer players in the United States by providing premier international competition and officiating for the top youth soccer clubs in the country," said Dr Pepper Dallas Cup Executive Director, Andy Swift. "We are pleased to be able to enhance that tradition by helping host the Generation adidas Cup in North Texas."
As co-hosts of the Generation adidas Cup, the Dr Pepper Dallas Cup "Championship Weekend" games, consisting of the Gordon Jago Super Group semifinals and all eight group championship matches, will also be played at Toyota Stadium on Easter weekend. The Dr Pepper Dallas Cup will continue to have a strong Dallas presence, with the opening day triple-header and annual "Welcome World" Opening Ceremonies on Sunday, March 29th, as well as the Gordon Jago Super Group double-header on Wednesday, April 1, all taking place at the historic Cotton Bowl Stadium. The non-stadium tournament games will be played, free of charge, at the Classic League Soccer Complex at Richland College, and MoneyGram Soccer Park in Northwest Dallas.
The Dr Pepper Dallas Cup christened MoneyGram Soccer Park in 2014. Second round games will be played at the new facility in 2015, increasing the number of games played at the complex to 168, up from 117 last year. The Classic League Soccer Complex will continue to host Super 17's and Gordon Jago U19 Super Group games.
Dr Pepper Dallas Cup XXXVI will take place from March 29 through April 5.
Dr Pepper Dallas Cup Cotton Bowl Stadium Schedule
Sunday – March 29
12:30pm       Corinthians (Brazil) vs. FC Dallas U18 Academy (USA)
3:00pm         Valencia (Spain) vs. Tigres (Mexico)
5:00pm         Welcome World Opening Ceremonies
6:30pm         River Plate (Argentina) vs. Everton (England)
Wednesday – April 1
2:30pm         Gordon Jago Super Group games to be announced
5:00pm         Gordon Jago Super Group games to be announced
7:30pm         Gordon Jago Super Group games to be announced
Dr Pepper Dallas Cup Toyota Stadium Schedule
Friday – April 3
6:00pm         Gordon Jago Super Group Semi-Final
8:00pm         Gordon Jago Super Group Semi-Final
Saturday – April 4
9:00am         U13 Championship
1:00pm         U14 Championship
2:45pm         U15 Championship
4:45pm         adidas Young Champions U16 Championship
Sunday – April 5
10:00am        U17 Championship
12:30pm       Super 17s Championship
3:00pm         U19 Championship
6:00pm         Gordon Jago Super Group Championship