Dallas Cup Day 5 recap: The Quarterfinals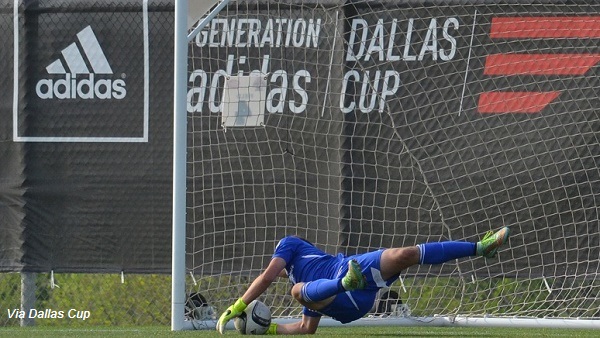 2015 Dallas Cup Recaps: Days 1 and 2 | Day 4
Recaps of some of the quarterfinals action at Dallas Cup XXXVI on Thursday…
Under 13
San Diego Surf Academy Select scored two second half goals to defeat the Cedar Stars Academy from New Jersey, 2-1.
FC Golden State PDA entertained their vocal fans today with a 4-2 victory over the Challenger Crew Juniors.
No goals were scored in regulation or overtime in the matchup that saw FC Los Angeles Black vs. Global Premier Soccer FC Bayern. The match was decided on penalty kicks, which Global Premier Soccer FC Bayern, won 2-1. They will face FC Golden State PDA in the semifinals.
Chicago Fire Academy scored first in their match vs. United FC Black, but their goalkeeper was expelled in the 52nd minute for denying an obious goal-scoing opportunity. Just two minutes later, David De Niz scored United's second goal of the evening to propel them to the semifinals where they will meet Sand Diego Surf Academy.
Under 14
It went to penalty kicks but TSC Hurricane, a 2014 Dr Pepper Dallas Cup finalist, defeated a strong Tigres team. Neither team was able to score in regulation or in overtime. TSC Hurricane was able to advance via the penalty shootout, 4-3.
AC Brea also won via penalty kicks over Lonestar SC. In that game, Lonestar SC scored in the games dying minutes to take the game into overtime, where neither team could find the net. During the penalty kicks, AC Brea's goalkeeper injured himself making a save, requiring Aaron Tebay, a field player who had already scored his penalty, to step into goal for the final shot. Aaron watched the final Lonestar attempt hit the post and bounce out, giving AC Brea the victory. They will play TSC Hurricane tomorrow in the first U14 semifinal.
FC Dallas Youth scored the game winner 13 minutes into overtime to propel them over Carlsbad United FC, 1-0.
Another FC Dallas team advanced to the semifinals as FC Dallas Pre Academy defeated TSF Academy of New Jersey, 2-1.  The two FC Dallas teams will meet tomorrow in the second semifinal.
Under 15
Eintracht Frankfurt, who came into the quarterfinals with a +20 goal differential in their three group games, conceeded the first goal in the 18th minute, to fall behind 1-0.  But they roared back with four 1st half goals of their own to take an 4-1 lead, on the way to a 4-2 victory over Angeles Soccer Elite of Mexico.
FC Golden State USSDA jumped out to a 1-0 lead early in their game against Tigres UANL of Mexico, and held on to win 3-1 over the Mexican powerhouse.
In a game of FC Dallas teams, it was FC Dallas Academy beating FC Dallas El Paso, 1-0  on Jalen James' 34th minute goal. FC Dallas Academy will meet fellow academy member FC Golden State in Friday's semifinal match.
It was Kepler Despinos' goal with eight minutes left which was the difference in his FC Golden State victory ove IFC Houston Mana. They now have the unenviable task of going up agaist Eintracht Frankfurt for the right to advance to the final.
Under 16
Seattle United Copa received a 3rd minute own goal and a Lucas King goal within the first five minutes of the game on their way to a 5-2 victory over FBSL Tuzos Pachuca from Arizona.
Aztecs FC Premier used two goals just three minutes apart, to get past California Rush, 2-0.
Crossfire Premier USSDA Pre-Academy scored in the fifth minute and held on for the rest of the game to defeat FC Dallas El Paso, 1-0. Their hopes to reach the Dallas Cup final now rests on defeating Aztecs FC Premier in Friday's semifinal.
Loudoun SC Red intercepted a miskick by FC Dallas Pre-Academy goalkeeper to score in the 6th minute of the game. But the FC Dallas Pre-Academy team kept their composure and Paxton Pomykal scored once in each half to propel his team to a 2-1 win. They will face Seattle United Copy in Friday's semifinal.
Under 17
TSF Academy X took the lead over RM Academy of Mexico via a penalty kick in the 28th minute.  RM tied the score in 74th minute, but TSF Academy X took the lead for good in the 79th minute on a strike from Andrew Nino.
West Coast FC scored at the begining of the second half and added two more in the following 20 minutes to take a 3-0 lead ove Alianza FC Cobras.  Alianza was able to get a 69th minute consolation goal before time ran out, to make the final score 3-1 in favor of West Coast FC.
FC Golden State scored in the 3rd minute and 85th to take their quarterfinal match up over the Dallas Texans USSF, 2-1. They will face fellow California South members West Coast  FC in Friday's semifinal matchup.
FC Dallas Premier used goals by three different players to surpass North Shore United, 3-0. They will need to win on Friday agaist TSF Academy X in order to make it to the Dr Pepper Dallas Cup finals for the second straight year.