D.C. United sign defender Donovan Pines to Homegrown Contract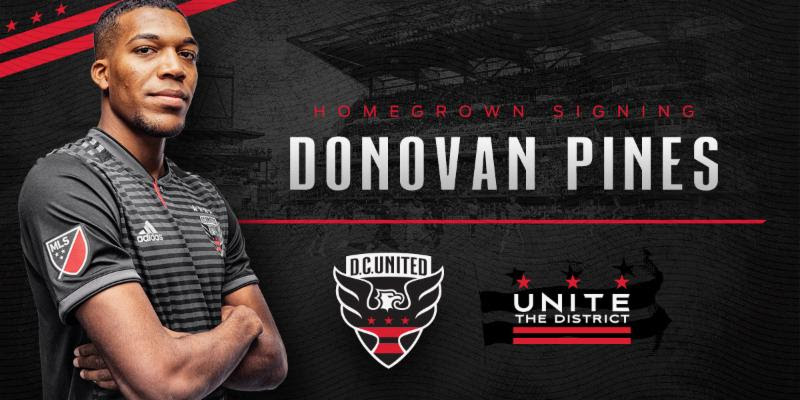 (Via D.C. United) – D.C. United have signed former University of Maryland standout and D.C. United Academy product, Donovan Pines, as the 11th Homegrown Signing in club history.
The 21-year-old defender joins Antonio Bustamante who recently signed a Homegrown contract with the Black-and-Red on Jan. 21, along with Chris Durkin, Bill Hamid and Jalen Robinson on the list of Homegrown players on the current roster.
"We have monitored Donovan's progression at Maryland and feel he is ready to take the next step in his career," Dave Kasper, United General Manager and VP of Soccer Operations. "He fits the profile of a modern MLS center back in a physically demanding league and has the technical qualities that suit our system. We are excited to add our second Homegrown Signing of the offseason and look forward to integrating Donovan with the rest of the squad in preseason."
Born in Clarksville, Md., Pines spent four years with the D.C. United Academy and made 99 U.S. Soccer Development Academy (USSDA) appearances; qualifying for the USSDA playoffs each year. The 6-foot-5-inch center back captained the team and posted a 0.80 goals against average during his time with the Black-and-Red youth team. His performances in the academy led to a U.S. Under-19 Men's National Team selection for the 33rd International U-20 Men's COTIF Tournament in Spain.
+READ: D.C. United sign Antonio Bustamante as Homegrown Player
"It's another proud moment for the D.C. United Academy as we add another Homegrown Signing to the first team," Ryan Martin, United Academy Director, said. "Donovan is coming off a massively successful season with Maryland where they won the NCAA Championship and recorded clean sheets in the last five games. He is dominant and physical defender with the desire to always win so we're looking forward to continuing his soccer journey at the professional level for his boyhood club."
Pines played three seasons for the Maryland Terrapins, scoring three goals and recording three assists in 56 appearances (39 starts). In 39 starts, Pines recorded 21 clean sheets and averaged 0.77 goals per game. His junior season in 2018 was his most fruitful as a goalscorer, scoring two goals in 22 appearances. He was nominated to the 2018 CollegeCup All-tournament team on the way to leading Maryland to an NCAA Championship; the fourth College Cup in the program's history. The team recorded five clean sheets in the final five games including the NCAA Championship match against the University of Akron. Pines played in 17 games alongside current Black-and-Red defender Chris Odoi-Atsem as both players were teammates on the 2016 Maryland Soccer team.
Donovan Pines
Position: Defender
Birthplace: Clarksville, Md.
Country: United States
Birthdate: 03/07/1998
Age: 21
Height: 6'5"
Weight: 195
College: University of Maryland
Status: Homegrown
Transaction: D.C. United have signed Donovan Pines as the 11th Homegrown player in club history.