SJ Earthquakes Academy announces first-ever presenting partner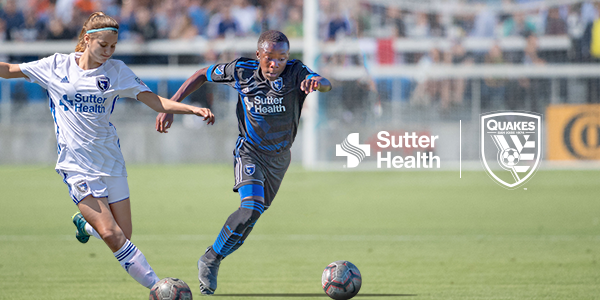 SAN JOSE, Calif. (Via San Jose Earthquakes) – The San Jose Earthquakes announced today that Sutter Health will expand its role as the team's official, exclusive healthcare partner by serving as the presenting sponsor of the Quakes Academy and Quakes Academy jersey.
The multi-year partnership will include Sutter Health branding on all training equipment and jerseys for the youth teams, beginning this year.
"Physical activity, at any stage of life, can play an important part in one's health and wellness goals," said Richard Gayle, M.D., orthopedic surgeon at Palo Alto Medical Foundation and one of the Earthquakes' team doctors. "The youth soccer movement is particularly inspiring, and youth sports overall are a natural way for our communities to come together. We appreciate the opportunity to align with the Quakes Academy to champion healthy habits."
The Quakes Academy has blossomed in recent years, with both boys' and girls' teams producing youth national team-caliber players. Most recently, U-17 midfielder Sophie Jones – a Duke University commit – competed for the United States at the 2018 FIFA U-17 Women's World Cup in Uruguay. The boys' academy has produced five Homegrown Players to date, including former U.S. U-20 goalkeeper JT Marcinkowski and 2017 MLS Rookie of the Year finalist Nick Lima.
The Earthquakes and Sutter Health will work in tandem to provide physical and mental wellness, stress management, and nutritional education programming for all Quakes Academy players. The two organizations will launch a web portal later this year filled with information in each of those areas, which will serve as a wellness resource for all athletes in the Bay Area.
Sutter Health's work with the San Jose Earthquakes focuses on numerous aspects of health and wellness. Sutter will continue to present Get Earthquakes Fit, a program targeted at fighting childhood obesity in Northern California. The program has been adopted at more than 35 schools annually since 2016, impacting more than 16,000 students to date. Doctors at Palo Alto Medical Foundation, part of Sutter Health's not-for-profit network, will continue serving as the Earthquakes' official team physicians. The doctors, who specialize in orthopedics and primary care, use their experience and expertise to support Earthquakes players so they may reach their peak performance.
Additional elements of Sutter Health's sponsorship include serving as the presenting sponsor for all Academy and Homegrown Player-related content throughout the season, available on both the team's website and social media channels. Sutter will also serve as the title sponsor for the 'Youth Check in' at Avaya Stadium, which hosts 2,000 families at Quakes matches per year.