D.C. United Academy talent Nelson Blanco signs with North Carolina FC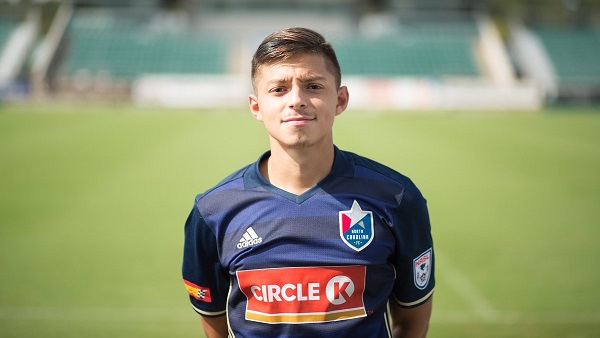 (Via NCFC) – North Carolina FC has added another young talent to its roster with the addition of Nelson Blanco, who signs his first professional contract after spending the last three seasons with D.C. United Academy.
Blanco signed with the ahead of the deadline on Oct. 6, per club policy, further details on the deal were not disclosed.
"Nelson has been in training with us before, previous to this stint of training," North Carolina FC coach Colin Clarke siad. "I liked him and invited him back, and he wanted to come back. When the time came, we were in a position to offer him an opportunity to turn pro here and we're delighted that he said yes. He's a great kid and good player. He's very good technically and we're looking forward to helping him and watching his development over the next couple of years."
U.S. Soccer Boys' Development Academy East Conference Recap: October 7-8, 2017
In total, Blanco made 52 appearances and scored 21 goals from 2015-2017 between seasons with D.C. Academy's U-16 and U-18 squads. In his last season with D.C. United's U-18 team, he scored 10 goals in 23 appearances.
The native of El Salvador can play on the wings or in the middle as a No. 10. Blanco is the second D.C. United Academy prospect to sign a contract with the first team this season, joining U.S. U-18 men's national team standout Jose Carranza.
"I'm very happy and blessed to sign my first professional contract," Blanco said. "I'd like to thank God, my family,and the coaches that I've worked with. I couldn't have done it without them. I'd also like to thank Colin [Clarke] and Dewan [Bader] for the opportunity. I've been working hard since I was a kid for this moment. It's a dream come true.
"I want to help the club win as many matches as possible during the push to qualify for the playoffs. I'd like to get on the scoresheet as much as possible and bring the excitement of my game to the club."