CSU Bakersfield women's soccer signs international goalkeeper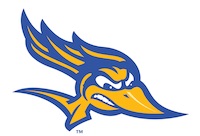 BAKERSFIELD, Calif. (Via CSU Bakersfield) – CSU Bakersfield's women's soccer head coach Sebastian Vecchio and his staff announced the signing of their third international athlete with the addition of Andrea Fernandes Neves to a National Letter of Intent.
Neves is a 5-foot-11 goalkeeper from Germany that will join the Roadrunners on the pitch and in the classroom this upcoming fall after graduating with her Associate Arts Degree from Tyler Junior College this spring. She has enjoyed a prolific career in the NJCAA circuit as she has helped her team make back-to-back trips to the national championship game, won the national title in 2017, finished runner-up in 2018, garnered a Defensive MVP honor at nationals, and earned All-Region and All-American nods in both seasons with the Apache Indians.
As a sophomore at TJC, Neves appeared in 24 games, starting 22 times and tallied an 18-1 record on the year. She finished the 2018 season ranked first nationally in games played and started, minutes (1963:57), wins (18), and ties (0). With a total of eight individual shutouts and three team shutouts, the keeper ranked seventh. Twelfth-best in goals-against-average (0.55) across the NJCAA and sixteenth in save percentage (.865) Neves is a premier athlete in goal.
In her prep career, Neves played with the German club Bramfelder SV and trained with the Portugal national team at the U17 and U19 level.
"Andrea is an experience goalkeeper with national championship pedigree," said head coach Sebastian Vecchio. "We were looking for a talented keeper to wrap up our 2019 class and we found just that in Andrea. Tyler Junior College is one of the best junior colleges in the country and coach Corey Rose does a great job preparing his kids to play at the Division I level."