Copa Rayados Internacional crowns 2020 division champions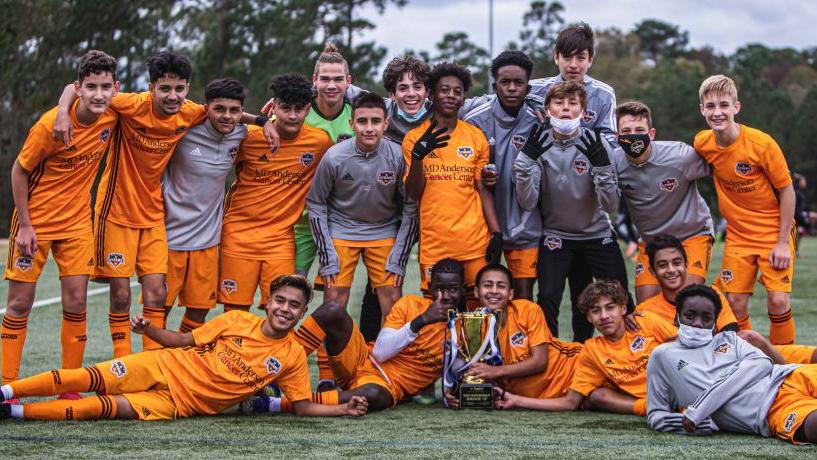 Official Website | Full 2020 Results
Follow the tournament on Facebook
The 8th edition of the prestigious Copa Rayados Internacional tournament is now in the books.
Competing at field complexes around The Woodlands, Texas, the 2020 Copa Rayados Internacional featured numerous MLS pro club academies, along with representatives of the ECNL and US Youth Soccer National League, among others.
Club from 15 different U.S. states participated in the event, which is presented by Mexican LigaMX pro club CF Monterrey Rayados in partnership with Premier Soccer Services. Two Texas based clubs, Dallas Texans and Houston Dynamo, joined the shortlist of clubs that have captured three total Copa Rayados division championships.
Dallas Texans won both the U-13 Supergroup and U-14 Supergroup at this year's event, while Houston Dynamo claimed the U-15 Supergroup and the U-17 Blue Division. Each club had won one Copa Rayados title entering 2020.
"Each year we look forward to the Copa Rayados tournament because our players really enjoy the competition with other top clubs from different parts of the country, right here in Houston. The tournament itself allows for each team to get a handful of matches, each of which presents a new tactical challenge," Dynamo Academy director Paul Holocher stated. "We are proud of how all the teams played. They showed strong teamwork and spirit throughout the week. We are especially happy for the U-15 and U-16 teams who were able to claim the tournament championships this year."
The Texans and Dynamo now trail only three Mexican clubs – Monterrey Rayados, ITESM Prepa Tec and Chivas Guadalajara – on the leaderboard for most division titles at the event. To view the all-time leaderboard, Click Here.
For full standings with detailed numbers on each club, Click Here. See below for the full list of champions from the 2020 tournament.
Copa Rayados Internacional 2020 Champions:
Under 9 Blue: Lonestar 12 Black
Under 9 White: PST Attack 12 Dev
Under 10 Blue: Total Futbol Acad (CA)
Under 10 White: Houstonians
Under 11 Blue: FC Dallas Youth East Blue
Under 11 White: YD Aspire Black
Under 12 Supergroup: Total FC Dyn Cat 09 (TX)
Under 12 Blue: Albion Hurricanes FC
Under 13 Supergroup: Dallas Texans
Under 13 Blue: Chelsea Jrs 08
Under 14 Supergroup: Dallas Texans
Under 14 Blue: Fever United
Under 15 Supergroup: Houston Dynamo MLS
Under 15 Blue: Arsenal Red Zozaya
Under 16 Blue: Solar SC
Under 17 Blue: Houston Dynamo MLS
Under 19 Blue: Club Division 02