Competition concludes Sunday at Jefferson Cup Boys Showcase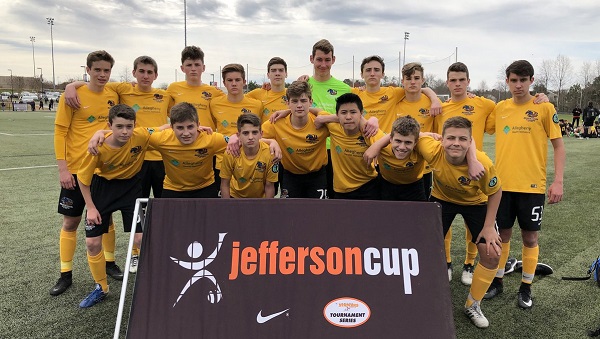 Play wrapped up at the 2018 Jefferson Cup Boys Showcase on Sunday, as teams battled for top honors across the U-16, U-17, U-18, and U-19 age groups.
U-16
Penn Fusion ECNL 2002 (3-0-0, 26 points) finished with an undefeated record and top honors in the under-16 Championship Division after their 2-1 win over third-place Orlando City Youth Soccer '02 ECNL (2-1-0, 19 points). Penn's vaunted attack was once again on display, albeit a bit subdued thanks to a superb effort from the Orlando defense. Their two goals on Saturday pushed them to 10 on the tournament, most among any side in the U-16 Championship Division.
Although GPS MA Elite Red '02 (3-0-0, 25 points) also finished with an unbeaten record, they fell just short of PFA with their 2-1 win over Concorde Fire ECNL U16 (1-2-0, 12 points). GPS' stout defense stood firm against the Fire, limiting their chances in the final third. Their goals allowed was tied with Orlando City for fewest in the Division.
+READ: Championship Division standings take shape at Jeff Cup Boys Showcase
U-17
Richmond Strikers '01 Elite (2-0-1, 24 points) saved the best for last, pulling off a 4-1 win Sunday afternoon over Delaware FC 01 Boys (0-1-2, 9 points), to cap play at West Creek Park for the 2018 Jefferson Cup. In the first half, Richmond used the speed of Luke Lowry out wide to force the compact Delaware side out of their comfort area. This move would pay off in the 31st minute as Diogo Albuquerque finished off a cross from Lowry, with a deft head flick past the goalkeeper for the 1-0 advantage. In the second half, Richmond expanded their lead to two, thanks to a goal from Matt Natale. Delaware cut it back to one with a goal from Chase Dunlap. But the Richmond attack continued to pour on the pressure, getting goals from Josh Kirkland and Justin Houck to seal the victory and top honors.
NCFC Elite (2-0-1, 23 points) finished in second with a 4-0 win over STA-MUSC 2001B NPL (1-1-1, 14 points). While NCFC's attack once again put on a show, their defense shined as well with their first shutout of the tournament.
Scuola Calcio Inter USA (2-0-1, 23 points) earned third place in the group after their 0-0 draw with GPS MA Elite Red '01 (2-0-1, 21 points). While Scuola and NCFC were tied on points, NCFC held a 9-6 advantage in goals scored.
U-18
It was by a razor thin margin, but in the end, Delaware Rush '00 (2-0-1, 22 points) earned the Under-18 Championship Division's top spot with a tough 2-0 win over third-place NCFC '00 Elite (2-0-1, 22 points). Delaware concededa penalty in just the ninth minute of the match, but goalkeeper Emmett McCloskey came through with a big save.
Delaware forward Matthew Meadows gave his side the 1-0 advantage in the 13th minute. They would get a second just before halftime with center-midfielder Jack Leonard doubling their lead in the 39th minute. NCFC would create several enticing chances in the second half. But thanks to some excellent goalkeeping by McCloskey and some concise defensive work by Ingram Dillingham and Thomas McGrail, Delaware held on for the shutout.
+READ: Elite level competition on display at Jefferson Cup Girls Showcase
In a hotly contested match between Spirit United '00 Elite (2-0-1, 22 points) and GPS MA Elite Red '00 (1-1-1, 15 points), the two sides ended up with a 2-2 draw. GPS midfielder William Raphael gave his side the 1-0 advantage with a goal in just the fifth minute. GPS added to the lead in the 39th minute, with midfielder Jan Sokolowski finding some space down left flank and slotting home another strike.
But the Spirit battled back, getting two goals in the second half from midfielder Aldo Ponce-Ortega (51′) and forward Tyler Fine (70′).
While Delaware and the Spirit were tied on points (22) and goals scored (5), Delaware held on to take the top spot on tie-breaker.
U-19
West Florida Flames '99 Elite (3-0-0, 27 points) claimed top honors in the Championship Division on Sunday morning, earning a 3-1 win over Concorde Fire ECNL (1-2-0, 11 points). The Flames took a commanding lead in the first half, with midfielder Luis Quintero heading home a pair of goals off set pieces (first a free kick, then a corner). His teammate, forward Pablo Andres Vargas Valencia, made it a 3-0 advantage midway through the first half, burying his penalty kick chance.
The Fire would get one back to make it a 3-1 match, but it was not quite enough as the Flames went on to secure the victory. The Flames balanced attack would pay off as they were the only side in the Championship Division to score more than two goals in each of their three matches.
+READ: Champions crowned at Jefferson Cup U10-U15 Boys Weekend
FC Florida Preparatory Academy (2-0-1, 23 points) finished in second with a 5-1 win over South Carolina United FC '99 (2-1-0, 17 points). Midfielder/forward Valentine Sebella's hat trick in the first half set the tone for Florida, whose high-powered attack kept South Carolina on their heels. Center-forward Alex Turner and midfielder/forward Jhalmar Joffre provided goals for Florida.
South Carolina got one back courtesy of John Humphries late in the second half, but the differential was too much for their side to overcome. Credit to goalkeeper Michael Guerrier and defenders Caleb Kauppien and Zachary Maxson for imposing a high line, which limited South Carolina's chances on the counter-attack.
New York Surf Golden Touch (2-1-0, 17 points earned third place in the division with a close 1-0 win over Pachuca FC USA '99 in their Sunday finale, as goalkeeper Eliot Hamill and the Surf back line secured the clean sheet in the victory.
Division Champions
U-16
Championship: Penn Fusion ECNL 2002
Elite: CESA 02B ECNL
Superior: Maryland United FC 2002 ECNL
Platinum Orange: Lake Norman SC 02 Force BLU
Platinum Black: SUSA NPL B02
Classic: Bruno United FC Boys 2002
U-17
Championship: Richmond Strikers 01 Elite
Elite: Virginia Legacy CCL 01 Elite
Superior Orange: Elite 2001 Black
Superior Black: MD United FC 2001 ECNL
Platinum Orange: SMS Wolf Pack
Platinum Black: Pittsburgh Riverhounds 2001
Classic Orange: Westchester Flames Westches
Classic Black: Holmdel FC NJX Galaxy Unite
U-18
Championship: Delaware Rush 00 Boys
Elite: Toledo Celtics SC
Superior Orange: Downtown United '00 Blue
Superior Black:Pride SC 00B Premier
Platinum: Piedmont Triad oo Black
Classic: Minnesota United Black
U-19
Championship: West Florida Flames 99B ELI
Elite: Potomac Hotspur Blue 99
Superior: MD United  FC 99/00 ECNL
Platinum: Charlotte United FC 99 Gold