Championship pairings set at US Youth Soccer ODP Championships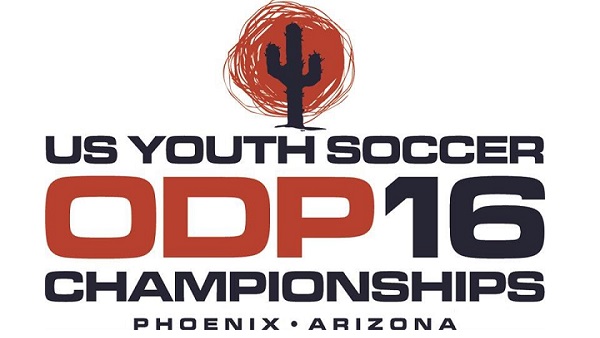 PHOENIX, Ariz. (Via US Youth Soccer) — The 2016 US Youth Soccer Olympic Development Program (US Youth Soccer ODP) Championships kicked off Friday at the Reach 11 Sports Complex in Phoenix. Elite Boys and Girls teams in the 1999 and 2000 age groups, from each of the four US Youth Soccer Regions, completed their semi-final matches and set the field for Sunday's championship and consolation matches.
After a successful semi-finals day, Cal South will send all three of its teams to the finals, including the defending champs Cal South 99 Girls. Michigan sends two teams to the finals in 1999 Girls and 2000 Boys age groups. Minnesota ruined Region IV's chances at sweeping for another year by knocking of Washington 99 in the 1999 Boys semifinals.
The US Youth Soccer ODP Championships will continue on Sunday, Feb. 28 with championship and consolation matches to be played beginning at 8 a.m. To view schedules and matchups, click here.
US Youth Soccer ODP is the original Olympic development program and the only elite player development program that can claim members of Major League Soccer and National Women's Soccer League, as well as a majority of current and past national and youth national team members, as alumni. With programs in all 55 State Associations, as well as regional, national and international tournaments, US Youth Soccer ODP continues to offer development and exposure opportunities to any player, regardless of hometown or club affiliation.
Match Highlights
1999 Boys
Minnesota 99 advanced to the finals with a 2-1 win over Washington 99 in a match that would go down to the wire. Protus Babaya began the scoring in the 10th minute after receiving a through-ball, making a defender miss before finishing for the 1-0 lead. Miguel Ocampo doubled Minnesota's lead just before halftime after a cross from the left flank found his feet for a point black shot. Washington would come roaring back in the second half with 2016 US Youth Soccer ODP Region IV Championships Tournament Team player Nicholas Parris drilling a shot from long range to shrink Minnesota's lead to one. Washington would earn multiple chances in the last half hour, with some of their most potent coming from RJ stretch set pieces, but ultimately Minnesota would hang on to earn a finals spot.
A scoreless regulation and extra time resulted in Eastern New York 99 and North Carolina 99 heading to kicks from the mark to determine who would face-off against Minnesota in the finals. After the first four kicks on each side were scored, Tyler McElhinney came up with a huge save for Eastern New York, and Pablo Napoli Borrero scored Eastern New York's final kick to seal a trip to the finals.
1999 Girls
A Madison Alexander brace would be the difference between Michigan 99 and Florida 99 with the match ending 2-0. Alexander, who was named to the Best 11 team at the 2014 US Youth Soccer National Championships while playing for Alliance Academy 99 Black (MI), scored her first goal off a point blank shot early in the first half. The 2014 Region II champion would bury a free-kick shortly after halftime to give her side a 2-0 lead, and the Michigan defense did the rest to preserve a clean sheet.
Defending champion Cal South 99 cemented an opportunity at defending its title with a 2-0 win over Virginia 00. Catarina Macario scored the opening goal midway through the first half, and doubled her tally with an insurance goal in the second half. Virginia pressed hard at the end, but was ultimately unable to crack Cal South's defense.
2000 Boys
Cal South 00 advanced to the finals thanks to a 1-0 win over Georgia 00. Two-time ODP Region IV Championships Tournament Team player, Roberto Rodriguez capitalized on a loose ball in the box for a goal in the sixth minute. Georgia's offense picked up the pace in the second half and looked to have found the equalizer when Allesandro Castro finished off a great run into the box with an unselfish pass to James Brighton to tap in a goal, only for the goal to be called back due to off-sides. Georgia would continue to threaten until the final whistle, but ultimately the match would end in a 1-0 Cal South victory.
Joining Cal South in the final will be Michigan 00 due to a 2-1 win over Virginia 00. Alfredo Vivar, who won the 2014 US Youth Soccer National Championships with WAZA FC East 01 Juniors (MI), broke the scoreless stalemate in the 53rd minute, and Charles Trevisan doubled Michigan's lead just seven minutes later. Andrew Weber brought Virginia within one goal in the 74th minute, but the Region I side could not find the equalizer as the score at the final whistle was 2-1.
2000 Girls
After a scoreless 70 minutes to begin the match, North Carolina 00's Megan Bomkamp curled in a beautiful free-kick against Illinois 00 to score the lone goal of the match in the 73rd minute. Illinois would mount a strong comeback attempt, but ultimately the North Carolina defense would hold to secure a spot in the finals.
Cal South 00 got three goals in the first 19 minutes en route to a 5-0 win over Eastern New York 00 in the second semifinals match. Molly Myers, who scored six goals at the 2016 ODP Region IV Championships, began the scoring in the ninth minute before Zoe Hasenauer and U.S. Youth National Team player Skylar Smith added goals in the 14th and 19th minutes respectively. Annabella Folino, who won the 2012 US Youth Soccer Region IV Championships with West Coast FC (CA-S), and Madison Curry would add goals in the second half to finish off the scoring.