Champions crowned at National Cup XV Mid-Atlantic Regional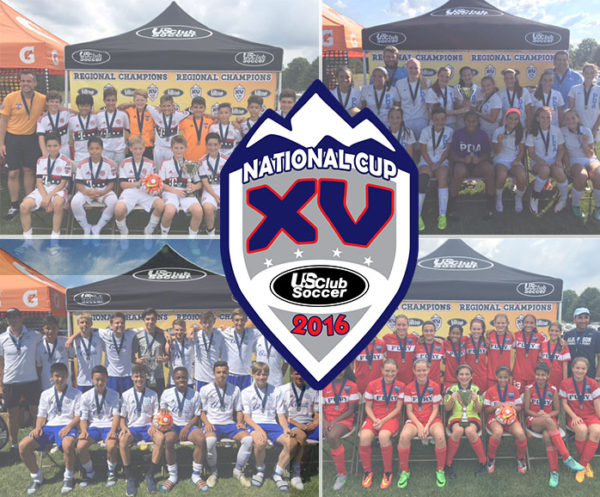 (Via US Club Soccer) – The National Cup XV Mid-Atlantic Regional, held June 27-30 in Somerset, N.J., was the last of six Regional events this year among US Club Soccer's cup-based national championship series. A total of 130 teams from eight states participated at PDA Soccer Complex and Morningside Farm.
Now, U-13 through U-17 boys and girls winners advance to the National Cup XV Finals, July 22-25 in Aurora, Colo. GPS Massachusetts was the only club to win multiple brackets: U-12, U-13 and U-14 Boys Super Groups and U-15 Boys and Girls Premier Groups.
GPS National Premier Team Director Andy Prosser said the opportunity to qualify for the National Cup XV Finals was an incentive to participate at the Mid-Atlantic Regional. "We have been fortunate enough to have teams represent GPS at the US Club Soccer National Cup Finals in previous years and the opportunity to compete at Regionals and US Club state cup events with the chance to qualify for a national final is exciting for players, families and all involved at GPS," Prosser said.
"As a club, we are proud of all our players that competed at the event," he added, "and we are excited to have GPS represented at the National Cup Finals."
Most brackets were tightly contested, including the U-12 Girls Super Group, as both Albertson SC Fury '03 and Atletico FC '04 were undefeated in group play. Ultimately, Albertson SC prevailed, winning the championship match, 2-1.
After winning last year's U-12 Girls Super Group, PDA Shore Wave continues to make a name for itself, as it returned to claim the U-13 Girls Super Group this year.
The U-14 Girls Premier Group was also competitive, as all teams earned at least one point and the winner (FC Stars NH United), runner-up (STA Morris United '01) and third place (FC Copa Lima) tallied six, five and four points, respectively.
| BOYS: | GIRLS: |
| --- | --- |
| U-12 Super Group: GPS MA NPL 03/04 (Mass.) | U-12 Super Group: Albertson SC Fury '03 (N.Y.) |
| U-13 Super Group: GPS MA NPL 02/03 (Mass.) | U-13 Super Group: PDA Shore Wave (N.J.) |
| U-13 Premier Group: Jackson SC Red Bulls (N.J.) | U-13 Premier Group: — |
| U-14 Super Group: GPS MA NPL 01/02 (Mass.) | U-14 Super Group: STA Morris United NPL '01 (N.J.) |
| U-14 Premier Group: One7 Academy (N.C.) | U-14 Premier Group: FC Stars NH United (N.H.) |
| U-15 Super Group: TSF Academy 00/01 (N.J.) | U-15 Super Group: FC Copa Roma (N.J.) |
| U-15 Premier Group: GPS MA State Elite 00/01 (Mass.) | U-15 Premier Group: GPS MA State Elite 00/01 (Mass.) |
| U-16 Super Group: Match Fit Academy FC 99/00 Black (N.J.) | U-16 Super Group: TEYSA FC Europa Elite '99 (Pa.) |
| U-16 Premier Group: Logan SC Blackjacks (N.J.) | U-16 Premier Group: Mercer FC Magic (N.J.) |
| U-17 Super Group: Holmdel FC Sounders (N.J.) | U-17 Super Group: Mount Laurel United Magic (N.J.) |
| U-17 Premier Group: Eastern FC Rush (N.Y.) | U-17 Premier Group: Cedar Stars Academy Diamonds (N.J.) |