Champions crowned at Jefferson Cup U10-U15 Boys Weekend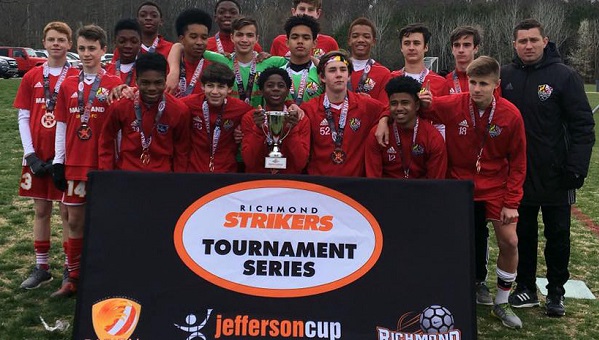 Follow the Jefferson Cup
Twitter | Instagram | Facebook
On Sunday at the Jefferson Cup U10-U15 Boys Weekend, it was all business as the teams wrapped up play with their final group games and championship matches.
U-10 Championship
Arlington SA 2008B Red (3-0-0, 28 points) earned their spot in the finals by continuing their five goal a game average with a 5-1 win over Soccer Vision Academy Porto (0-2-1, 9 points) to end Group A action. The would face Group B winners Torpedos SC Red (3-0-0, 26 points) who were also undefeated through three matches having beaten Ukrainian Nationals '08 BLA (2-1-0, 18 points) earlier in the morning. Although the Torpedos managed to slow down Arlington's potent attack, ASA was able to break through once again with the 3-1 win.
U-11 Championship
SAC Premier Blues Spurs 07 (2-0-1, 23 points) would earn their ticket to the U-11 Championship final with a 0-0 draw over NCFC 07 Gold North (0-1-2, 10 points) in their Group A finale. As for Group B Wake FC 07 Ajax (3-0-0, 25 points) squeaked past United Futbol Academy 07B P (1-1-1, 16 points)on matchday two of Group B with a 2-1 win. While the Blues would give everything they had in the final, in the end it would be Wake that finished on top of the U-11 Championship division with a 2-1 win.
+READ: Jefferson Cup 2018 U10-U15 Boys Weekend Day 1 Recap
U-12 Championship
In Group A, Pennine United 06 White (3-0-0, 27 points) battled to a 1-0 win over FC Sportika Academy (1-2-0, 9 points) to earn their spot in Sunday afternoon's final. As for Group B, Nationals Union 06 Boys BLA (2-0-1, 23 points) made short work of Watchung Hills NJ Elite 200 (1-1-1, 13 points), earning the shutout in a 6-0 win. In the end, Pennine pulled away with a 3-1 victory in the title match.
U-13 Championship
The Ukrainian Nationals Ukraini (3-0-0, 27 points) made it a clean sweep through Group A with a close 3-2 win over GPS MA Elite Red 05 Boys (1-1-1, 15 points). They would face NCFC 05 Elite (2-0-1, 21 points), whose 1-1 draw against Manhattan SC Freedom (0-2-1, 7 points) was enough to see them through in Group B. Although NCFC gave made it a fight with several quality attacking chances in the finals it wasn't enough as the Nationals earned the 1-0 win and the U-13 Championship.
U-14 Championship
GPS MA Elite 04 Boys (2-0-1, 24 points) punched their ticket to the U-14 Championship match with their second win in Group A play, a 2-0 win over Arlington SA 2004B Red (1-1-1, 14 points). They would NY Stars Premier Galaxy (3-0-0, 29 points) whose undefeated streak was extended to three in Group B with a 2-0 win over Pennine 04 MRL (0-3-0, 0 points). In the final, the Stars lockdown defense would be too much for GPS' vaunted attack and NY would claim the 3-0 win. They are the only side in the Championship Division to not concede a single goal during the tournament.
U-15 Championship
Bayern Munich, the senior side, prides itself on being tightly organized defensively, dominating possession, and making the most out of its chances on crosses. So it would only make sense that a side that wears the same colors would play a similar method. On Sunday, its partner side GPS MA Elite Red 03 Boys took the Bayern method and used to their own advantage. The club defeated Piedmont Triad FC 03 Black of Group A (3-0-0, 25 points) 5-1 in the U15 Boys Championship match at the Jefferson Cup.
Initially, it appeared as if those attending the match at River City Field 4 would be in for a close tight affair. With GPS' patient passing and Piedmont's willingness to force the issue on the attack the two sides tested each other with very different method. In the fifth minute Piedmont's  forward drove down the center of the pitch and hit a shot that was on targer from 20 yards out but easily saved by GPS keeper Nikola Antic. The GPS would adjust for the remainder of the half forcing Piedmont, who had a size advantage wide. The GPS center-backs Calvin Lemley and Peter Martel would consistently force Piedmont's attackers wide kicking the ball out of bounds on any attack and giving their defense a chance to reorganize.
"We work  on that a lot [in practice]," said GPS coach Tommaso Trevisian after the match. "We have been trying to tighten up the lines and it was critical for us all weekend long. We won three games [in Group A] because we were consistent defensively, very well organized, pressuring always at the right time, and pushing up when it was the right time to push up."
GPS' attack in the first half mostly consisted of counter-attacking efforts and set pieces. While their first two efforts at spot kicks in the 13th and 22nd minute were wide of the Piedmont goal, their third attempt would give them the breakthrough. In the 25th minute midfielder Evan McAvoy would lace in a high free kick that would hit the inside of the crossbar and out towards Ornel Djomo. GPS' center-forward would head home the rebound to put GPS ahead 1-0.
While one goal is nice, two is even better and in the 39th minute Djomo would be at it again knocking home a cross in by McAvoy to pull GPS ahead by two.
In the second forty-five Piedmont would prove that the old adage of a 2-0 lead being the most dangerous lead in soccer to be true. In the 47th minute their center-forwar would finish off a cross in by number their left midfielder to cut GPS' lead to one.
With the scoreline tightened, tensions followed in kind. Both GPS and Piedmont players would engage in a series of tough physical challenges with both sides finding themselves on the wrong side of referee's whistle.
In the 67th minute Piemont gave GPS a little bit of their own medicine with their center-midfielder finding their center-forward on the counter-attack with just Antic to beat. However, his shot would go wide.
GPS would make the most of their second life. In the 61st minute Maclin Stover would would be the recipient of inside right-footed pass from Michael Haikal and hit home his shot at the top of the 18. Stover's work was not done on the day though as his shot would hit the far post in the 67th minute giving him the brace. An own goal by Piedmont in the 85th minute would seal their fates and give GPS their first Jefferson Cup U15 Championship title.
"The team played great on the weekend," said Trevisan. "The tournament was fantastic, the competition was high. We don't play much in the winter so it was great to come here. The players gave everything they had on the field. They played with composure and we created a lot of chances, they scored a lot of goals and they played great."
U-15 Elite
After drawing in their first match, New Jersey-based STA MUSC 2004b NPL went on a tear in Group A of the Jefferson Cup's Elite Division. On Sunday they wrapped up their torrid run with a 1-0 win over Triangle United TSA Gold.
As they had done through Group play STA started the match on the attack, dictating the tone of the play and forcing a normally attack-minded Triangle to play more conservatively. Led by Connor Tierney and Michael Munoz, the STA midfield dropped in several passes into Triangle's defensive third breaking down their usually staunch defense. Triangles right-back and left-back made several quality clears to keep the match level.
But STA would not be denied, and in the 18th minute they would find the game's opening goal to take a 1-0 lead.
After going down a goal and for the most part weathering the STA storm, Triangle would go on the offense. Using their defensive midfielders to push STA's attackers and center midfielders back the club would open up space in the attacking third.
In the second half, Triangle would continue to press STA looking for the equalizer. STA center-back Jack Kelesoglu anchored the back line throughout the clean sheet effort, closely tracking Triangle's center-forward and controlling the tempo of the match.