Position switch powers PWSI's Michael Edwards to U.S. U-14 National Team call-up
At the beginning of the 2013 fall season, Prince William Soccer Inc.'s Michael Edwards wasn't on the U.S. youth national team radar.
He is now.
Edwards will travel with the U.S Under-14 squad to an international camp in Zagreb, Croatia from May 15-25.
"He wasn't initially included in the training centers, but I recommended him later in the last month or so and they saw what we've had been seeing of late and invited him straight in," PWSI's Technical Director and Director of Boys Coaching Mike Cullina told SoccerWire.com.
Edwards, a standout on PWSI's Courage 99 Boys Red squad, has developed via steady growth. Cullina didn't believe that from the fall to now was a "leaps and bounds" situation where a decent player turned into a great player in quick fashion.
"The difference between him now and the fall isn't drastic, it's just it was steady and he grew and we had a better idea of what the national team coaches were looking for and felt he was in-form and kind of what the needs are for the group."
Although not initially slated to be a part of the camp, injuries opened the door.
"He went into the pool and to my understanding there were a couple of injuries to the players that were identified to go on the Croatia trip and couldn't go. One of them was a center back and they were looking for one. Michael filled that slot," said Cullina.
His club coach Justin Joswick's decision to move Edwards into a more central role had a major impact. Edwards had been used as an outside back, but is now primarily a holding midfielder and center back for PWSI.
"He [Joswick] made a great decision for the player because we've been having him play in that No. 6, holding midfield position, he's on the ball a lot. We play through him a lot," said Cullina, who felt the reason Edwards may not have been called up earlier was that he was bouncing around positions.
Joswick said in an email, "One of the best attributes about Michael is that he keeps his composure at all times. It doesn't matter what type of event or the opponent that we are up against, he greets every obstacle with composure and with a desire to succeed."
Astute at reading the game and getting in the right positions, Cullina also noted that Edwards is "unbelievably coachable."
Playing in center of the park will help in the transition at center back on the national team level, where Cullina projects Edwards playing in the long term.
The call-up for Edwards highlights a longstanding goal of PWSI: To be a pipeline for young players to earn national team experiences.
"Our focus is on a day to day, we've got to play them, we've got to coach them and put them in the best positions for it to happen," Cullina said.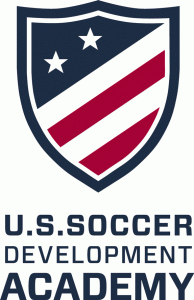 Although he no longer represents PWSI, Chandler Vaughn, a teammate of Edwards from U-8 to U-13 level, has also gotten time with the U-14 team. Vaughn, an outside back, currently plays for the D.C. United Development Academy team.
Vaughn's move northward underlined the importance of PWSI's acceptance into the U-14 division of the Development Academy earlier this year. Players will now have more access to the Academy scouts and should see more chances to join U.S. Soccer training centers. Cullina felt had PWSI began that program a year earlier, that Vaughn would possibly still be with the club.
Vaughn is still a fixture around PWSI, attending training "two to three times a week" to see his friends as well as his brother, who still currently plays at the club.
Cullina believed there were several factors in the Virginia youth club's ability to shepherd players toward national team call-ups.
"The club has very good coaches, there's been a developmental program in place, that's continually modified, but clearly has a player objective in mind. We have as good of a facility as anyone in the country and with our turf fields now in conjunction with the grass field, we're canceling less practices and we're training more and more," he said.
"We're trying to get out of leagues that gives us too many games and not enough training."
And Prince William County's burgeoning population continues to contribute as well.
"Geography has as much to do with it as anything," Cullina said. "The one thing Prince William Soccer has is a tremendous amount of diversity. To be able to expose our players to different cultures, different ideas on how the game should be played, different socio-economic backgrounds, all of those things are important, I believe."
Describing Edwards as a kid never "lacking for confidence," Cullina believes the 13-year-old's call-up should bring confidence to everyone involved with PWSI.
"The gain in confidence will come from his teammates and throughout the rest of the club. Players know this is a real opportunity. This is a stated goal of our organization to help kids get to this level, there's been a consistent theme here with kids with the opportunity to gain exposure."
The chance for Edwards to travel to Zagreb and take part in a Youth National Team for the first time is one that Cullina believes will be a successful one for the young player. It will also help him learn what areas in his game still need to be refined.
"We'll have a clearer understanding of the areas where he needs to improve and how to improve in those areas, simple things like work rate in the most minute details, technical training, ability to read the game, play a little faster that type of stuff," said Cullina.