CCL announces launch of Championship West Division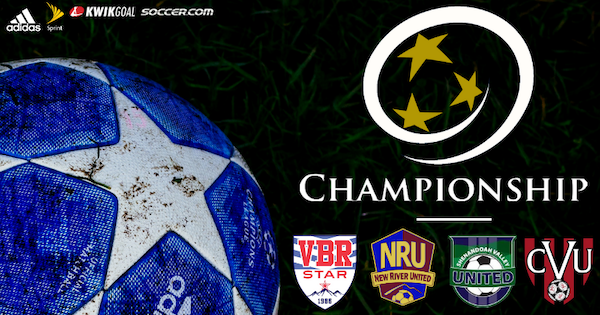 Charlottesville, VA (Via CCL) – The Club Champions League (CCL) has announced the launch of the Championship West Division, beginning in Fall 2019.
Clubs participating in the new division will include: Central Virginia United (CVU; Lynchburg, VA), New River United (NRU; Blacksburg, VA), Shenandoah Valley United (SVU; Harrisonburg, VA), and VBR Star (VBR; Roanoke, VA). Additional clubs may be added soon.
CCL's Championship division is a competitive platform offering both individuals and clubs the opportunity to develop to their fullest potential under the same high standards as the Premiership.
"We want to grow the club, our brand, and have the opportunity for more varied competition. For us, the professionalism, structure, and league standards that CCL provides is an exciting new step in that direction," said Raymond Ford, CVU Player & Coach Executive Director.
Championship Divisions are for CCL member clubs second teams that participate in the Premiership (CCL's first division), as well as for clubs that may not be ready to apply for, or do not seek entry into, the Premiership but are seeking to grow and flourish under CCL's club-to-club model, ability to work with like-minded clubs, and the synergy to work with a league that is dedicated to helping clubs succeed on-and-off-the-field.
Matt Gwilliam, New River United interim Executive Director and Director of Coaching, stated: "New River United is excited to join the new CCL West Championship division. The Club Champions League's commitment to both player and club development was a major driving factor in our decision to undertake this new venture. We are excited to grow not only New River United, but also soccer in general in this region of Virginia under the exceptional CCL banner."
+READ: CCL, Northeast Soccer League to launch PRO23 in New England
Championship West Division clubs will play divisional league play combined with divisional crossover play with the Championship North Division. All Championship clubs also receive an adidas Fall Festival (September) and high school age groups receive a Championship Invitational (February) that is interwoven with the CCL College Combine.
"SVU is all about player development and promoting a sound tactical approach to the game," said Tom Mitch, SVU Technical Director. "This happens only via quality training anda match environment in which like-minded clubs together foster both player development and a tactical team concept. We are excited to be joining the CCL Championship West Division. This is a unique opportunity for SVU to continue match play with long-time partner clubs, while adding a variety of additional match opportunities with other CCL clubs who share the same developmental objectives."
All member clubs receive access to the CCL's partnerships and sponsorships with the likes of adidas North America, Soccer.com, Kwik Goal, United Soccer Coaches, and more. Each has a direct benefit and discount for the player/family, coach, team, club and league.
VBR Star Director of Coaching and Player Development, Chris McClellan is excited to offer his club a Championship Division opportunity: "We are all about the CCL. We have been watching the success of the Championship North Division and how it has helped the competitive caldron within those clubs. They offer a similar environment for their second teams which helps the transition of players to and from first or second teams. We are equally excited to see the future growth of CVU, NRU, and SVU through the development of the Championship West Division."
Brian Kuk, CCL Executive Director stated: "The youth soccer landscape has changed dramatically over the past ten years and it will continue to change. The CCL has become 'The Best Regional League in the United States' because of its ability to provide a cutting-edge pathway for top clubs that includes PRO23, Premiership, Championship, NextGen, College Showcases, College Combine, ScrimmageFests, Festivals, and one-of-a-kind partnerships. We are seeing continued growth in all of our programs and are excited to launch the Championship West Division."