Carrie Patterson promoted to associate head coach at Coastal Carolina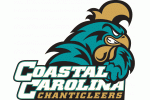 CONWAY, S.C. (Via Coastal Carolina University) – Coastal Carolina women's soccer head coach Paul Hogan announced the promotion of Carrie Patterson to Associate Head Coach.
"Carrie has been with me for five years now and she is a major part of the success we have had. Her hard work and commitment to our program has earned her this promotion," said Coach Hogan. "I can talk about all the great things she has done for our program, but the most important is that Carrie is a great person and role model for our young women."
Patterson recently completed her fifth season as a Division I coach last fall, helping guide the 2018 Chanticleers to a third-place regular season finish in the Sun Belt Conference, an overall record of 8-8-1 and a 7-3 in conference action.
+READ: NWSL College Draft Recap | Tierna Davidson goes No. 1 overall
The Atlanta, Ga. native helped Coach Hogan earn back-to-back Big South Coach of the Year awards in 2014 and 2015, along with helping guide Daniella Famili (2016 and 2017) and Amber Adams (2016) to All-South Region honors.
In 2016, CCU's first season in the Sun Belt, Patterson helped continue with the recent trend of success as the Chanticleers posted 12 wins for the second-straight season and followed that up with an 11-9-1 overall record in 2017.
"When I was at the University of Colorado I recruited Carrie out of high school but unfortunately she turned us down for the University of Georgia," Hogan stated. "I guess my recruiting pitch this time was better as she decided to join me at Coastal Carolina. For better or worse Carrie is now part of the Hogan family."
Prior to coming to Coastal, Patterson was the Director of Operations for women's soccer at Missouri working with all facets of the day-to-day aspects of the program, including spearheading the team's travel and game day operations.
"Carrie was a big time player and our players are fortunate to work with her on a daily basis," said Hogan.
Patterson was an All-American player at the University of Georgia from 2006-09, a four-time All-Southeastern Conference first team selection and earned All-America second team honors from the National Soccer Coaches Association of America and Soccer Buzz in 2007.
Following her collegiate playing days, she was drafted by the Philadelphia Independence of Women's Professional Soccer in 2010. Patterson then signed with the Vancouver Whitecaps FC of the W-League in 2011 where she helped the squad advance to the Final Four.