Carolina clubs join forces to create 12,000-player Independence SC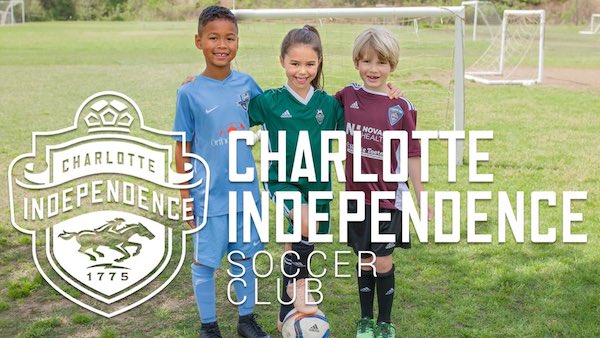 Charlotte, N.C. (Via Charlotte Independence) — The Charlotte Independence announced a historic formation of the Charlotte Independence Soccer Club, which becomes one of the top-10 largest, youth-to-professional clubs in the United States.
The Independence SC player network will consist of close to 12,000 members, formed from existing youth soccer clubs of Carolina Rapids Soccer Club, Discoveries Soccer Club, and Lake Norman Soccer Club. Together, Independence SC is positioned to build a better club in serving the surrounding Charlotte-area soccer communities.
"The launch of the Charlotte Independence Soccer Club is a monumental building block for soccer in this city," said Jim McPhilliamy, Independence President & Managing Partner. "Our goal is to make Charlotte a better place through soccer and this new club provides us an opportunity to continue this community's success of developing top-level talents. Together, we're going to be able to raise the profile of soccer higher than we could as individual organizations."
Independence SC is a comprehensive soccer club with playing levels for boys and girls ranging from recreation levels, ECNL, NPL, Development Academy, USL League Two, to the USL Championship. The creation of Independence SC from Carolina Rapids Soccer Club, Discoveries Soccer Club, and Lake Norman Soccer Club allows for pooled resources from all clubs, which effectively elevates player experiences and club programming, increases in coaches development opportunities, and strengthened partnerships with local municipalities and sponsors. The affiliation with the Charlotte Independence professional soccer team provides players a clear pathway to the highest level of professional soccer.
"The Independence Soccer Club is a formation of organizations with the same common belief — to create the best youth-to-professional soccer club, possible," said Thomas Finlay, Independence SC Chief Executive Officer. "Being able to merge assets allows us to move the game forward in this city. Collectively, our aim is to advance the player and fan experience at all levels of the club."
In addition to the formation of the new club, the Independence announced an expanded partnership Novant Health as the kit sponsor for all competitive youth teams. The integration of the two brands align Independence SC with the same look as the Independence USL Championship team.
The announcement of Independence SC comes two years prior to the Independence professional soccer team moving into a renovated 10,000-seat American Legion Memorial Stadium. This formation of Independence SC will enhance marketing efforts, increase sponsorship opportunities, and facilitate future infrastructure development.