Capital FC, Washington SC merge to create Washington Capital FC
(Via Capital FC / Washington SC) – Two District of Columbia clubs have today they are combining resources to offer the Washington region the city's highest quality travel soccer program.
Up and coming Capital Futbol Club and the storied Washington Soccer Club will merge operations in May, starting with tryouts for the Fall 2018 and Spring 2019 seasons. The new club, Washington Capital FC, will field nearly 30 teams and train more than 400 players from across the whole of Washington.
Washington Capital FC's Technical Director of Coaching, Judah Cooks, sees the merger as key to unlocking Washington's deep and talented player pool. "I have seen small clubs in the city struggle to retain the elite players they developed. With a combined pool of players from CFC and WSC, the new club will have the scale and financial resources to offer a top-flight program that will be a magnet for DC's players and those in nearby Maryland and Virginia."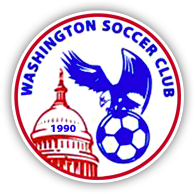 As a former member of DC United's first team who began playing with Washington Soccer Club, Cooks knows first-hand how Washington Capital FC will meet the demand for youth soccer in DC. "More and more, kids are making soccer their first sport. The exciting news from the DC government of more and better fields at the RFK complex promises to be a world-class training ground and a huge driver for Washington's player development. These factors make it the right time for our merger."
Washington Soccer Club Co-Founder and President Jim Ferguson, a member of the VA-DC Soccer Hall of Fame, is excited about the merged club. "The merger provides an opportunity to significantly increase the skill of all our players and retain the best ones rather than lose them to larger clubs or Academy teams. I am convinced the combined quality of our current and future players and coaches will make the club's teams highly competitive in any league or tournament."
Capital FC President Mic Burns agreed with Ferguson, "The rapid expansion of soccer in the mid-Atlantic, and the shifting landscape of topflight instruction and competition demanded that we consider all options as we looked to continue to deliver top-quality instruction to the youth of the City. This merger brings together the top instructional talent in the City with the addition of Ossie Orlando as a Director of Coaching. This is not only a coup for Washington Capital FC, but especially for kids in this area. By combining CFC and WSC teams, the overall size of our club will ensure a high standard of competition in the Elite Development Program (EDP) and other local travel leagues, including NCSL and ODSL."
Burns did not rule out a future move toward Academy or ECNL status for the merged club. "We have had many other local clubs talk to us about affiliating in the older age brackets to form elite teams. I think it makes sense for the younger players to develop locally in their neighborhoods and then come together to form highly competitive pools that can compete in college showcases and regional competitions. This merger guarantees our ability to provide that instructional model"
Because all teams will be re-formed through the tryout process, the club is encouraging all interested players to sign up for tryouts via www.capitalfc.org. Said Cooks, "Washington Capital FC coaching staff will set a very high standard. In short order, we will consistently put elite players and teams on the field that can compete with the top clubs across the Mid-Atlantic area and nationwide."