Cal South rosters set for US Youth Soccer Far West ODP Championships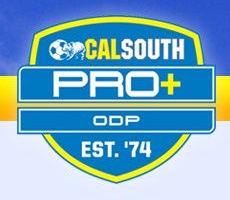 FULLERTON, Calif. (Via Cal South) – Cal South PRO+ has announced the rosters for its 2002-2003-2004-2005-2006 Boys and Girls PRO+ Olympic Development Program (ODP) teams that will represent Southern California at the US Youth Soccer Far West ODP Championships from January 4-7, 2019 at the Reach 11 Sports Complex in Phoenix. The schedule for all games can be found below.
Cal South PRO+/ODP teams have won an astounding 77 of a possible 101 Regional Championships for which it has competed in the last ten years, and 52 out of 60 in the past four years, including 9 out of 10 titles in both 2012 and 2013, and 10 out of 10 in 2014 and 2015.
"I always put the success of our PRO+ | ODP teams at these events 100% down to the fantastic clubs and coaches throughout Cal South who train these players day to day," said Steve Hoffman, Cal South's Director of Coaching Education and Player Development. "It is because of all their remarkable efforts in guiding and developing these players that Cal South PRO+|ODP gets an opportunity to show the rest of the country, on both a regional and national level, how rich Southern California is in soccer talent."
Cal South congratulates all its talented PRO+ ODP players that have made the rosters for this competition and wishes them the best of luck in Phoenix!
Cal South PRO+ODP Boys 2002
Staff: Head Coach Juan Sanchez; Assistant Coach: Romeo Aguinaldo
Castillo, Juan (San Diego United FC); Gallardo, Adrian (AVSC Storm); Guerrero, Marco (FC Golden State – 2002 Black); Lund, Casey (OC Surf); Lutfi, Joseph (Boca OC), Macario, Alexandro (CPL- Riverside City FC B02 Academy); Melgoza, JP (Oxnard Pal); Mendoza, Gerardo (Oxnard Pal); Oakson, Tyler (OC Surf); Pismopulos, Logan (Beach FC B02); Ponce, Brendyn (Boca OC); Ramos, Jesse (Antelope Valley Futbol Club); Resendiz, Andrew (Boca OC); Romero, Sebastian (Boca OC); Ruiz, Gael (Rebels Soccer Club); Sedano, Michael (Boca OC); Valverde, Andrew (Strikers FC South Bay); Ventura, Jose (Boca OC)
Cal South PRO+ ODP Boys 2003
Staff: Head Coach Jim Langan, Assistant Coach, Shaun Callahan
Arenas, Kevin (Boca Jrs LA Premier); Banks, Fletcher (DMS 11 Academy); Banks, Palmer (DMS 11 Academy); Darji, Joshan (San Diego SC Academy Navy); Drai, Raymond (Oxnard United Soccer Club); Gomez, Saul; Jaridly, Rommee (FULLERTON); Lagunas, Jesus (Oxnard United Soccer Club); Mahoney, Finn (San Diego Academy Navy); Malone, Owen (LA Galaxy San Diego); Mondragon, Miguel (Santa Barbara S.C.); Mulgado, Nathan (StrikersFC-South Coast); Ren, Rafael (Del Mar Sharks); Solis, Alejandro (Oxnard United Soccer Club); Solis, Emanuel (Oxnard United Soccer Club); Thomas, Nathan; Villeda, Eduardo (CDA Slammers FC); Wittenberg, Charlie (TFA-FCLA)
Cal South PRO+ ODP Boys 2004
Staff: Head Coach Rene Miramontes, Assistant Coach, Jerry Keeler
Bahena, Cesar (TFA – SD Blue); Barton, Tye (DMCV Sharks); Brunetto, Stefano (DMCV Sharks); Castrejon, Alex (LA Galaxy Bakersfield); Clayton, Shia (FC Bakersfield United); Dade, Ky Mani (Legends FC Boys Gold); Douglas, Conner (Del Mar Sharks); Garcia, Isaac (CDA FC Slammers); Lewis, Spencer (Hawks Academy); Leyva Ng, Joshua (FC Golden State); Martinez, Jonathan (SOLTILO FC); Micali, Spencer (LA Galaxy South Bay); Nakano, Julian (Beach FC); Obnamia, Royce (Strikers FC North); Richards, Bennett (Central Coast Condors); Rincon, Sebastian (Santa Monica Utd;) Sandoval, Fernando (Boca OC); Stuppel, Oren TFA-FCLA)
Cal South PRO+ODP Boys 2005
Staff: Head Coach, Guillermo Medina, Assistant Coach, Chris Rogers
Antuna, Geovanni (LAGSB Elite); Bravo, Kevin (Pumas USA); Camberos, Cesar (Pumas USA); Del Angel, Christopher (Fontana FC); Fonseca, Tristan (Corinthians); Galindo, Joan (TFA-SD;) Hylton, Nathan (Pateadores Riverside); Izmirian, Aram (Albion SC South – Academy); Lafon, Mario (Rebels Soccer Club); Nakagawa, Yuushin (LAGSB Elite); Nava, Alejandro (Chula Vista FC); Orozco, Ivan (Strikers FC – South Coast); Perez, Pedro (Barcelona California); Rangel, Roberto (LAGCV Pre-Academy;) Rezko, David (CDA FC Slammers); Saavedra, Bryan (Pateadores); Sollano, Christopher (Pateadores); Wouters,  Tristan (Central Coast)
Cal South PRO+ODP Boys 2006
Staff: Head Coach, Joey Hoffman, Assistant Coach, Nick Garcia
Aguiar-Casillas, Anthony (Pateadores PYL); Bank, Simon (SMUFC); Casillas, Victor (Xplosion SC); Chowana Bandhu, Charles (Eagles Soccer Club); Fonseca, Aron (LA Galaxy OC); Garcia, Angel (Worldwide Paramount FC); Garcia, Emiliano (Worldwide Paramount FC); Howard, Hayden (Chelsea SC LA); Legaspi, Allan (Worldwide Paramount FC); Levin, Hayden (Beach FC SB); Lopez, Nathan (Rebels Academy); Orzuna, Cristian (Laguna United FC); Parker, Luke (Central Coast Condors); Prado, Moises (Total Futbol Pre-Academy); Rodriguez Esquer, Isai (Hawks Academy); Rouston, Nathan (Rebels Academy); Siebenlist, Zachary (Central Coast Condors); Vega, Jhonkarlo (Pumas USA Kickers)
Cal South PRO+ ODP Girls 2002
Staff: Head Coach, John Napier Assistant Coach, Jaymie Baquero
Cahalan, Tanner (Beach FC); Campos, Anessa (Legends FC East-Riverside); Cleveland, Alyssa (South Valley Soccer Club); Crouts, Sophia (Beach FC SB); DeLeon, Anna (Strikers); Dostalek Maryy (,Beach FC); Guzman, Gabriella (CDA Slammers Orange); Harper, Emma (Beach FC); Hayward, Lucy (Beach FC); Hodel, Xolani (CDA FC Slammers); King, Morgan (Beach FC); Llamoca, Braelynn (Fullerton Rangers); Peregrina,  Leila Ariel (Arsenal FC); Reyes, Samantha (Legends FC); Rowan Hunter, Anne (LAGSD); Sekimoto, Olivia (Rebels SC); Shon, Rachel (Pateadores); Vasquez, Marrissa (Legends FC)
Cal South PRO+ ODP Girls 2003
Staff: Head Coach, Michelle Myers Assistant Coach, Hannah Shepherd
Aguirre, Joshlyn (Crescenta Valley SC); Aragon, Sophia (So Cal Blues); Ballard, Ellie (DMCV Sharks); Christie, Samantha (Rebels Soccer Club); Gallardo, Karla (Strikers); Gathright, Khalia (Strikers); Gonzalez, Aylin (Arsenal FC); Hinz, Sabrina (Hawks Academy); Justiniani, Michaela (SD Surf); Martin, Andrea (CZ Elite Soccer); McClellan, Kaylee (Legends FC); Mendez, Daphane (Hawks Academy); Schrock, Sophia (Beach FC); Smith, Kaila (Legends FC); Souther, Aspen (SD Surf DPL); Suliafu, Kolo (SC Blues); Vaipulu, Lavinia (Legends FC); White, Lauryn (Legends FC)
Cal South PRO+ODP Girls 2004
Staff: Head Coach, Mike Chin
Arribas, Riley (Laguna United FC); Camarena, Denise (Legends FC); Chavez, Mia (Strikers FC North); Davis, Alexa (Rebels Soccer Club); Garcia, Alexa (Real So Cal SCV); Gierczak, Brooke (San Diego SC); Hill, Taylor (LAFC Slammers); Linville, Mia (Slammers FC); Logan, Esperanza (CDA Slammers FC); Loyd, Ainsley (Rebels Soccer Club IE); Mehta, Acira (Fullerton Rangers); Melgoza, Yzabel (Real So Cal); Moschetti, Angelina (Slammers FC); Ortiz, Liberty-Faith (Freedom Futbol Club); Perez, Amanda (CDA FC Slammers); Ramirez, Gritsey (CDA FC Slammers); Reynolds, Stevie (South Valley SC); Rodriguez, Mina (Rebels Soccer Club)
Cal South PRO+ODP Girls 2005
Staff: Head Coach, Mike Munoz Assistant Coach, Ben Fox,
Banks, Raddison (South Valley Thunder); Casey, Mia (IE Surf Premier); Dalton, Kate (SD Force FC Academy); Delgado, Jasmine (Arsenal FC); Flores, Maribel (LAFC Slammers); Gordon, Hailey (Legends FC); Jimenez, Ayleen (OC Surf Anaheim)Kiesling, Gia (SC Blues); Lopiccolo, Rebekah Slammers FC); McMahon, Malia (LAFC Slammers); Mika, Elizabeth (AYSO Rancho); Miner, Emily (LAFC Slammers); Montano, Aaliya (Rebels Soccer Club); O'Callaghan, Maquena (SD Force FC Academy); Ramirez Orozco, Kristine (Slammers FC); Sesay, Hal (SC Blues); Schuler, Madison (Legends FC); Vazquez Delilah (SoCal Academy)
Cal South PRO+ODP Girls 2006
Staff: Head Coach, Steve Hoffman Assistant Coach, Sarah Garcia, Team Manager, Tahnai Annis
Banihashemi, Calista (SC Blues); Druian, Scarlette (Real So Cal); Howitt, Bianca (FC Golden State); Jackman, Ava (So Cal Blues); Kasarda, Kira (Legends FC); Magee Isa; Mekitarian, Ashley (Albion SC G06 Academy); Molina, Aundrea (IE Surf G07 Premier); Ngo-Harris, Leilani (LAFC Slammers); Osborne, Sydney (SC Blues); Pimentel, Elaine (CZ Elite); Rivera, Jenna (LAFC Slammers); Romero, Genesis (Strikers FC North); Schall, Ava (Albion SC Academy); Secoda, Kylie (SC Blues); Shin, Fiona (Beach FC SB); Spears, Sarah (Real So Cal); Walls Chloe
PRO+ Administration: Kathy Hoffman
Goalkeeping: Victor Melendez, Wendy Espejel
Scout: Andreas Wedderien
Athletic Trainers: Jaun Melgoza, Phoebe Huffman, Aldo
FRIDAY, JAN 4
CATEGORY

TIME (PT)

HOME

SCORE

AWAY

G2006

8:00AM

Southern Nevada

–

Cal South

G2005

8:00AM

Idaho

–

Cal South

B2004

8:00AM

Hawaii

–

Cal South

B2002

8:00AM

Colorado

–

Cal South

B2003

8:00AM

Cal North

LIVE

Cal South

B2006

12:00PM

New Mexico

–

Cal South

B2005

12:00PM

Idaho

–

Cal South

G2003

12:00PM

Idaho

–

Cal South

G2004

12:00PM

Cal South

–

Northern Nevada

G2002

12:00PM

Northern Nevada

LIVE

Cal South

B2002

4:00PM

Cal South

LIVE

Washington

G2006

4:00PM

Cal South

–

New Mexico

B2004

4:00PM

Cal South

–

Idaho

B2003

4:00PM

Cal South

–

Northern Nevada

G2005

4:00PM

Cal South

–

Southern Nevada
SATURDAY, JAN 5
CATEGORY

TIME (PT)

HOME

SCORE

AWAY

G2003

8:00AM

Cal South

–

New Mexico

G2002

8:00AM

E. Washington

–

Cal South

B2005

8:00AM

Cal South

–

Southern Nevada

B2006

8:00AM

Cal South

–

Southern Nevada

G2004

8:00AM

Arizona

LIVE

Cal South

G2006

11:00AM

Idaho

–

Cal South

B2004

12:00PM

Northern Nevada

LIVE

Cal South

B2002

12:00PM

Alaska

–

Cal South

B2003

12:00PM

E. Washington

–

Cal South

B2006

4:00PM

Montana

–

Cal South

G2003

4:00PM

Arizona

LIVE

Cal South

G2002

4:00PM

Cal South

–

Idaho