Cal South PRO+ ODP announces Spring Player Pools (2004 Girls)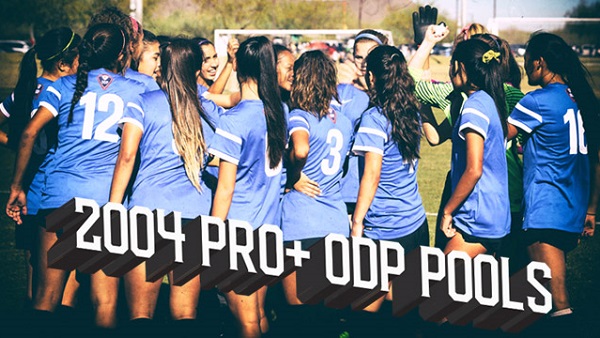 FULLERTON, Calif. (Via Cal South Soccer) – Cal South PRO+ ODP announced the 2004 Boys and Girls Spring Player Pool for the Training Centers to be held on April 22, 28, 29 2018. All groups training centers will be held at Ventura College (4677 Telegraph Rd, Ventura, CA 93003).
The staff will be selecting players to participate in the Cal South PRO+ Elite Player Performance Event in Ojai, and the Florida Regional girls event June 7-11 in Tampa, Florida. The Girls PRO+| ODP Elite Player Performance Event will take place from July 8 – July 10, and the Boys PRO+|ODP Elite Player Performance Event is scheduled for July 13 – July 15 in Ojai, Calif.
IMPORTANT: Players who are going into a U.S. Soccer Boys or Girls Development Academy Club you cannot attend this camp, per U.S. Soccer rules.
+READ: Cal South PRO+ ODP announces Spring Player Pools (2004 Boys)
Steve Hoffman, Cal South Director of Coaching Education and Player Development, said, "We are excited to announce the youngest age group to the Cal South PRO+/ODP Program. The whole emphasis for this age group is based on 100% development in training. We are going to see if any of these younger players can compete at the next level in a controlled and productive learning environment."
GIRLS 2004
Last
First
Club
City
Anaya
Kamy
Beach FC LB Nunes
Long Beach
Anneet
Camille
Real So Cal G04
Malibu
Arribas
Riley
Laguna United Fc Blue
Laguna Niguel
Arruda
Savanna
Anahiem Surf
Rancho Cucamonga
Avila
Isabel
Rebels Soccer Club
Spring Valley
Banks
Radisson
South Valley SC
Bakersfield
Beamer
Abigail
San Diego SC Academy Navy
San Diego
Beck
Jillian
CDA FC Slammers – Cerritos Segovia
Lakewood
Berlinger
Lily
Real So Cal G04
Thousand Oaks
Bernal
Marissa
CDA FC Slammers – Whittier Alvarez
Compton
Bonnett
Bella
Arsenal FC
Rialto
Bonnett
Gianna
Arsenal FC
Rialto
Brewer
Cali
Arsenal FC
Riverside
Buggs
Victoria
Pateadores IRV
Irvine
Camarena
Denise
Legends FC
Riverside
Cawhorn
Kayley
Slammers FC JB
Huntington Beach
Cde Baca
Aleah
Anahiem Surf
La Habra
Chavez
Mia
Arsenal FC
Chino
Cobb Phillips
Ryan
UIFC Venom
Los Angeles
Covarrubias
Alexis
CDA FC Slammers – Cerritos Segovia
Compton
Cox
Cherrie
FRAM G04-Ferren
Torrance
Dominguez
Arianna
Freedom Futbol Club
Covina
Escalante
Abigail
Rebels Soccer Club
Spring Valley
Ferkranus
Mia
Real So Cal- SCV G
SantaClarita
Flanagan
Kaitlyn
Slammers FC JB
Orange
Frausto
Emma
Arsenal FC
Ontario
Gerraughty
Jenna
LAGSD Academy II-Tarrant
Carlsbad
Gierczak
Brooke
San Diego SC Academy Navy
San Diego
Gomez
Sophia
Albion SC South
Chula Vista
Gully
Alexandria
Sol 03
Goleta
Hahn
Summer
Real So Cal- SCV G
Valencia
Hartman
Oona
Tudela FC LA
Los Angeles
Haynes
Samia
Legends FC
Chino
Hernandez
Claire
Ventura FC
Ventura
Hinojosa
Jasmine
Central California Aztecs
Bakersfield
Hong
Hannah
Slammers FC JB
Irvine
Inigo
Olivia
SD Force FC Academy
San Diego
Jones
Jocelyn
SD Force FC Academy
San Diego
Juarez
Adi
Legends FC
Rancho Cucamonga
Khan
Courtney
Beach FC
Rolling Hills Estates
King
Monica
Rebels Soccer Club
La Mesa
Logan
Esperanza
CDA Slammers FC-Cerritos
Lakewood
Lopez
Sara
CSC G-2003
El Cajon
Loyd
Ainsley
Arsenal FC
Corona
Luna
Shantell
Freedom Futbol Club
West Covina
Marquez
Brianna
SoCal Academy
Covina
Marshell
Riley
Moorpark United
Simi Valley
Mehta
Acira
Fullerton Rangers White
Fullerton
Melgoza
Yzabel
Real So Cal G04
Newbury Park
Metcalfe
Lindsey
LA Galaxy
Palos Verdes Peninsula
Mijangos
Raquel
CDA FC Slammers – Whittier Alvarez
Downey
Miner
Emily
Slammers FC AW
Rancho Santa Margarita
Miyamoto
Keely
CZ Elite Soccer G04 Quezada
Los Angeles
Molinares
Natalia
CDA FC Slammers – Cerritos Segovia
Bell
Morales
Frida
CDA FC Slammers – Whittier Alvarez
Bell
Morris
Riley
Beach FC
Compton
Najera
Grace
Legends FC South
Murrieta
Nauman
Samantha
SD Force FC Academy
San Diego
Nelson
Emily
LAGSD Academy II-Tarrant
Carlsbad
Newkirk
Teryn
Strikers FC-OC
Cypress
OCoyne
Tatum
SD Force FC Academy
Rancho Santa Fe
Oh
Kylie
SoCal Academy
San Gabriel
Oh
Kylie
SoCal Academy
San Gabriel
Ortiz
Scarlett
Anaheim Surf G2004 White
Garden Grove
Ortiz
Liberty-Faith
Freedom Futbol Club
Chino Hills
Osborne
Anika
CDA FC Slammers – HB G04 Melendez
Buena Park
Perez
Amanda
CDA FC Slammers – Cerritos Segovia
Downey
Peterson
Kadyn
SD Surf 2004
Encinitas
Pineda
Danielle
Fullerton Rangers White
Fullerton
Ramirez
Isabella
Anaheim Surf – G2005 White- Sanchez
Fullerton
Ramirez
Gritsey
Fullerton Rangers White
SantaAna
Reynolds
Stevie
South Valley SC
Bakersfield
Riley
Arribas
Laguna United Fc-G2004-Blue
Laguna Niguel
Rodriguez
Mina
Rebels Soccer Club
ChulaVista
Rodriguez
Serena
Central California Aztecs
Bakersfield
Salinas
Jordan
Arsenal FC
Corona
Santa Maria
Isabella
Arsenal FC
Upland
Saucedo
Emma
Beach FC
Los Angeles
Stanford
Jade
Westside Breakers
Beverly Hills
Stone
Alaysia Leilani
LA Galaxy
La Palma
Taylor
Alyssa
Legends FC East-Riverside
Riverside
Tolentino
Jysabella
Real So Cal G04
Moorpark
Tucker
Phoenix
Beach FC LB Nunes
Norwalk
Varela
Maya
Central California Aztecs
Bakersfield
Victorio
Jackie
Real So Cal- SCV G
Valencia
Villa
Amelia
NSC Kickers
Santa Ynez
Villegas
Iliana
Albion SC
San Diego
Villegas
Genesis
Fullerton Rangers White
Anaheim
Weene
Zoe
Westside Breakers
Los Angeles
Wilhite
Brooke
Fullerton Rangers White
Fullerton
Worden
Elizabeth
Arsenal FC
Riverside
Wortman
Katelynn
LAGSD Academy II-Tarrant
San Marcos
Yakel
Isabella
CDA FC Slammers – Cerritos Segovia
Long Beach