Butler University men's soccer program signs seven future Bulldogs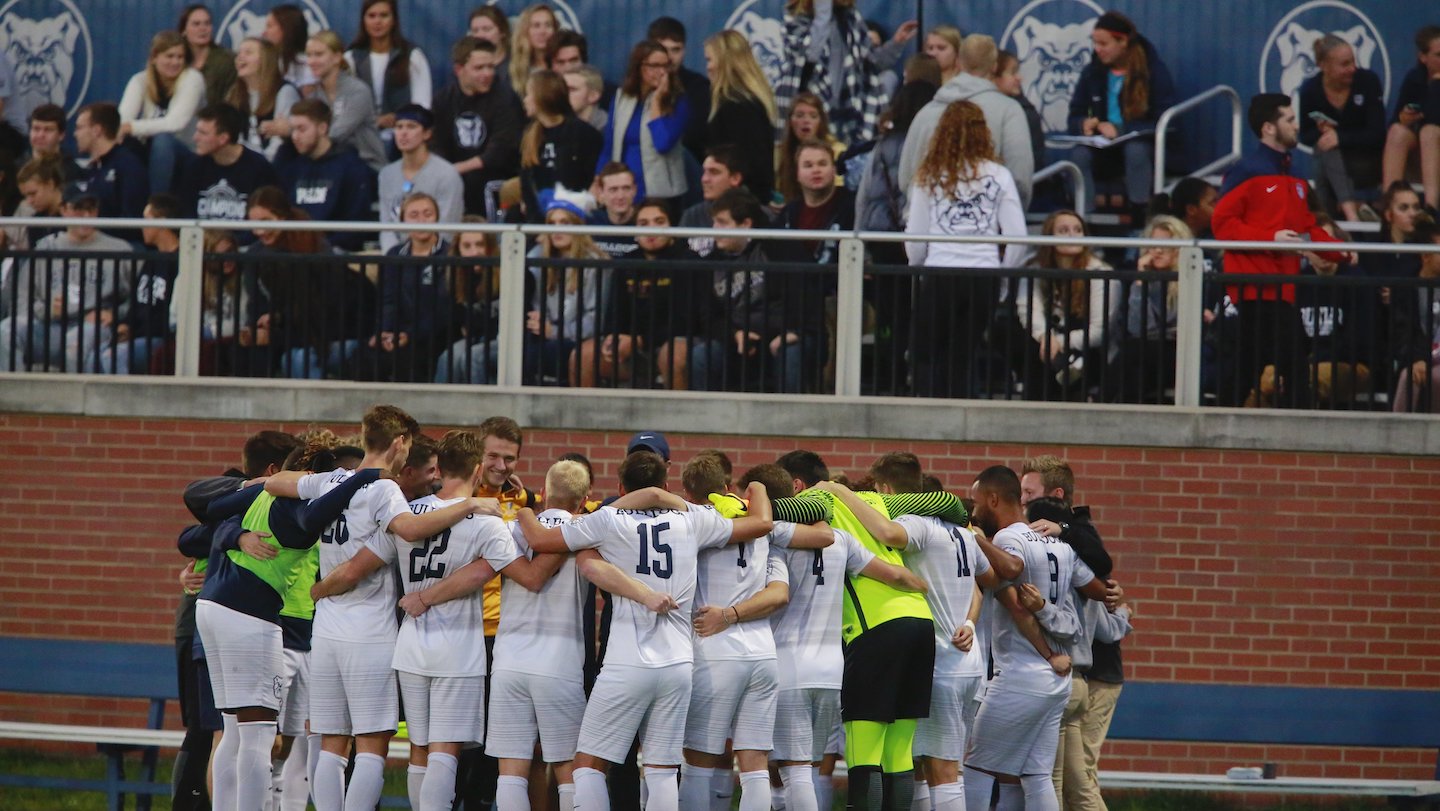 Butler University men's soccer head coach Paul Snape and his staff have signed seven future Bulldogs for the class of 2021.
"We, as a coaching staff, are very excited about this 2021 recruiting class," said Snape, who enters his tenth season leading the Bulldogs. "We have signed a group of highly-motivated, passionate and committed student-athletes. These seven players are high performers in every aspect of their lives. They have all been exposed to the technical, tactical, physical and psychological demands placed upon elite players and teams. We expect this group of players to genuinely compete and raise the standards within our program. Just as importantly, every single member of this class possesses an abundance of emotional intelligence, integrity, and humility. These seven guys are a perfect cultural fit for our program and for Butler University!"
Donovan Boone, 5-11, M, Shakopee, Minn. / Shattuck-St. Mary's
Boone was a three-year starter in the midfield for Shattuck-St. Mary's.
Boone on selecting Butler: "I chose Butler because I was looking for a university where I would be challenged both on the field and in the classroom. I believe I will be challenged me in these areas which is why I chose Butler."
Jack Guckien, 5-11, M, Zionsville, Ind. / Zionsville
Guckien played exclusively for the Indiana Fire Academy, starting 72 of the team's 96 games over the last five years.
Guckien on selecting Butler: "Academics, coaching staff, team culture, and style of play are a few of the top reasons I chose Butler."
Philip Halvorsen, 6-2, M, Oslo, Norway / Valle Hovin VGS
Halvorsen has extensive experience with his club team, Kjelsås. He has been promoted in each of the last two seasons. His teammates voted him Player of the Year in both 2019 and 2020. In 2020, he led Kjelsås to a record of 12-0-1, playing every minute in each contest. He scored four goals.
Halvorsen on selecting Butler: "I chose Butler because of their ambition to win. The team's style of play seems to fit me well, and I really want to be a part of the coaching staff's plan for the future. Based on what I have seen and heard, Butler seems like the perfect place to combine high level soccer and studies."
Jacob Pohl, 6-1, D, Avon, Ind. / Avon
Pohl is a three-year starter for Avon, who also is part of the Indiana Fire club program. His Indiana Fire team was champions of the Disney Showcase in both 2018 and 2019, while also advancing to the semifinals of the 2019 Indiana State Cup. At Avon, Pohl served as team captain while also earning Team MVP honors. He was a first-team all-conference selection who was also named 2020 Hendricks County Player of the Year. He also earned a spot on the Indiana Soccer Coaches Association Top Team.
Pohl on selecting Butler: "Growing up in central Indiana watching Butler games and going to Butler soccer camps, I've always imagined myself attending school and playing soccer here. Butler University has a rich and valued history and I aspire to be one of the highly respected and recruited Butler graduates."
Trevor Share, 5-11, GK, Elgin, Ill. / Burlington Central
During the 2019-20 season, Share led his Sockers FC Chicago Academy club team to No. 3 national ranking with a 13-0-1 record. He allowed only nine goals in those 14 contests. He was named a prospect to watch at the U17 DA Winter Cup in December, 2019, conceding only one goal in three games.
Share on selecting Butler: "I chose Butler because of their high level of academics and athletics. I love the coaching staff and how they made me feel welcome at Butler. The program has a bright future and I am very excited to be part of it."
Ricky Ybarra, 5-10, D/M, Brentwood, Tenn. / Shattuck St. Mary's (Minn.)
Ybarra finished his prep career at Shattuck St. Mary's in Minnesota, while also spending time with club programs FC Cincinnati MLSNext and Nashville SC MLSNext. As a freshman at Brentwood High School in Tennessee, Ybarra helped his team to a third-place finish in the state playoffs, starting every game.
Ybarra on selecting Butler: "I chose Butler because of the combination of great athletics and great academics in one place. The men's soccer coaching staff was very welcoming and I knew I had a family here. When I stepped on the campus, I knew it was for me."
Nicholas Yono, 5-11, D, Canton, Mich. / Canton
Yono made an impact at both Canton High School and with his Michigan Wolves Academy club team. He helped to the district finals, while earning all-conference honors. He scored two goals in the district semifinals for Canton.
Yono on selecting Butler: "Butler has a top Division I soccer program to go along with great academics and a great Business school."