Business as usual: U.S. Soccer left in minority as FIFA re-elects Sepp Blatter
The latest milestone in soccer's long, slow climb into the frontal lobes of North Americans was reached on Friday, when millions of Americans and Canadians turned their attention to the byzantine workings of the Fédération Internationale de Football Association as the global governing body staged its quadrennial presidential election.
This week's combined swoop on FIFA corruption by the Department of Justice and their Swiss counterparts gave a wider audience a taste of the grimy truth about the culture of graft and bribery at the top of world soccer. So many were dismayed to see 17-year incumbent Sepp Blatter re-elected to the presidency with minimal fuss.
Barely 48 hours after several of his top lieutenants were hauled into custody for myriad counts of racketeering and fraud, Blatter gained 133 votes, just short of the two-thirds majority needed to beat his challenger, Jordanian royal Prince Ali bin Hussein, in the first round of secret-ballot voting among FIFA's 209 member associations.
+READ: U.S. Dept. of Justice slaps FIFA, partners with a raft of corruption charges
"For the next four years I will be in command of this boat called FIFA and we will bring it back ashore, we will bring it back to the beach," said Blatter in a meandering, barely-coherent victory speech.
"We don't need revolutions, we need evolutions. I'm being held accountable for the storm. OK, I will shoulder that responsibility."
It was a political race that can only be considered close by the standards of FIFA or the communist soviet unions of old. Blatter would have easily beaten Prince Ali in a majority-rules second round of voting, but the challenger saved everyone that time-consuming formality by conceding defeat.
The Swiss 78-year-old who appears so bumbling and scatterbrained in public had won a fifth term, in the process promising to reform the entity which has become synonymous with complete corruption, albeit of the highly profitable kind, under his reign.
Welcome to FIFA, my fellow Americans.
Most of the organization's rank-and-file members are executives of national soccer associations in developing countries whose budgets, and power, have grown under Blatter's tenure. They were ignored by his Euro-centric predecessors for decades, and today share little of the mockery and revulsion which characterizes most Westerners' views on FIFA and its Executive Committee. And they will likely see no reason to abandon their support of Blatter any time soon, even if investigators find enough evidence to hunt him down as they did with this week's 14 suspects and perpetrators.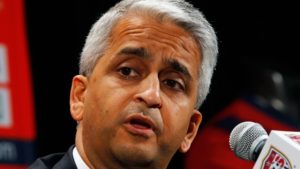 The U.S. Soccer Federation and its president Sunil Gulati, himself an ExCo member, boldly – though some would say quite belatedly – came out against Blatter in this election, urging their counterparts to seek a new path under Prince Ali.
They were most publicly joined in that attempt by the Canadian Soccer Association, the Football Federation of Australia and a few other federations, and all must now face at least four more years under the authority of a man who rarely forgets a slight.
"While we are disappointed in the result of the election, we will continue to push for meaningful change within FIFA," said Gulati in a statement distributed by U.S. Soccer. "Our goal is for governance of FIFA that is responsible, accountable, transparent and focused solely on the best interests of the game. This is what FIFA needs and deserves, and what the people who love our game around the world demand.
"We congratulate President Blatter and it is our hope he will make reform his number-one priority to ensure the integrity of the sport across the world."
+READ: US Soccer president Sunil Gulati elected to FIFA Executive Committee in 2013 CONCACAF vote
Many are already lamenting the likelihood that the USSF's hopes of hosting World Cup 2026 have now been destroyed. Gulati likely feels he already let that ship sail, however, by publicly stating after Qatar's victory for 2022 rights that the United States would not seek to be tournament hosts until the bidding process is reformed.
Given his long history of empty rhetoric, Blatter remains unlikely to make a sincere commitment to such reforms, though he may eventually conclude that a World Cup return to the U.S. would simply be too lucrative to pass up. And in the reality of the short term, the USSF has more of a mess to clean up than Blatter, with so many of the DOJ's indictments concerning CONCACAF and events in the Americans' backyard.
By any wider ethical standard, Gulati simply had to show his cards, even in a doomed effort. But he and the federation he represents face a future more uncertain than ever as he treads deeper into FIFA's dark, secret passages on the shores of Lake Zurich.