VA/MD crosstown rivalries take center stage on penultimate ECNL weekend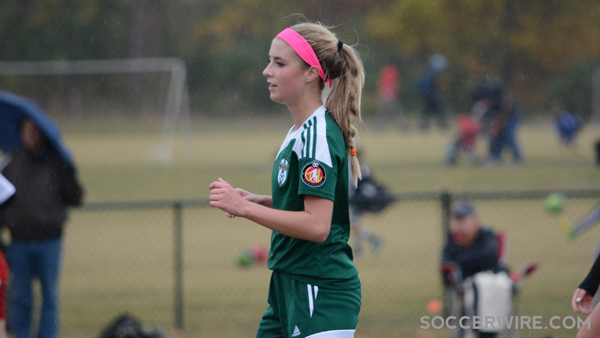 Crosstown rivalries kick off Saturday in Potomac area ECNL action as Maryland United FC squares off with Bethesda SC, and McLean Youth Soccer plays host to FC Virginia in several age groups on the penultimate weekend of regular season play.
Not included in the local club match-ups is the U-14 age group, where Bethesda SC looks to move within one game of an undefeated regular season. Bethesda is 13-0-2 [player_box id=45458 leftright=right]overall, including 4-0-1 so far in May while holding on to the No. 1 Champions League playoff seed. Bethesda and McLean U-14 will each play host to Ohio Elite SA and Indiana Fire Juniors this weekend, the Ohio Valley Division's bottom two sides.
Also in the U-14 age group, FC Virginia battles NC Fusion at Evergreen SportsPlex on Saturday at noon. A Victoria Powell brace and stifling defensive effort led FCV to a 2-0 victory over Internationals SC in their last match on May 17.
Maryland United will play Bethesda U-15 on Saturday morning at Hammond High School. MUFC is 1-9-3 in-conference and sixth in the Ohio Valley Division, but earned a 2-2 draw against a strong FSA FC side in their last match Monday at the PDA Showcase. Alexcia Kraemer and defender Meghan Chun found the net for MUFC in the tie.
[player_box id=43410 leftright=right]Third place in the Ohio Valley Division, Bethesda U-15 (6-4-3 Conference, 6-7-6 Overall) remains in the hunt for a Champions League playoff spot but will likely need wins in its final two regular season matches, beginning on Saturday. Central midfielder and forward Carolyn Mang has [player_box id=54376 leftright=right]come on strong for Bethesda, leading the team in scoring with 2 goals so far in May.
[player_box id=46994 leftright=right]FC Virginia (8-0-4 Conference, 11-1-6 Overall) and McLean (7-4-1 Conference, 9-8-4 Overall) are first and third respectively [player_box id=48455 leftright=right]in the U-15 Chesapeake Division, holding the No. 11 and No. 31 Champions League playoff spots entering the weekend. Amy Thompson (9 goals, 9 assists), Karen Lohrmann (6 goals, 5 assists) and Amari Hopkins (4 goals, 6 assists) are elite scorers and distributors offensively for FCV, while Aleigh Gambone, Kristina Toms and Grace Sklopan among others have put up big numbers for McLean.
[player_box id=43412 leftright=right]FC Virginia will play McLean and Bethesda will battle Maryland United in the U-16 age group, as FCV and Bethesda seek to [player_box id=47133 leftright=right]improve on their respective No. 31 and No. 14 Champions League seeds. Casey Kent, Allison Maliska and Amanda [player_box id=48436 leftright=right]Nhek each found the net for Chesapeake Division-leading FCV (7-1-4 Conference, 7-7-4 Overall) in their last outing, a 3-1 win over Internationals SC on May 17. Second in the Ohio Valley Division, Bethesda (8-1-4 Conference, 10-3-6 Overall) went 2-1-0 at the PDA Showcase last weekend, beating Charlotte Soccer Academy and Strikers FC by a combined score of 5-0 in their final two matches. Cameron Murtha (16 goals, 7 assists) scored four of the team's goals and assisted the fifth in the wins, as the back line earned consecutive shutouts.
[player_box id=43418 leftright=right]The same in-state rivalries will take place in the U-17 age groups, where FCV (11-0-1 Conference, 13-1-4 Overall) and MUFC [player_box id=53285 leftright=right](9-3-1 Conference, 11-9-2 Overall) have control of the Chesapeake and Ohio Valley Divisions. Emma Kershner had a goal [player_box id=52388 leftright=right]and an assist while Sierra Lam and Julia Phillips each found the net as well in FCV's 3-1 win over Internationals SC on May 17. Leading scorers Kia Rankin (11 goals, 2 assists) and Abbigale Ellis (7 goals, 2 assists) combined for MUFC's three goals in a 1-2-0 showing at the PDA Showcase over Memorial Day weekend.
[player_box id=45500 leftright=right]In the only local U-18 match, McLean (12-0-0 Conference, 13-2-0 Overall) looks to wrap up an undefeated run in the Mid-[player_box id=32649 leftright=right]Atlantic Conference against FCV. Pittsburgh commit Jarena Harmon (17 goals, 4 assists), Penn State commit Kristin Schnurr (8 goals, 4 assists), Gatorade Virginia High School Player of the Year Kristina Diana and St. John's University commit Samantha Scaffidi (5 goals, 5 assists) are among the leaders of a McLean attack which has racked up 48 total goals in just 15 games. Meanwhile the defense, [player_box id=25079 leftright=right]led by Central Florida commit Maura Aman, Harvard commit Hannah Natanson, Elon commit Jennifer Riemer and Duke commit/U.S. Youth National Team player Mia Gyau among others, has only conceded 17 goals in 15 matches for the current No. 3 overall Champions League seed.
See below for the full slate of Potomac area ECNL matches this weekend posted on Report-a-Score.com, along with updated league standings and playoff tables.
Match Previews
U-14
| | | | |
| --- | --- | --- | --- |
| May 30 12:00pm | | | |
| May 30 1:00pm | | | |
| May 30 2:00pm | | | |
| May 31 11:00am | | | |
| May 31 11:00am | | | |
U-15
| | | | |
| --- | --- | --- | --- |
| May 30 11:00am | | | |
| May 30 6:00pm | | | |
U-16
| | | | |
| --- | --- | --- | --- |
| May 30 1:00pm | | | |
| May 31 10:00am | | | |
U-17
| | | | |
| --- | --- | --- | --- |
| May 30 9:00am | | | |
| May 30 3:00pm | | | |
U-18
Standings
Playoff Picture