Briana Scurry, Dr. Joe Machnik elected to National Soccer Hall of Fame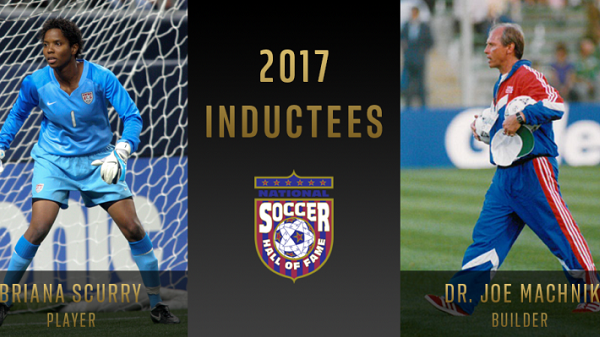 CHICAGO (Via U.S. Soccer) – Briana Scurry and Dr. Joe Machnik have been elected to the National Soccer Hall of Fame Class of 2017. Scurry was selected on the Player Ballot and Machnik on the Builder Ballot. Details about the induction ceremony will be released at a later date.
Scurry is one of the most prolific and successful goalkeepers in U.S. Women's National Team history. She played every minute in goal for the USA at three Women's World Cups and two Olympic Games, suffering only two losses in those tournaments. She is perhaps best known for her phenomenal performance at the 1999 Women's World Cup where she made several world class saves in the semifinal victory against Brazil at Stanford Stadium in Palo Alto, Calif., setting the stage for one of the most historic matches in women's soccer history.
During the 1999 Women's World Cup Final at the Rose Bowl in Pasadena, California, and in front of the largest crowd to ever watch a women's sporting event, Scurry helped shut out China for 120 minutes before stopped the Steel Roses' third penalty kick attempt in the dramatic shootout, allowing final U.S. shooter Brandi Chastain to clinch the championship. Scurry also shepherded the U.S. WNT to two Olympic gold medals during an eleven-year run as the team's top goalkeeper.
+READ: USWNT earns dominant 3-0 win vs Japan to finish Tournament of Nations
"It's a fantastic honor to be inducted to the Hall of Fame. I remember watching the Olympics on the couch with my parents at 8 years old, dreaming of becoming an Olympian myself. It was with their help – and that of my coaches, teammates, and countless others – that I was blessed to not only become an Olympian, but an Olympic and World Cup champion," Scurry said. "Soccer had already given me so much more than I could possibly give back. Now, to be inducted alongside the likes of Michelle Akers, Mia Hamm, and Kristine Lilly – I am truly humbled. And though my mother and father have passed, I can feel their pride swell. Thank you for letting me play for you, and thank you all for this incredible honor."
Since retirement, Scurry has become an advocate for concussion and traumatic brain injury awareness. She has testified to Congress twice as part of committees on brain injury and sport safety. Scurry has also spent time in the broadcast booth for women's soccer and as a motivational speaker. In her playing days, Scurry was a founding member of the Women's United Soccer Association (WUSA), the first U.S. women's league to pay players as professionals. She finished her international career with 175 caps and 72 shutouts.
Machnik has been involved with soccer in the United States in almost every way; as a player, coach, referee, instructor, match commissioner and now as a broadcaster for FOX Sports. He has been called "American soccer's renaissance man." In 1990, Machnik was on the sidelines with head coach Bob Gansler as an assistant coach when the U.S. Men's National Team reached its first World Cup in 40 years. He has served as head of referees for three professional soccer leagues, including 15 years of involvement with Major League Soccer. Machnik also spent time as a match commissioner for FIFA and CONCACAF, overseeing World Cup qualifiers and CONCACAF Champions League matches. He's now FOX Sports' Soccer Rules Analyst for events like the World Cup, UEFA Champions League and Copa America.
+READ: U.S. U-18 Women's National Team to train in Fairfax, Virginia
"Induction into the National Soccer Hall of Fame is the ultimate award in American soccer. To be recognized as a Builder of the sport that has captivated the passion of our country and has provided playing opportunities for millions of boys and girls and men and women is, indeed, an honor," Machnik said. "I want to thank my teammates, the players I coached and officiated, the coaches and campers I taught, the referees I managed, my colleagues and friends in many soccer related projects and the broadcasters I now work with, who have made every moment in a sixty-year career, a joy. Most of all, I would like to thank the extraordinary leaders who mentored my journey and my family who supported every step in what has been a charmed life in the sport that I love. I would like to thank all those who saw fit to honor my life in this way."
Machnik's life in soccer started as a goalkeeper at Long Island University-Brooklyn, where he earned All-American honors in 1962. Just four years later at the age of 23, Machnik was named head coach of the program and led the Blackbirds to the national championship game. After leaving LIU-Brooklyn, Machnik began an illustrious 30-year career at the University of New Haven, spending time as head coach of men's and women's soccer, men's ice hockey and as the Chargers' athletic director, a role in which he oversaw the introduction of women's sports at UNH. Since 1977, Machnik has run No. 1 Soccer Camps, a program that has helped develop over 80,000 young players and seen its alumni play professionally and with the National Team.
Briana Scurry Bio:
Scurry played for the U.S. WNT from 1994-2008, anchoring teams that won a World Cup title and two Olympic gold medals. The team's first choice goalkeeper for eleven years, she was Player of the Match in the 1999 Women's World Cup Final, perhaps the most memorable women's sporting event of all time. At the time of her retirement in 2010, Scurry was by far the most decorated goalkeeper in WNT history with 175 caps and 72 career shutouts. Professionally, she was a founding player in the Women's United Soccer Association with the Atlanta Beat. Now, Scurry is a powerful advocate for concussion/traumatic brain injury awareness and a motivational speaker.
Dr. Joe Machnik Bio:
Machnik has done it all in American soccer, as a player, coach, referee, instructor, match commissioner and broadcaster. An instrumental figure in the sport, Machnik helped guide the U.S. MNT back to the World Cup in 1990 after a 40-year absence as an assistant coach and worked as head of referees for three different professional leagues, including 15 years with MLS. His No. 1 Soccer Camps have helped to develop over 80,000 young players since 1977 and he is believed to be the only man to both coach in two NCAA Finals and officiate an NCAA Final.