Breaking down the SoccerWire Top 100 Boys Soccer Clubs for March 2020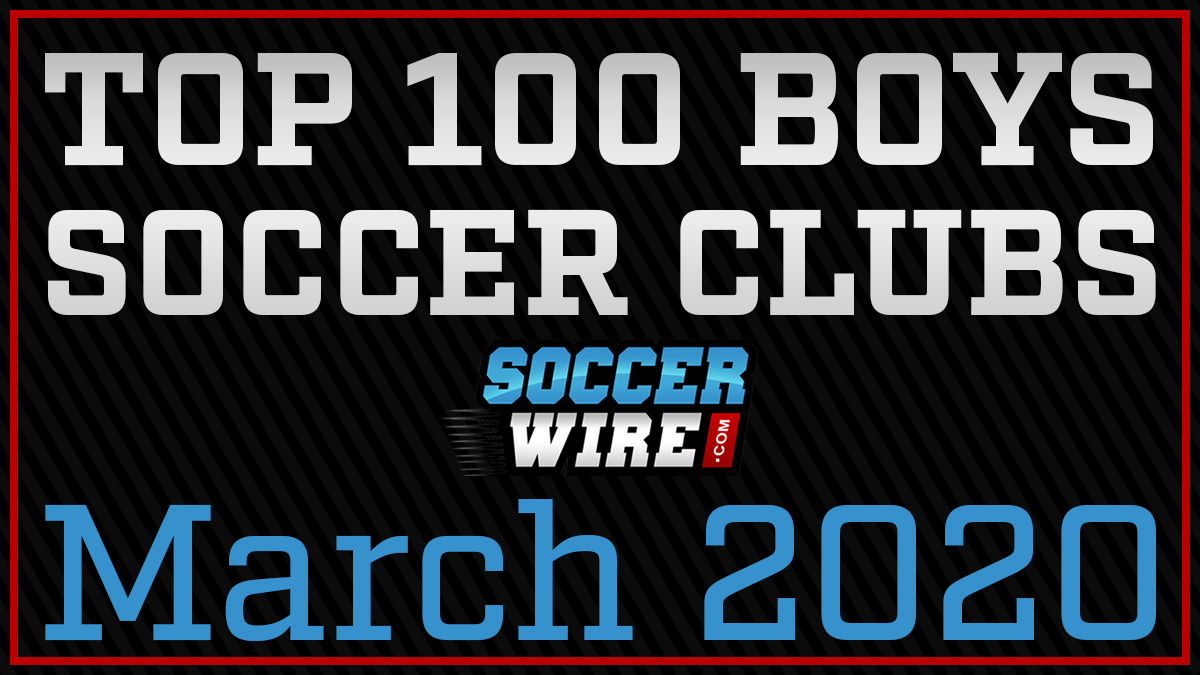 In the second monthly edition of the SoccerWire Top 100 Boys Soccer Club rankings, 15 new clubs made their first appearance on the list and several others made big moves up.
Since the inaugural Top 100 list was released in early February, many clubs across the country resumed league play in the U.S. Soccer Development Academy and Boys ECNL, and several high-level spring preseason tournaments took place across the country.
U.S. Soccer also announced a wave of U.S. Youth National Team rosters, as various age groups kicked off their new 2020 cycles. These activities led to significant movement on the SoccerWire Top 100 list, up until the recent shutdown of soccer events around the nation due to the Coronavirus (COVID-19) pandemic.
[Note: As a result of the widespread shutdown due to COVID-19, there will be no SoccerWire Top 100 rankings released in April 2020.]
Between the first week of February and the first week of March, one of the biggest movers on the SoccerWire Top 100 list was Real Salt Lake Arizona (#13), which climbed 25 spots from No. 38. RSL-AZ joined the Boys DA this fall in the U-13 and U-14 age groups, and has enjoyed major success in its debut DA season, kicking off 2020 with a string of victories and several USYNT call-ups.
Washington's Crossfire Premier (#17) jumped 9 spots and North Carolina FC (#20) climbed 3 spots, joining RSL-AZ as a trio of clubs which were able to break into the top 20 of this month's rankings.
A total of 15 clubs made their debuts in the SoccerWire Top 100 on the boys' side, led by Baltimore Armour (#57) and Arizona's SC del Sol (#60).
Players SC Las Vegas (#72) and Charlottesville, Virginia-based SOCA (#73) vaulted from unranked to positions inside the top 75.
Six clubs shot into the 80s from being outside the Top 100 in February: Rush Select National (#80), Eastside Timbers (#81), STA Morris United SC (#84), Three Rivers SC (#85), Dallas Texans (#86) and Pumas USA (#89).
Five additional clubs claimed some of the final spots inside the bubble to crack the Top 100 rankings for the first time: Atletico Santa Rosa (#91), Legends FC (#93), United PDX (#95), SC Wave (#97) and Coral Estates SC (#98).
Once again, numerous well-known youth soccer brands from around the nation finished just outside the bubble. Major clubs that barely missed the cut include: GPS Massachusetts, South Carolina club USA Mount Pleasant, New Jersey's Cedar Stars Academy – Bergen, Florida Elite SA, FC Wisconsin and Lonestar SC Academy.
If you think your club deserves to make a future SoccerWire Top 100 Clubs list, we want to hear why. For all clubs wishing to provide additional information on the best aspects of their organization, SoccerWire is currently accepting feedback from clubs on a new Top 100 Youth Soccer Clubs Survey Form.
To be among the first to be notified of each monthly Top 100 list, follow SoccerWire on Twitter, Facebook and Instagram.