Bracket set for ACC Women's Soccer Tournament as UNC earns No. 1 seed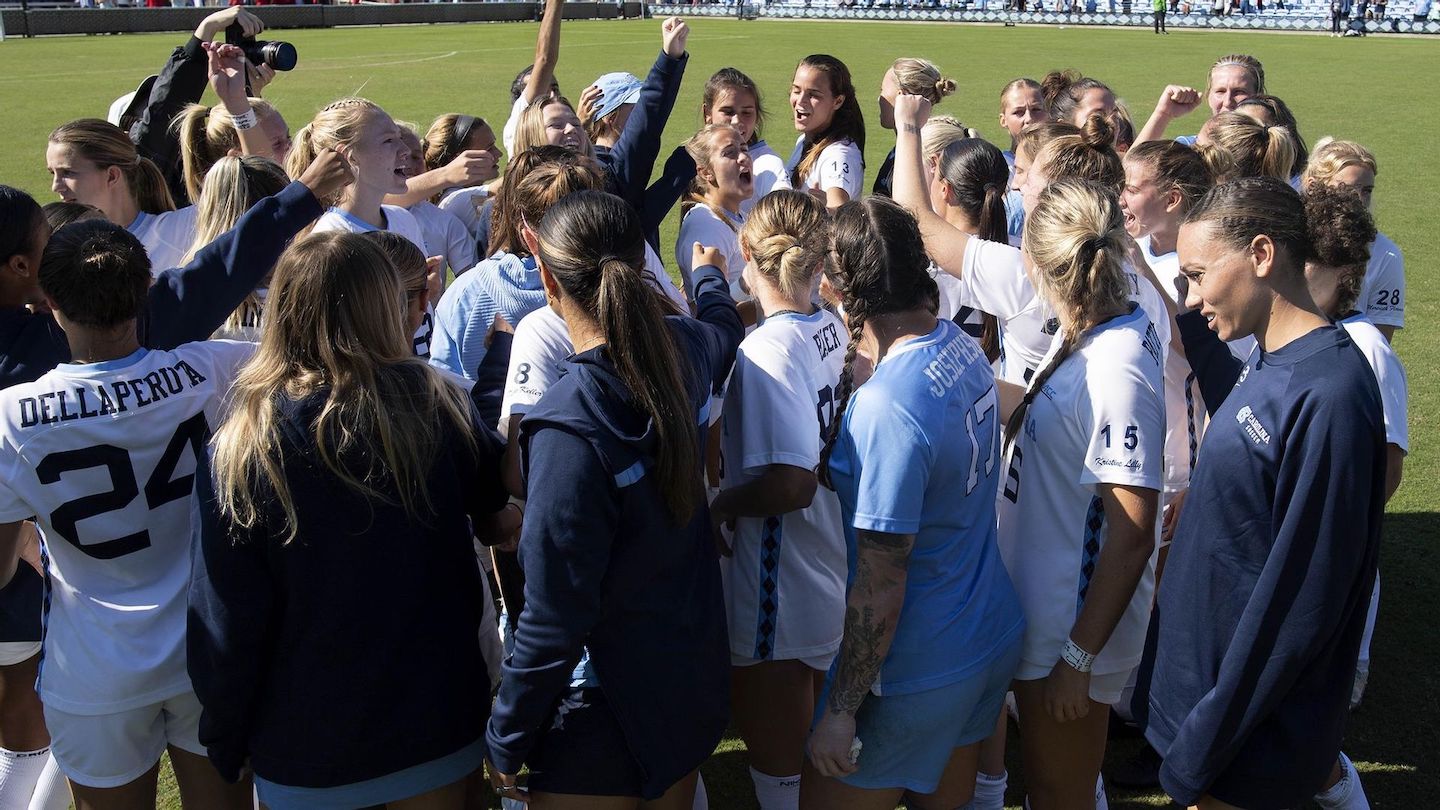 (Photo Credit: UNC Athletics / Jeffrey A. Camarati)
GREENSBORO, N.C. – Following the conclusion of Thursday's matches, the bracket and seeds for the 2022 Atlantic Coast Conference Women's Soccer Championship are set.
North Carolina and Florida State were declared regular-season co-champions, as both teams finished the regular season with identical 8-2 conference records. The Tar Heels earned the No. 1 seed by virtue of their win over the Seminoles on Oct. 20. Both teams will receive a bye into next Thursday's semifinals.
Notre Dame earned the No. 3 seed with its 7-2-1 league record and will play host to sixth-seeded Pitt, which is making its first-ever appearance in the ACC Championship. The Panthers ended the season with a 5-3-2 conference mark and will take on the Fighting Irish at 6 p.m. on Sunday. Virginia and Duke closed the regular season with matching 6-2-2 league records, as the Cavaliers earned the No. 4 seed with their win over the Blue Devils on Oct. 2. Virginia will host Duke on Sunday at 8 p.m.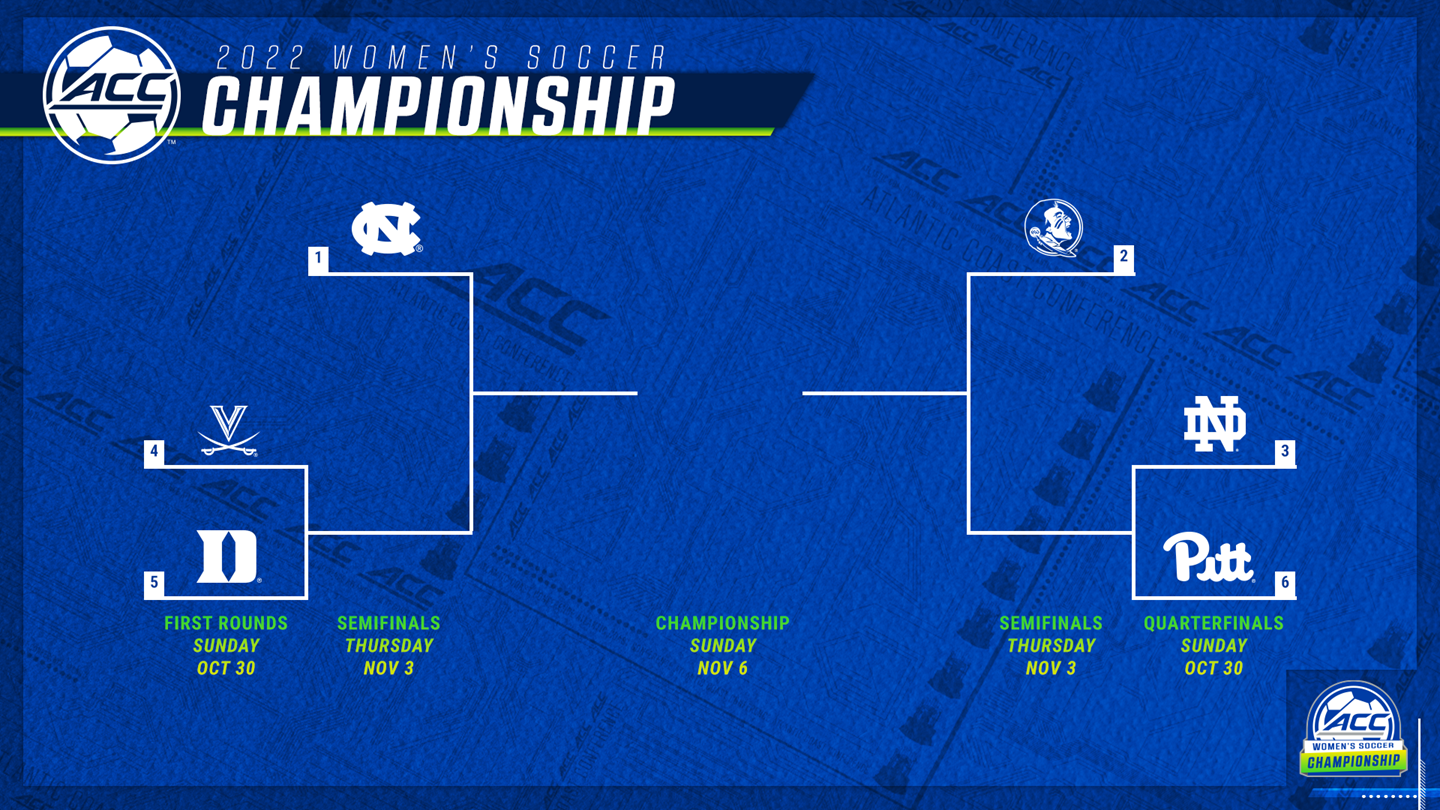 The winner of the Duke-Virginia matchup will battle No. 1 seed North Carolina in the semifinals at 5:30 p.m. on Thursday, Nov. 3, while the Notre Dame-Pitt winner will face second-seeded Florida State at 8 p.m. Thursday. The semifinals and final will be held at WakeMed Soccer Park in Cary, North Carolina, while first-round matches will be played on campus sites.
The first round and semifinals will air live on ACC Network and the final on Sunday, Nov. 6, will be broadcast at noon on ESPNU.
All six teams in this year's field were ranked in the latest United Soccer Coaches Top 25 with No. 2 North Carolina, No. 4 Notre Dame, No. 5 Florida State, No. 8 Virginia, No. 11 Duke and No. 19 Pitt.
Tickets for the semifinals and final of the 2022 ACC Championship are on sale now and can be purchased at theacc.co/22wsoctix. Single-day adult general admission tickets are $10. One ticket gets entry into both semifinal games, but no reentry is allowed.
Admission is free for youth ages 18 and under, as well as students of ACC institutions.
Tickets to the first-round matches can be purchased through the host schools.
2022 ACC Women's Soccer Championship
First Round | Sunday, Oct. 30
#6 Pitt at #3 Notre Dame | 6 p.m. | ACC Network
#5 Duke at #4 Virginia | 8 p.m. | ACC Network
Semifinals | Thursday, Nov. 3
Virginia/Duke Winner vs. #1 North Carolina | 5:30 p.m. | ACC Network
Notre Dame/Pitt Winner vs. #2 Florida State | 8 p.m. | ACC Network
Final | Sunday, Nov. 6
Semifinal 1 Winner vs. Semifinal 2 Winner | Noon | ESPNU