Boys Development Academy East Conference: Midseason Update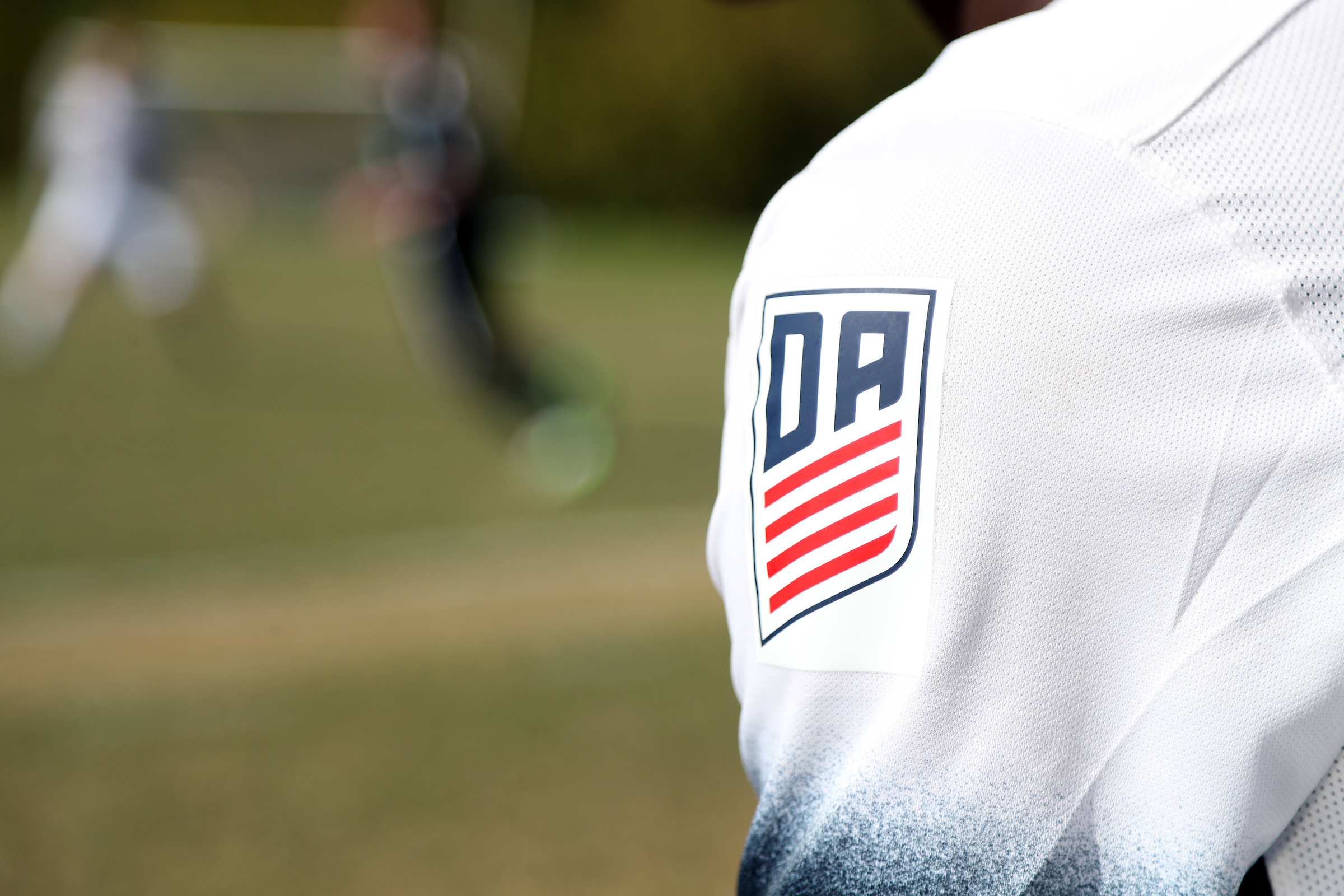 U.S. National Team Roster Pools
U-15 | U-16 | U-17 | U-18 | U-19 | U-20 | MNT
Take a look at the division leaders across the U.S. Soccer Boys Development Academy East Conference as we head into the winter break of the 2018-2019 season.
U-15
Atlantic Division
Undefeated and at the top of the standings in the Atlantic is the Philadelphia Union (8-0-3, 27 points). Quinn Sullivan and Zion Scarlett have scored seven and six goals respectively to lead the club. Their defense meanwhile has conceded just ten goals and has four shutouts in league play.
Speaking of defense the top defensive side in the Eastern Conference is the New York Red Bulls (7-1-2, 23 points) who have allowed only five goals this season, tied for the lowest in the U-15 age group. Defenders Adan Franco and James Franco have formed a tight partnership in the back with goalkeeper Ciaran Dalton, pulling off six shutouts.
+READ: Don Garber advocates for solidarity payments for MLS Academies
The Players Development Academy (8-2-1, 25 points) are in third having scored a Division-best 32 goals. Forward Colin Griffith leads the club with eight goals followed by forward Jake Fish with six. Midfielders Evan Gomilion, Ethan Hagen, Noah Levy, Yuxuan Yang and Andrew Araya have all started at least ten matches, providing a consistency and chemistry along the spine of the starting eleven.
Northeast Division
The Montreal Impact (9-0-2, 29 points) lead the pack in the Northeast with an impressive 50 goals scored in league play. Gabriel Antinoro's 15 goals is the second-most among all goalscorers in the U-15 age bracket. Jean Aniel Assi meanwhile has nine, which is seventh most among all players in the East Conference.
The Boston Bolts (9-2-1, 28 points) have kept up with the Impact in part to their club's ability to pull out close results. They are 4-2-1 in games in which the scoreline is less than two goals. Lucas Vallejo Tato has been on point all season for Boston, scoring a team-best nine goals through eleven matches.
Sitting in third is Cedar Stars Academy-Bergen (8-2-1, 25 points), who enter the break on a nine match unbeaten run. During that span they have outscored their opponents 23-7. Goalkeepers Josh Nadison and Jayden Hibbert have combined to earn three clean sheets for their side. Meanwhile Santiago Arroyave leads the club with six goals.
Southeast Division
Chargers Soccer Club (8-1-2, 26 points) enter the break in first place in the Southeast, having gone undefeated in their last ten games (8-0-1, 25 points). Riley Cullum scored 14 goals during the fall season, which is tied for third most among all U-15 players. Goalkeeper Conor Holmes has four clean sheets for the Chargers and was a huge part in the club allowing just 12 goals this season.
+READ: FC Dallas tabs academy director Luchi Gonzalez as MLS head coach
The other two spots in the top three is being contested in a close race by Concorde Fire (7-3-0, 21 points, 2.1 PPG) and Weston FC (6-1-3, 21 points, 2.1 PPG). The recipe for success for both sides this season has been defense with Concorde allowing just 15 and Weston giving up 14. Concorde's defender Sebastian Zabala Tuberquia (10 starts), Kevin Jo (9 starts), Carlos Garcia (10 starts) and Quinlan DeLaMater (8 starts) have all been critical in establishing a tight backline for the Fire. Meanwhile on the attacking end, Weston have found a 1-2 attacking punch of Alexander Freeman and Moises Cuatras, who are tied for the team-lead in goals with six apiece.
U-16/U-17
Atlantic Division
The Philadelphia Union (11-1-0, 33 points) are in first place after a torrid run through the Atlantic Division. Although they ended the fall season with a loss in the Winter Showcase, they had a strong run in league play, outscoring their opponents 36-6. Anges Patrick Kader Bohui leads the team with nine goals, followed by Aboubacar Camara with seven.
D.C. United (8-5-1, 25 points) are in second, thanks in part to starting the season with three consecutive victories. Forward Griffin Yow has played in just nine matches but he has been effective during that abbreviated time, scoring seven goals. Goalkeeper Teddy Hutman has earned three clean sheets for United, including an impressive a 3-0 shutout over PA Classics.
+READ: Initial list of 2019 adidas MLS Player Combine Invitees announced
The New York Red Bulls (6-4-3, 21 points,1.6154 PPG) are in third just narrowly ahead of Classics (6-4-3, 21 points,1.6154 PPG) on Goals Scored (30 to 15). The Red Bulls 30 goals have been spread out amongst ten players with Andrew Meia, Roald Mitchell and Diogo Rebelo each scoring five.
Northeast Division
Atop of the Northeast is the Montreal Impact (9-4-1, 28 points), who started the season with a four game winning streak. Balance has been the key for the Impact, who have received goals from 14 different players this season. Matthew Catavolo leads the team with seven goals.
Beachside Soccer Club CT (8-3-2, 26 points) are right behind them in second place after ending the fall season on a four game unbeaten run (3-0-1, 10 points). Forward Olivier Van Spaendonck has been a big reason for the club's strong end to the season, scoring five of Beachside's thirteen goals during their run. He has 13 goals this season which is fourth most among all U-16/U-17 players.
The big story of the Northeast Division has been Empire United (8-4-3, 27 points). The New York-based side started the season a little slowly, losing three of their first four games. But they ended the fall campaign on a high note, getting points in ten of their last eleven games (7-1-3, 24 points). Part of their success stems from their ability to pull out close games. Seven of their eight wins this season have come by two goals or less. Goalkeepers Taylor Miskoliczi and Emmett Bauer have been critical down the stretch in matches for Empire, consistently making stops late to preserve the result.
Southeast Division
In the Southeast the Carolina Rapids (8-3-2, 26 points) are at the top of the Division, entering the winter break on a seven game unbeaten run (5-0-2, 17 points). Defender Bryce Gilbert and forward Donovan Roux lead the team with five goals apiece. Meanwhile their defense has allowed just 15 goals, which is the lowest among all Southeast sides.
United Futbol Academy (8-4-0, 24 points) are in second having allowed just 16 goals in 12 matches. Defenders Aidan Ferreira, Garrett Gardner, Asparuh Slavov and Riley Thomas have worked together to form one of the toughest back fours in the East Conference, earning three shutouts for their side. Atlanta United FC (6-2-3, 21 points) are in third place but they should be able to make up some ground in the second half as they have two games in hand on the Rapids and one on UFA. Brandon Clagette leads the team with five goals.
U-18/U-19
Atlantic Division
The New York Red Bulls (7-3-3, 24 points) are at the top of the Atlantic Division thanks to their strong start of the season. The MLS Academy side is undefeated in their first seven matches (6-0-2, 20 points). Scott Taylor leads all scorers with seven goals. As a team they have scored 31 which is the most among all sides in the Atlantic Division.
One side to keep an eye out on in the U-18/U-19s is the Philadelphia Union (6-3-3, 21 points). After losing their first match of the season they went on a six match undefeated run (6-0-0, 18 points) which helped them stay at the top of the standings. With Tonny Temple (seven goals) and Brendan Aaronson (five goals) the Union have a challenging 1-2 punch that will pose problems for teams come the second half.
+READ: Zack Steffen, Alex Mendez earn U.S. Soccer Player of the Year Awards
The Baltimore Armour (6-3-3, 21 points) currently have possession of the third automatic playoff spot in the Atlantic. As a defensive unit they have allowed just 13 goals this season which is tied with South Florida Football Academy for the lowest among all Eastern Conference. Defenders Loc San (11 starts), Alex Stevenson (12 starts), Daniel Osuji (10 starts), Joshua Morgan (6 starts) and Mattias Hanchard (6 starts) have worked together to limit opponent's attacking chances and make decisive clears.
Northeast Division
New York City FC (9-3-1, 28 points) are in first place after a strong campaign during the fall season. Talisman midfielder Jonathan Jimenez leads the team in goals with eleven, which is second most in the East Conference and the eighth most in the U-18/U-19 age group. What will be interesting to see is if they can continue their scoring tear in the spring. They have scored 44 goals so far during the 2018-2019 campaign which is tied for most in their age bracket. They will have some pretty tough tests in the spring including two Hudson River Derby matches against Atlantic foe the New York Red Bulls.
The Montreal Impact (7-4-1, 22 points) are holding their own in the Northeast after winning their first four games in league play. Their defensive work in particular has helped the side climb to the top of the standings, having conceded just 15 goals this season. Defender Zackiel Brault and Lundon Durand Browne have become a formidable pair on the back line, each making ten starts for the Impact.
The New England Revolution (6-4-0, 18 points) round out the top three after leaving division play on a three game winning streak. Although the Revolution do not score many goals (13), they also do not give many either, having allowed just 17 this season. Goalkeeper Austin Causey has four clean sheets this season including an impressive 2-0 effort against the San Diego Surf at the Winter Showcase.
Southeast Division
It is a very tight race in the Southeast with Orlando City SC (7-4-1, 22 points) holding the lead over Weston FC (6-3-2, 20 points) and Chargers Soccer Club (7-3-4, 25 points) on Points Per Game (1.833 to 1.8182 to 1.7857). OCSC have jumped to the top due to their superior defensive work. They have allowed just 14 goals this season and have four shutouts to their name. They saved their best work for perhaps the final match of the fall season, downing the Portland Timbers 7-0 at the Winter Showcase.
As for Weston, they too have proven themselves to be a very structurally sound defensive side. They are led by defenders Max Morales and Darin Henry, who have both started in all but one of their club's matches. Chargers Soccer Club meanwhile have proven themselves to be a bit more attack-oriented, scoring 29 goals. Jeffrey Cooper leads the team with eight goals and is in fifth place among all scorers in the East Conference.