Boys DA Quarterfinal matches set in U-16/17, U-18/19 divisions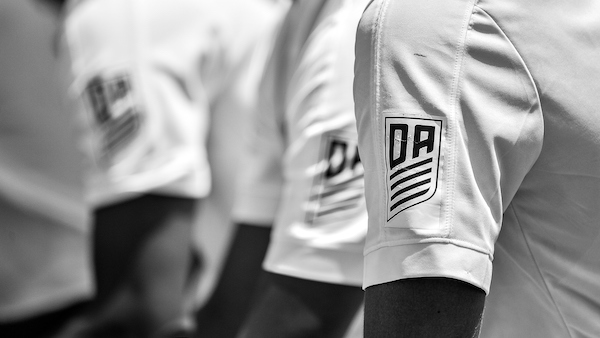 DA Playoffs Home Page | DA Playoffs Schedule
Following the completion of group play, quarterfinal match-ups have been decided at the U.S. Soccer Boys Development Academy Playoffs in the U-16/17 and U-18/19 age groups.
Eight teams in each age group have secured their spots in the quarterfinals, which will be played Monday for the U-18/19 division, and on Tuesday for the U-16/17 teams.
The U-15 age group will be concluding group play on Sunday, setting the stage for their knockout rounds as well. See below for a look at how the group stage played out in the U-16/17 and U-18/19 divisions over the past week at the SoCal Sports Complex in Oceanside, Calif.
BOYS' U-16/17
QUARTERFINALS
Tuesday, June 25
Shattuck – St. Mary's vs. Concorde Fire – 1:30 p.m.
FC Dallas vs. Solar Soccer Club – 1:30 p.m.
De Anza Force vs. Real Colorado – 4:30 p.m.
United Futbol Club vs. LA Galaxy – 4:30 p.m.
BOYS' U-18/19
QUARTERFINALS
Monday, June 24
New York City FC vs. Crossfire Premier, 1:00 p.m. PT
Sockers FC vs. Seattle Sounders FC, 1:00 p.m. PT
FC Dallas vs. Michigan Wolves, 4:00 p.m. PT
Sporting Kansas City vs. Saint Louis FC, 4:00 p.m. PT
[+Click here to read Boys' DA Feature Game recaps]
BOYS' U-16/17
GROUP A
| Team | GP | W | L | T | Pts | GF | GA |
| --- | --- | --- | --- | --- | --- | --- | --- |
| FC Dallas | 3 | 3 | 0 | 0 | 9 | 12 | 2 |
| Vancouver Whitecaps | 3 | 2 | 1 | 0 | 6 | 7 | 5 |
| San Diego Surf | 3 | 0 | 2 | 0 | 0 | 2 | 8 |
| Atlanta United | 2 | 0 | 2 | 0 | 0 | 0 | 6 |
GROUP B
| Team | GP | W | L | T | Pts | GF | GA |
| --- | --- | --- | --- | --- | --- | --- | --- |
| United Futbol Academy | 3 | 2 | 1 | 0 | 6 | 6 | 3 |
| Sporting Kansas City | 3 | 2 | 1 | 0 | 6 | 7 | 5 |
| Strikers FC | 3 | 2 | 1 | 0 | 6 | 4 | 4 |
| FC United | 3 | 0 | 3 | 0 | 0 | 4 | 9 |
GROUP C
| Team | GP | W | L | T | Pts | GF | GA |
| --- | --- | --- | --- | --- | --- | --- | --- |
| Solar Soccer Club | 3 | 3 | 0 | 0 | 9 | 8 | 2 |
| Bethesda SC | 3 | 2 | 1 | 0 | 6 | 4 | 2 |
| Montreal Impact FC | 3 | 1 | 2 | 0 | 3 | 3 | 4 |
| Seattle Sounders FC | 3 | 0 | 3 | 0 | 0 | 0 | 7 |
GROUP D
| Team | GP | W | L | T | Pts | GF | GA |
| --- | --- | --- | --- | --- | --- | --- | --- |
| LA Galaxy | 3 | 3 | 0 | 0 | 9 | 10 | 3 |
| Kendall SC | 3 | 1 | 2 | 0 | 3 | 7 | 6 |
| Michigan Wolves | 3 | 1 | 2 | 0 | 3 | 5 | 8 |
| Texans SC Houston | 3 | 1 | 2 | 0 | 3 | 6 | 11 |
GROUP E
| Team | GP | W | L | T | Pts | GF | GA |
| --- | --- | --- | --- | --- | --- | --- | --- |
| Real Colorado | 3 | 1 | 0 | 2 | 5 | 7 | 1 |
| Toronto FC | 3 | 1 | 0 | 2 | 5 | 6 | 3 |
| Real Salt Lake | 3 | 1 | 1 | 1 | 4 | 4 | 5 |
| FC Westchester | 3 | 0 | 2 | 1 | 1 | 4 | 12 |
GROUP F
| Team | GP | W | L | T | Pts | GF | GA |
| --- | --- | --- | --- | --- | --- | --- | --- |
| Concorde Fire | 3 | 2 | 0 | 1 | 7 | 5 | 2 |
| Chicago Fire | 3 | 1 | 1 | 1 | 4 | 4 | 4 |
| Philadelphia Union | 3 | 0 | 1 | 2 | 2 | 5 | 6 |
| New York City FC | 3 | 0 | 1 | 2 | 2 | 4 | 6 |
GROUP G
| Team | GP | W | L | T | Pts | GF | GA |
| --- | --- | --- | --- | --- | --- | --- | --- |
| Shattuck Saint-Mary's | 3 | 2 | 0 | 1 | 7 | 5 | 1 |
| FC Golden State | 3 | 2 | 1 | 0 | 6 | 6 | 3 |
| D.C. United | 3 | 1 | 1 | 1 | 4 | 4 | 5 |
| Orlando City SC | 3 | 0 | 3 | 0 | 0 | 1 | 7 |
GROUP H
| Team | GP | W | L | T | Pts | GF | GA |
| --- | --- | --- | --- | --- | --- | --- | --- |
| De Anza Force | 3 | 3 | 0 | 0 | 9 | 10 | 3 |
| Sockers FC | 3 | 1 | 2 | 0 | 3 | 6 | 7 |
| Carolina Rapids | 3 | 1 | 2 | 0 | 3 | 4 | 5 |
| Beachside Soccer Club | 3 | 1 | 2 | 0 | 3 | 4 | 9 |
Bold = Qualified to Knockout Round Quarterfinals
BOYS' U-18/19
GROUP A
| Team | GP | W | L | T | Pts | GF | GA |
| --- | --- | --- | --- | --- | --- | --- | --- |
| Saint Louis FC | 3 | 2 | 1 | 0 | 6 | 6 | 3 |
| New York Red Bulls | 3 | 2 | 1 | 0 | 6 | 6 | 4 |
| Real Colorado | 3 | 1 | 1 | 1 | 4 | 7 | 7 |
| New England Revolution | 3 | 0 | 2 | 1 | 1 | 2 | 7 |
GROUP B
| Team | GP | W | L | T | Pts | GF | GA |
| --- | --- | --- | --- | --- | --- | --- | --- |
| Sporting Kansas City | 3 | 2 | 0 | 1 | 7 | 10 | 2 |
| Sacramento Republic FC | 3 | 1 | 0 | 2 | 5 | 9 | 5 |
| Montreal Impact FC | 3 | 1 | 1 | 1 | 4 | 4 | 7 |
| Crew SC Academy | 3 | 0 | 3 | 0 | 0 | 2 | 11 |
GROUP C
| Team | GP | W | L | T | Pts | GF | GA |
| --- | --- | --- | --- | --- | --- | --- | --- |
| New York City FC | 3 | 2 | 1 | 0 | 6 | 8 | 2 |
| Toronto FC | 3 | 2 | 1 | 0 | 6 | 6 | 7 |
| Baltimore Armour | 3 | 1 | 1 | 1 | 4 | 5 | 5 |
| Weston FC | 3 | 0 | 2 | 1 | 1 | 3 | 8 |
GROUP D
| Team | GP | W | L | T | Pts | GF | GA |
| --- | --- | --- | --- | --- | --- | --- | --- |
| FC Dallas | 3 | 3 | 0 | 0 | 9 | 10 | 2 |
| North Carolina FC | 3 | 2 | 1 | 0 | 6 | 7 | 4 |
| Chicago Fire | 3 | 1 | 2 | 0 | 3 | 3 | 8 |
| Pateadores | 3 | 0 | 3 | 0 | 0 | 3 | 9 |
GROUP E
| Team | GP | W | L | T | Pts | GF | GA |
| --- | --- | --- | --- | --- | --- | --- | --- |
| Michigan Wolves | 3 | 2 | 0 | 1 | 7 | 6 | 4 |
| Barca Academy | 3 | 1 | 0 | 2 | 5 | 4 | 3 |
| Vancouver Whitecaps FC | 3 | 0 | 1 | 2 | 2 | 2 | 3 |
| Chargers Soccer Club | 3 | 0 | 2 | 1 | 1 | 3 | 5 |
GROUP F
| Team | GP | W | L | T | Pts | GF | GA |
| --- | --- | --- | --- | --- | --- | --- | --- |
| Sockers FC | 3 | 2 | 0 | 1 | 7 | 6 | 2 |
| San Jose Earthquakes | 3 | 1 | 1 | 1 | 4 | 3 | 4 |
| Philadelphia Union | 3 | 1 | 2 | 0 | 3 | 8 | 9 |
| Nomads SC | 3 | 1 | 2 | 0 | 3 | 5 | 7 |
GROUP G
| Team | GP | W | L | T | Pts | GF | GA |
| --- | --- | --- | --- | --- | --- | --- | --- |
| Seattle Sounders FC | 3 | 2 | 0 | 1 | 7 | 5 | 2 |
| Orlando City SC | 3 | 2 | 1 | 0 | 6 | 9 | 6 |
| Players Development Academy | 3 | 1 | 2 | 0 | 3 | 7 | 6 |
| FC Golden State | 3 | 0 | 2 | 1 | 1 | 2 | 9 |
GROUP H
| Team | GP | W | L | T | Pts | GF | GA |
| --- | --- | --- | --- | --- | --- | --- | --- |
| Crossfire Premier | 3 | 3 | 0 | 0 | 9 | 10 | 2 |
| Bethesda SC | 3 | 2 | 1 | 0 | 6 | 9 | 6 |
| Real Salt Lake | 3 | 0 | 2 | 1 | 1 | 4 | 8 |
| Atlanta United FC | 3 | 0 | 2 | 1 | 1 | 3 | 10 |
Bold = Qualified to Knockout Round Quarterfinals