Boston University men's soccer head coach Neil Roberts retires after 40-year career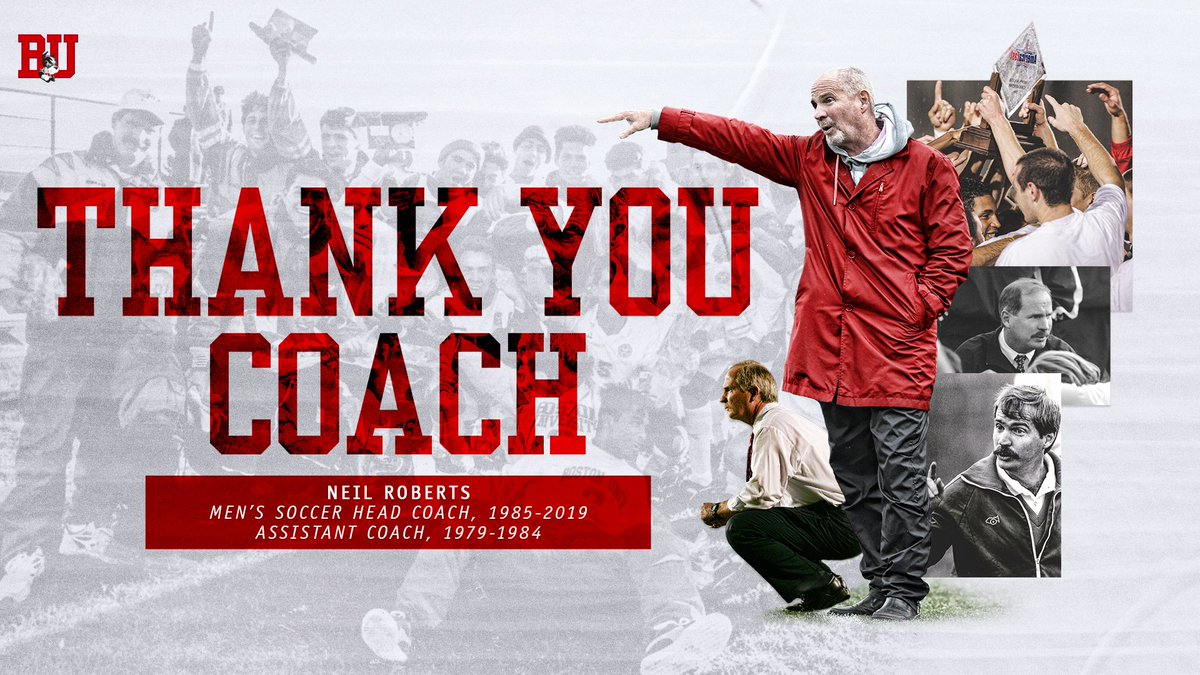 BOSTON – Boston University men's soccer coach Neil Roberts announced his retirement on Monday after a distinguished career that spanned 40 years and included 15 NCAA appearances while impacting hundreds of student-athletes.
His career record stands at an impressive 367-218-93 with a combined 19 conference tournament and regular season titles.
"I'm privileged to have spent my entire coaching career at Boston University and am proud to have played a small role in the development of hundreds of fantastic individuals, many of whom remain among my closest friends," said Roberts, who served as an assistant from 1979-1984 and then head coach starting in 1985. "There are too many names to list at this moment so I will just add it's been an honor to have worked with numerous high-quality coaches, athletic trainers, academic administrators and staff. Besides my time spent in the athletic department, I was privileged to serve as head marshal at many graduations. I will miss my interactions with the students and their families but now look forward to the next chapter in my life."
The 35-year head coach Roberts (1985-2019) currently ranks No. 30 all-time in wins by a head coach with at least 10 years spent at an NCAA Division I school and more impressively No. 8 by a head coach who spent an entire career at one NCAA Division I school. Besides earning numerous coaching awards at the regional and conference level, he was also presented this past year with an honorary Scarlet Key, one of the most prestigious academic awards bestowed by Boston University.
"I offer my sincere thanks to Neil Roberts for serving as a great ambassador to our University for the last four decades and congratulate him on a fantastic career that will likely see him in the BU Athletic Hall of Fame someday," said director of athletics Drew Marrochello. "Beyond his work with students, he was a mentor to many staff members and his personality will be greatly missed around the department."
A native of nearby Braintree, Massachusetts, Roberts first joined the Terriers in 1979 as an assistant coach for Ron Cervasio and helped lead the program to an ECAC title and then the program's first NCAA appearance the following year. He spent four more seasons working for future National Soccer Hall of Fame member Hank Steinbrecher before becoming the program's fifth head coach in 1985.
In his first season at the helm, BU underwent a 10-win improvement and advanced to the NCAA quarterfinals with a victory over UConn. He claimed his first of five United Soccer Coaches' New England Coach of the Year awards for his efforts and would lead the Terriers to winning seasons in 28 of his 35 years, highlighted by a 19-1-1 performance in 1994 that included a stunning 3-2 upset win over No. 1 ranked and eventual national champion University of Virginia. BU made five straight NCAA appearances from 1993-97 and most recently reached the postseason in 2015 via an at-large bid for Roberts' 14th berth as head coach.
Overall, Roberts has been recognized 17 times for coaching excellence. He was the United Soccer Coaches' New England Coach of the Year in 1985, 1986, 1988, 1994 and 2004. In 1986, 1990 and 1994, he was also the New England Soccer Coach of the Year as selected by the Eastern Massachusetts High School Soccer Coaches Association, and in 1991, 1994, 2001, 2004, 2008, 2010 and 2011, he was the America East Coach of the Year. He only needed two seasons in the Patriot League to be recognized as the conference's top coach in 2014. In 1995, he received the William French Award for coaching excellence from the Boston University Athletic Hall of Fame.
During his tenure as head coach, BU earned 134 All-Conference, 93 All-Region, 20 major conference and 12 All-America awards. Several of those winners have gone on to achieve success professionally. After becoming the seventh Terrier to join a Major League Soccer (MLS) club in the spring of 2015, Dominique Badji ('15) has tallied 32 combined goals for the Colorado Rapids and Dallas FC. Besides appearing in 158 games for the New England Revolution over two stints, Andy Dorman ('04) also competed for the Welsh National Team, Crystal Palace and St. Mirren across the Atlantic in the United Kingdom.
Recipient of the Mickey Cochrane award as BU's top male athlete, Mike Emenalo ('89) would compete for Nigeria in the 1994 World Cup and would later use his experience and education to become the technical director of Chelsea FC from 2011-17, helping the club claim two Premier League titles (2015, 17) and the 2012 UEFA Champions League title. Emenalo is one of six Terrier greats coached by Roberts to be inducted in the BU Athletic Hall of Fame alongside Nick Bone ('98), Steve Walker ('94), Ben Okaroh ('88), Francis Okaroh ('86) and Jose Vidal ('84).
Having coached 10 Academic All-Americans, Roberts is equally proud of his players' successes in the classroom. During the 2014 season, 15 players earned Patriot League Academic Honor Roll accolades with a program-high 21 being named to the Honor Roll in both 2016 and 2017. Nick Thomson ('15) was tabbed the 2014 Patriot League's Scholar-Athlete of the Year, earning the first top academic honor from a conference since Walker (1993) and Ola Olsen (1994) were recognized in back-to-back seasons.
In 2008, Dan Schultz ('09) earned national academic honors from both CoSIDA and the United Soccer Coaches. Ben Havey ('11) followed two years later in 2010 with CoSIDA Academic All-America accolades, and Thomson garnered the latest honor in 2014. Numerous graduates have moved on to executive-level positions with companies such as Goldman Sachs, IBM and William Morris Endeavor. As another example of post-grad success, 1989 Academic All-American Robert Buckmire ('90) successfully established the UNC Voice Center and was an invited speaker at the fourth World Voice Congress in Seoul, South Korea, due to being recognized as an authority in the field of Laryngology.
The holder of a USSF license, Roberts has been actively involved with soccer at all levels. He guided the Massachusetts Under-15 team to the 1999 regional title after coaching the Mass Bay Strikers to the 1993 Under-17 State title. In 1984, he led the Cambridge Portuguese Sport Soccer Club to an undefeated season and the American Soccer Association title.
Roberts was an All-New England selection and captain of the 1976 Mitchell Junior College team that finished second at the junior college national championships. He then enrolled at Southern Connecticut State University, where he enjoyed two outstanding seasons. Roberts captained the team during his junior and senior seasons and led the Owls to back-to-back NCAA tournament appearances.
Information will be forthcoming on a celebration to be held at a later time honoring his career.
---
What Men's Soccer Alums are Saying about Coach Roberts
"Congratulations on your well-deserved retirement! When I consider the impact you've made in so many lives in your long service to Boston University three words come immediately to mind: Sacrifice, Patience, and Thanks. You sacrificed time with your family and for your personal leisure to ensure that no one was left behind and to teach the importance of rigour and discipline in our pursuit of college and life education. You were extraordinarily patient with young student athletes often devoid of a sense of selflessness and under enormous, occasionally, disconcerting pressure as students and athletes. And thank you for being a wise teacher on and off the soccer pitch; thank you for guiding us in navigating our passion for the sport we love without losing our sense of responsibility to our great institution of learning. On a personal note, I would like to express my sincere gratitude and thanks to you for welcoming me with kindness and care to BU, and being a willing mentor and guardian throughout my four years on campus. Some of the lessons you thought have formed the basis for my character as a person and leader of others. After 40 years of exceptional work in educating, mentoring, guiding, supporting, advising, coaching and building an athletic program to great, sustained success, you deserve to ride off to the sun set accompanied, comfortingly, with our grateful applause, cheers of our appreciation and thanks. Thank you Neil! PS: You have no excuse now to postpone a visit to London!"
– Mike Emenalo ('89)
"It is with great honor I reflect upon my time as a Terrier and focus on the benefits so many people have been blessed with by coming in contact with head coach Neil Roberts. As players, we were fortunate to have an extremely positive role model in our lives who maintained a phenomenal balance of competitiveness, respect, and pride for Boston University. His expectations of us to maintain a balance between sports and academics proved that he was as invested in us as we were in the program. There are countless stories of how Neil extended himself beyond his job description to make sure his players were on the road to a successful collegiate career. It is no wonder that athletes who now live all over the world, flock to his office when in the area as he has touched the lives of so many. As a colleague of Neil's, I witnessed a deeper passion, commitment, and honor that he poured out daily to the men's soccer program but also to everyone he came in contact with at Boston University. It did not matter if you were a chancellor, police officer, or B & G worker, if Neil knew you, he treated you with the same respect and courtesy that we all should expect from a fellow associate. For all of the alumni it will be strange to go back to campus and not see Neil on the sidelines or in his office. However, I believe he has ingrained the same pride and respect in the school and soccer program in all of us that he exemplified day in and day out over his career. His tenure has proven him to be a fantastic ambassador of Boston University, college athletics and the game of soccer in this country. His daily presence on campus will be sorely missed."
– Bryan Devenney ('03)
"During my three-and-a-half years at Boston University, Neil made the biggest impact on my life. He taught me persistence, preceding in a course of action despite opposition. Whether it be my athletic or professional life, tough times will always come; what matters most is your attitude. A great attitude will take you a long way. The care and dedication that Neil showed to his players means more to me than my development as a soccer player. Neil was the first coach I've ever had that cared more about my personal life than athletic ability; To put it another way, I've never had a coach that cared more about his players than Neil. What I'm most grateful for is his ability to take a group of young men and have them "click" so well and be part of the soccer family. I now have life-long best friends which starts from Neil making sure he has the right group of players on the team. I'm so grateful that I made the move my freshman year and transferred to Boston University. Also, I want to take this time to celebrate his success over the past 30+ years. I have the utmost respect for Neil and all his has done for the Boston University soccer program."
– Anthony Viteri ('18)
"It is hard to put into words what you have meant to your players and to Boston University as a whole. You have changed the lives of so many people. THANK YOU!"
– Tony Lawlor ('89)
"Neil wasn't just a coach, he was a mentor, a friend and role model. A person that went above and beyond to help the people around him. He gave me the opportunity to play for BU, and I'll forever be thankful."
– Felix De Bona ('17)