Big East women's soccer 2022 awards and All-Conference teams revealed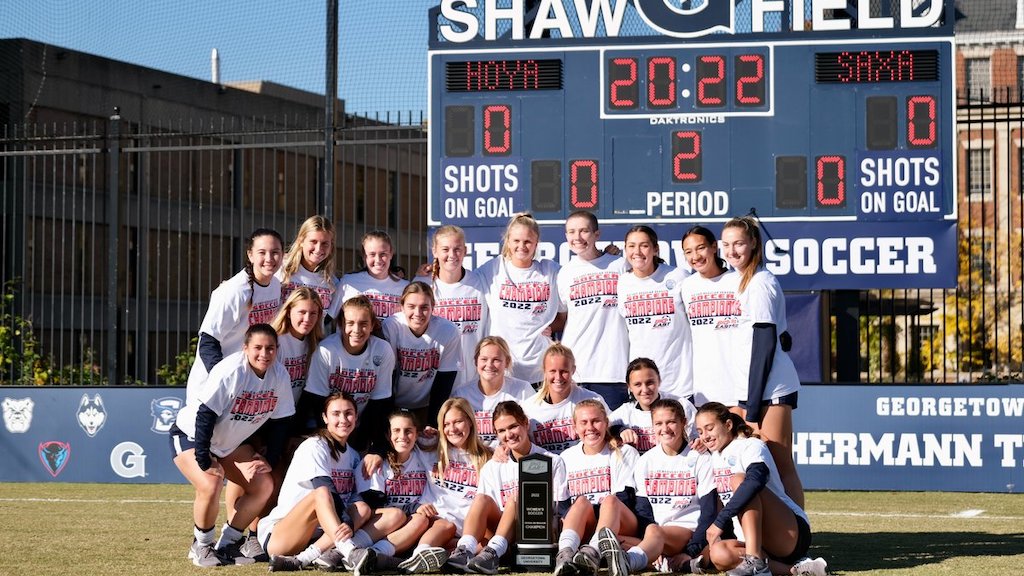 NEW YORK – The BIG EAST Conference women's soccer annual awards have been announced, with regular-season champion Georgetown claiming three of the six major honors.
Hoya senior Julia Leas was unanimously selected BIG EAST Defensive Player of the Year, senior Allie Augur was voted BIG EAST Goalkeeper of the Year, and Georgetown, led by head coach David Nolan, was selected as the BIG EAST Coaching Staff of the Year. Butler redshirt junior Abigail Isger was tabbed BIG EAST Offensive Player of the Year, Xavier graduate student Molly McLaughlin was selected BIG EAST Midfielder of the Year, and Butler rookie Talia Sommer garnered BIG EAST Freshman of the Year.
All-BIG EAST teams and major awards were selected by a vote of the league's head coaches who were not allowed to vote for their own players or coaching staff.
Leas becomes the sixth consecutive Hoya to garner BIG EAST Defensive Player of the Year honors. The senior defender has anchored a back line that has boasted the nation's best shutout percentage at .722. The Hoyas had 13 shutouts this season, with nine of those coming in conference play. Over 10 BIG EAST contests, Georgetown surrendered a league-best two goals in BIG EAST play. Leas also scored three goals this season, with all of them being game-winners, along with two assists.
Augur is the first Georgetown player to win BIG EAST Goalkeeper of the Year since Arielle Schectman won the award in 2018. The senior possesses a league-high average in shutouts per game with 0.86. In the seven conferences matches Augur played in, she registered six shutouts (second in the league) and a .882 save percentage (third in the league). Augur also led the league in goals against average with 0.29 average.
For the first time since the 2018 season, Georgetown earns BIG EAST Coaching Staff of the Year honors. The Hoyas boast an unbeaten conference record of 8-0-2 as they claimed this season's regular-season title. Nolan is in his 19th season with the Hoyas, as Georgetown is in the hunt for its sixth BIG EAST Championship in the last seven years. Georgetown spent most of the season ranked in the United Soccer Coaches Poll as it enters the postseason ranked 18th and was ranked as high as 11th. The Hoyas scored a BIG EAST-best 15 goals in league play and had nine shutouts in 10 conference matches.
Isger becomes the second Bulldog to win BIG EAST Offensive Player of the Year honors, with Paige Monaghan initially garnering the award in 2017. Over 10 league matches, the senior forward finished second in the league in points with 11 and tallied four goals, including two match-winning tallies. Isger's four goals are third in the league and her two match-winning goals are tied for second. Overall, Isger scored eight goals and finished with 20 points, which gave her an averaging 1.18 points per game.
In Xavier's brief history in the BIG EAST, McLaughlin becomes the second Musketeer to be named BIG EAST Midfielder of the Year. McLaughlin earned seven points, three goals and one assist in 10 BIG EAST matches. All three of the midfielder's goals were game-winners along with going 2-2 in penalty kicks in league play. McLaughlin helped facilitate a Xavier offense that had 58 corner kicks over 10 conference matches for an average of 5.80. Overall, she had the second-most shots in the conference with 47 across all matches.
Sommer is the third Butler player to be named BIG EAST Freshman of the Year and the first since Anja Savich won award back in 2017. The freshman forward started all 10 league matches for the Bulldogs and earned 10 points in conference play, which is the most among all BIG EAST freshmen. She also ranks third among all BIG EAST players with 1.00 points per game. Sommer ranks third on Butler with five goals on the year, and second on the team in assists with four.
Due to a tie in voting, a 12-member All-BIG EAST First Team was named, which included Isger, McLaughlin, Augur and unanimous selection Leas. Additional honorees include Butler redshirt senior Katie Soderstrom, Connecticut junior forward Jada Konte, Creighton senior midfielder Aida Kardovic, Creighton junior midfielder Lara Kazandjian, DePaul sophomore forward Katie Godden, Georgetown sophomore defender Eliza Turner, Georgetown senior forward Gia Vicari and St. John's graduate student defender Brooke Boyd.
Butler's Sommer led a 13-person All-BIG EAST Second Team. Additional honorees include fellow Bulldog Aliya Diagne (Sr., D); UConn's Chioma Okafor (Fr., F); Creighton's Jordy Rothwell (Sr., D); Georgetown's Maya Fernandez-Powell (Gr., M) and Natalie Means (Fr., F); Marquette's Elsi Twombly (Jr., F); Providence's Meg Hughes (Jr., F) and Alexis Rothmann (Sr., M); St. John's Jessica Garziano (Sr., M); Villanova's Megan McClay (Gr., GK); and Xavier's Natalie Bain (Fr., D) and Maria Galley (Fr., GK).
A total of 11 newcomers were named to the All-Freshman Team, with Sommer leading a duo of Bulldogs, along with midfielder Amelie Darey. Georgetown (Means, Henley Tippins) and Xavier (Bain, Galley, Regan Dancer) also earned multiple All-Freshman Team slots. UConn forward Okafor, Providence forward Ella McBride, St. John's defender Emily Riggins and Villanova forward Izzy Newton rounded out the team.
BIG EAST Offensive Player of the Year
Abigail Isger, Butler, R-Jr., F
BIG EAST Midfielder of the Year
Molly McLaughlin, Xavier, Gr., M
BIG EAST Defensive Player of the Year
Julia Leas, Georgetown, Sr., D*
BIG EAST Goalkeeper of the Year
Allie Augur, Georgetown, Sr., GK
BIG EAST Freshman of the Year
Talia Sommer, Butler, Fr., M
BIG EAST Coaching Staff of the Year
Georgetown
All-BIG EAST First Team^
Abigail Isger, Butler, R-Jr., F
Katie Soderstrom, Butler, R-Sr., F
Jada Konte, UConn, Jr., F
Aida Kardovic, Creighton, Sr., M
Lara Kazandjian, Creighton, Jr., M
Katie Godden, DePaul, So., F
Allie Augur, Georgetown, Sr., GK
Julia Leas, Georgetown, Sr., D*
Eliza Turner, Georgetown, So., D
Gia Vicari, Georgetown, Sr., F
Brooke Boyd, St. John's, Gr., D
Molly McLaughlin, Xavier, Gr., M
All-BIG EAST Second Team^
Aliya Diagne, Butler, Sr., D
Talia Sommer, Butler, Fr., M
Chioma Okafor, UConn, Fr., F
Jordy Rothwell, Creighton, Sr., D
Maya Fernandez-Powell, Georgetown, Gr., M
Natalie Means, Georgetown, Fr. F
Elsi Twombly, Marquette, Jr., F
Meg Hughes, Providence, Jr., F
Alexis Rothmann, Providence, Sr., M
Jessica Garziano, St. John's, Sr., M
Megan McClay, Villanova, Gr., GK
Natalie Bain, Xavier, Fr., D
Maria Galley, Xavier Fr., GK
All-BIG EAST Freshman Team
Amelie Darey, Butler, Fr., M
Talia Sommer, Butler, Fr., F
Chioma Okafor, UConn, Fr., F
Natalie Means, Georgetown, Fr., F
Henley Tippins, Georgetown, Fr., F
Ella McBride, Providence, Fr., F
Emily Riggins, St. John's, Fr., D
Izzy Newton, St. John's, Fr., F
Natalie Bain, Xavier, Fr., D
Regan Dancer, Xavier, Fr., F
Maria Galley, Xavier, Fr., GK
*denotes unanimous selection
^extra players added due to a tie in voting