Beach FC Academy U-17 Girls advance to US Youth Soccer semifinals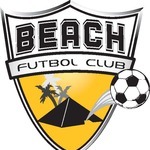 FRISCO, Texas (Via US Club Soccer) – Under-17 Girls Beach FC 98 Academy (CA-S) defeated Carolina Rapids S. Burgundy (NC), 3-1, to move to the top of the division and claim a spot in the 2016 US Youth Soccer National Championships semifinals in Frisco, Texas.
Carolina Rapids had already guaranteed a place in the semifinals after earning wins on day one and two, while Beach needed a tie or a win to move on to the next round. The top spot in the division was up for grabs, however, which the Southern California claimed. Beach head coach Mauricio Ingrassia explained that while the first priority was to secure a semifinals spot, winning the group was incredibly important.
"I thought it was an excellent performance by our girls. We put ourselves in a position to win and clinch the group," Ingrassia said. "We knew a tie or win got us through, but our goal was a win, and we treated it like a quarterfinals match."
+Read: US Youth Soccer National Championships Day 2 Recap
Nadiyah Siqueiros, who tied for third in goals scored during the 2015-16 US Youth Soccer National League season, began the scoring in the 21st minute when a cross was deflected into the box before the Long Beach State University commit finished it off to give her side the 1-0 lead. Beach doubled its lead just two minutes later when University of California, Berkeley commit Whitney Davis volleyed in a corner after the ball bounced around the box.
Carolina Rapids refused to go away, as just moments after hitting the cross bar, University of North Carolina, Wilmington commit Molly McGarry curled in a shot from just outside the box to bring the North Carolina side back within one.
"The competition here is outstanding. We have good competition at home, but this is on another level," Ingrassia said. "You get to see different styles because teams are from different parts of the country, so that really helps our players grow with confidence and grow in knowledge because they have overcome difficult obstacles like we have seen in these three games."
+Read: US Youth Soccer National Championships Day 1 Recap
Tatum Gee gave Beach its second two-goal lead after breaking through down the right flank, cutting past the keeper and calmly finishing into the net to put Beach up 3-1, which would remain the score until the final whistle.
"I told the girls before this game they were three games away from a national title, and now they are two games away," Ingrassia said. "We are really proud of our girls, and we will be ready for Saturday."
Beach FC will play in the semifinals Saturday, July 30 against two-time Region I Champion Beadling Bulldogs (PA-W). Carolina Rapids will take on three-time national finalists YMS Premier Xplosion 98 (PA-E) in the other Under-17 Girls semifinals match.