Atlanta United wins 2018 MLS Cup, defeating Portland Timbers 2-0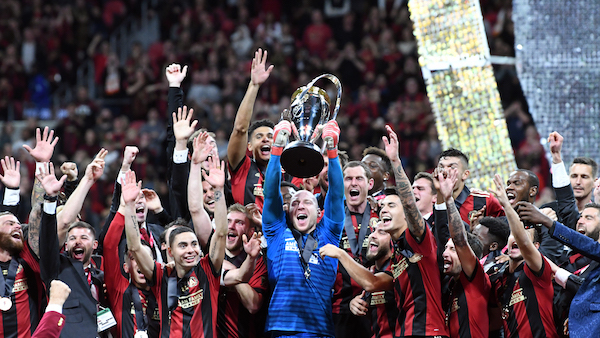 Atlanta United 2 (Martínez 39; Escobar 54)
Portland Timbers 0
Att: 73,019
(Via MLS) – Atlanta United won the MLS Cup title for the first time in just the second season of the club's history. They become the second expansion team in MLS history to win MLS Cup within two years of their formation.
Atlanta United striker Josef Martínez was named the MLS Cup MVP, becoming the fifth player in league history to win Landon Donovan MLS MVP honors and MLS Cup MVP honors in the same year.
2018 MLS Cup drew a crowd of 73,019 to Mercedes-Benz Stadium, the record attendance for MLS Cup and the largest attendance for a standalone, single game of any type in MLS history.
Martínez scored the game-winning goal, the first goal of the game in the 39th minute, and added an assist. He is the third player in MLS Cup history to score a goal and add an assist in the same final (also: Dwayne De Rosario, HOU, 2007; Tony Sanneh, DC, 1997).
Martínez became the second player in MLS Cup history to score a goal in the final in the same year winning the Golden Boot (also: Carlos Ruiz, LA, 2002).
Martinez ended the year with 35 goals from all competitions (31 regular season, 4 MLS Cup Playoffs), the most of any player in a single season in MLS history.
Franco Escobar scored his first career MLS Cup goal in his first MLS Cup Final, his second goal in the MLS Cup Playoffs.
Miguel Almíron recorded an assist, his second in the MLS Cup Playoffs. Almíron has recorded 30 assists combined in both league and MLS Cup play over the last two seasons, the most in MLS.
Michael Parkhurst won his first MLS Cup, appearing in the final for a fifth time. He was a finalist with New England in 2005, 2006, 2007, and Columbus in 2015.
The game went without an attempt at goal until the 23rd minute, the longest without a shot from the start of the game in MLS Cup history.
Brad Guzan was credited with three saves in recording the shutout, the ninth goalkeeper to record a shutout in MLS Cup history.
Guzan won a fourth game in the MLS Cup Playoffs this season. He ended the season with 24 goalkeeper wins on the year (20 league, 4 postseason), tied for the most of any goalkeeper in MLS history (also: Kevin Hartman, LA, 1998, 1999).
Atlanta United did not concede a single goal from open play in the MLS Cup Playoffs. They allowed two goals in five postseason matches – one from a free kick, one from a corner kick.
The road team was shut out for a third consecutive MLS Cup. The last away team to score in an MLS Cup Final was the Portland Timbers, at Columbus in 2015 (now 353 minutes since the last road goal in the final).