American University women's soccer adds Katie Greenberg to coaching staff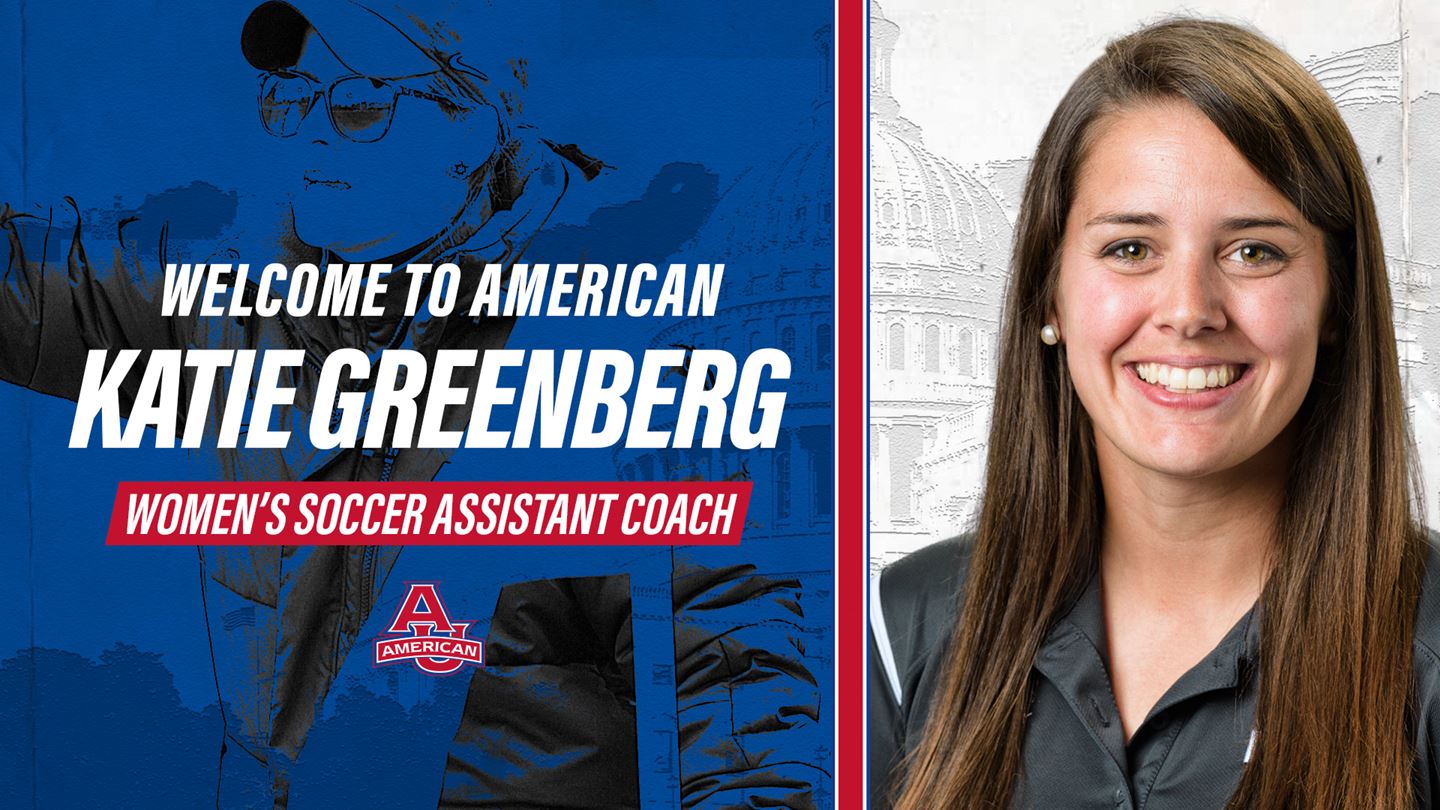 WASHINGTON – Katie Greenberg has been hired as an assistant coach for American University women's soccer, announced head coach Marsha Harper.
Greenberg comes to Tenleytown with eight seasons of Division I coaching experience, including the last five at Purdue University. She is set to begin her duties on Tuesday, March 17.
"I am thrilled to join Head Coach Marsha Harper as we build something special at American University," said Greenberg. "As soon as Marsha was announced as the Head Coach at AU, I knew I wanted to be a part of her staff – her passion and enthusiasm for developing student-athletes both on and off the field is undeniable. I am so inspired by her vision for the program and can't wait to get started!"
At Purdue, Greenberg coached the goalkeepers and also served as the coordinator of Purdue's youth soccer camps. She was part of a staff led by Drew Roff that saw the greatest turnaround in program history, as the Boilermakers won 10 games in 2017 and returned to the Big Ten Tournament for the first time since 2009.
"I would like to thank my Purdue Soccer family, especially Drew Roff and Jim Schneiderhahn, for their support and guidance through the early stages of my coaching career," added Greenberg. "I would not be where I am today without them. I look forward to bringing my experiences from both Purdue University and Illinois State University to the American University family. Go Eagles!"
Prior to her time in West Lafayette, Greenberg spent three seasons at Illinois State University, also working under Drew Roff. Greenberg helped the Redbirds to three straight Missouri Valley Conference Tournament championships and three consecutive NCAA Tournament appearances.
"From the moment I was hired here at AU, I knew that I wanted to craft a very particular staff to help me quickly create sustained success on and off the field," said Harper. "That being said, Katie has an impressive understanding of the game tactically and has proven success in all aspects at the highest collegiate level – both as a player and a coach. Most importantly, she has an ability to connect with the student-athletes in a special way that will help make an immediate impact on our program and the AU community alike. I am honored to have Katie standing next to me as we turn the page for AU Women's Soccer."
As a player at Ohio State University, Greenberg helped lead the Buckeyes to a share of the Big Ten title in 2010 and an appearance in the national semifinals at the NCAA College Cup. She was the starting goalkeeper as OSU posted shutouts against St. Francis (Pa.), Dayton and Georgetown in the NCAA Tournament that year and was named to the College Cup All-Tournament team for her performance. The following season, she started every game as the Buckeyes advanced to the Sweet Sixteen of the NCAA Tournament.
A native of nearby Sterling, Va., she holds a USSF National "B" License and earned a master's degree in sport psychology from Illinois State.