All USA matches at FIFA U-17 Women's World Cup to air on FOX Sports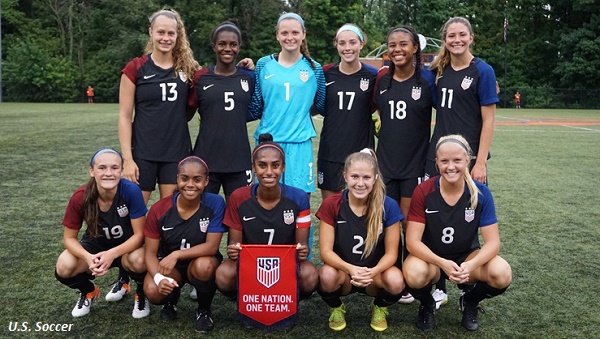 CHICAGO (Via U.S. Soccer) – The U.S. U-17 Women's National Team will televise all the matches at the 2016 FIFA U-17 Women's World Cup across the networks of FOX Sports. The USA begins Group D play this Saturday, Oct. 1, when it faces Paraguay at 11:55 a.m. ET on FOX Soccer Plus with Mark Rogondino and 1999 U.S. Women's World Cup champion Shannon MacMillan on the call.
The 2016 FIFA U-17 Women's World Cup in Jordan, the first FIFA women's competition to take place in the Middle East, will see FOX Sports televise all 32 tournament matches on FS1, FS2 and FOX Soccer Plus. All matches are also available for live and on-demand streaming via the FOX Sports GO app and online at FOXSportsGO.com and on-demand at FOXSoccer2Go.com. Fans can enter a free promo code to watch the games on the FOXSoccer2Go.com registration page when prompted. The promo code is "U17WNT" and can be activated fromSept. 30-Oct. 31.
+NCAA Women's Soccer Commitment Announcements: September 2016
The USA's first Group D match against Paraguay will be played at Prince Mohammed International Stadium in Al Zarqa (11:55 a.m. ET; FOX Soccer Plus). The U.S. will then take on Ghana on Oct. 4 at King Abdullah II International Stadium in Amman (8:55 a.m. ET; FS2) and will finish group play on Oct. 8 against Japan at Amman International Stadium (11:55 a.m. ET; FS2).
The 2016 FIFA U-17 Women's World Cup will feature 16 teams, with the top two finishers in each group advancing to the quarterfinals. Should the U.S. advance to the second round by winning the group, it would meet a second-place team from Group C. If the USA finishes second in the group, it would face the first-place team from Group C.
Group A features Jordan, Spain, Mexico and New Zealand. Group B features Venezuela, Germany, Cameroon and Canada. Group C features Nigeria, Brazil, England and Korea DPR.
FOX Sports' broadcasters for the tournament include a rotation of announcers who were part of FOX Sports' 2015 Women's World Cup coverage. In addition to MacMillan, former U.S. Women's National Team players Angela Hucles and Danielle Slaton, who captained the U.S. Women's U-16 Team from 1996-1997, will provide color commentary.
2016 FIFA U-17 Women's World Cup TV Schedule:
Date
Time (ET)
Match
Network
Friday, Sept. 30
7:55 AM
Venezuela vs. Germany
FS2
Friday, Sept. 30
9:55 AM
Mexico vs. New Zealand
FS2
Friday, Sept. 30
10:55 AM
Cameroon vs. Canada
FOX Soccer Plus
Friday, Sept. 30
12:55 PM
Jordan vs. Spain
FOX Soccer Plus
Saturday, Oct.1
8:55 AM
Nigeria vs. Brazil
FS1
Saturday, Oct.1
8:55 AM
Ghana vs. Japan
FOX Soccer Plus
Saturday, Oct.1
11:55AM
USA vs. Paraguay
FOX Soccer Plus

Saturday, Oct.1

5:00PM

/1:00AM
England vs. Korea
FOX Soccer Plus/FS2
Monday, Oct. 3
8:55 AM
Spain vs. New Zealand
FS2
Monday, Oct. 3
8:55 AM
Venezuela vs. Cameroon
FOX Soccer Plus
Monday, Oct. 3
11:55AM
Germany vs. Canada
FS2
Monday, Oct. 3
11:55AM
Jordan vs. Mexico
FOX Soccer Plus
Tuesday, Oct. 4
8:55 AM
USA vs. Ghana
FS2
Tuesday, Oct. 4
8:55 AM
Nigeria vs. England
FOX Soccer Plus
Tuesday, Oct. 4
11:55AM
Brazil vs. Korea
FS2
Tuesday, Oct. 4
11:55AM
Paraguay vs. Japan
FOX Soccer Plus
Friday, Oct. 7
8:55 AM
Spain vs. Mexico
FS2
Friday, Oct. 7
8:55 AM
New Zealand vs. Jordan
FOX Soccer Plus

Friday, Oct. 7

5:00PM

/3:00AM
Germany vs. Cameroon
FS2/FOX Soccer Plus
Friday, Oct. 7
11:55AM
Canada vs. Venezuela
FOX Soccer Plus
Saturday, Oct. 8
8:55 AM
Brazil vs. England
FS1
Saturday, Oct. 8
8:55 AM
Korea vs. Nigeria
FS2
Saturday, Oct. 8
11:55AM
Japan vs. USA
FS2
Saturday, Oct. 8
5:00PM
Paraguay vs. Ghana
FS2
Wednesday, Oct. 12
8:55 AM
Quarterfinal
FS2
Wednesday, Oct. 12
11:55AM
Quarterfinal
FS2
Thursday, Oct. 13
8:55 AM
Quarterfinal
FS2
Thursday, Oct. 13
11:55AM
Quarterfinal
FS2
Monday, Oct. 17
8:55 AM
Semifinal
FS2
Monday, Oct. 17
11:55AM
Semifinal
FS2
Friday, Oct. 21
9:55AM
Third place
FS2
Friday, Oct. 21
12:55PM
Final
FS2