ACC women's soccer Preseason Rankings and All-Conference Team revealed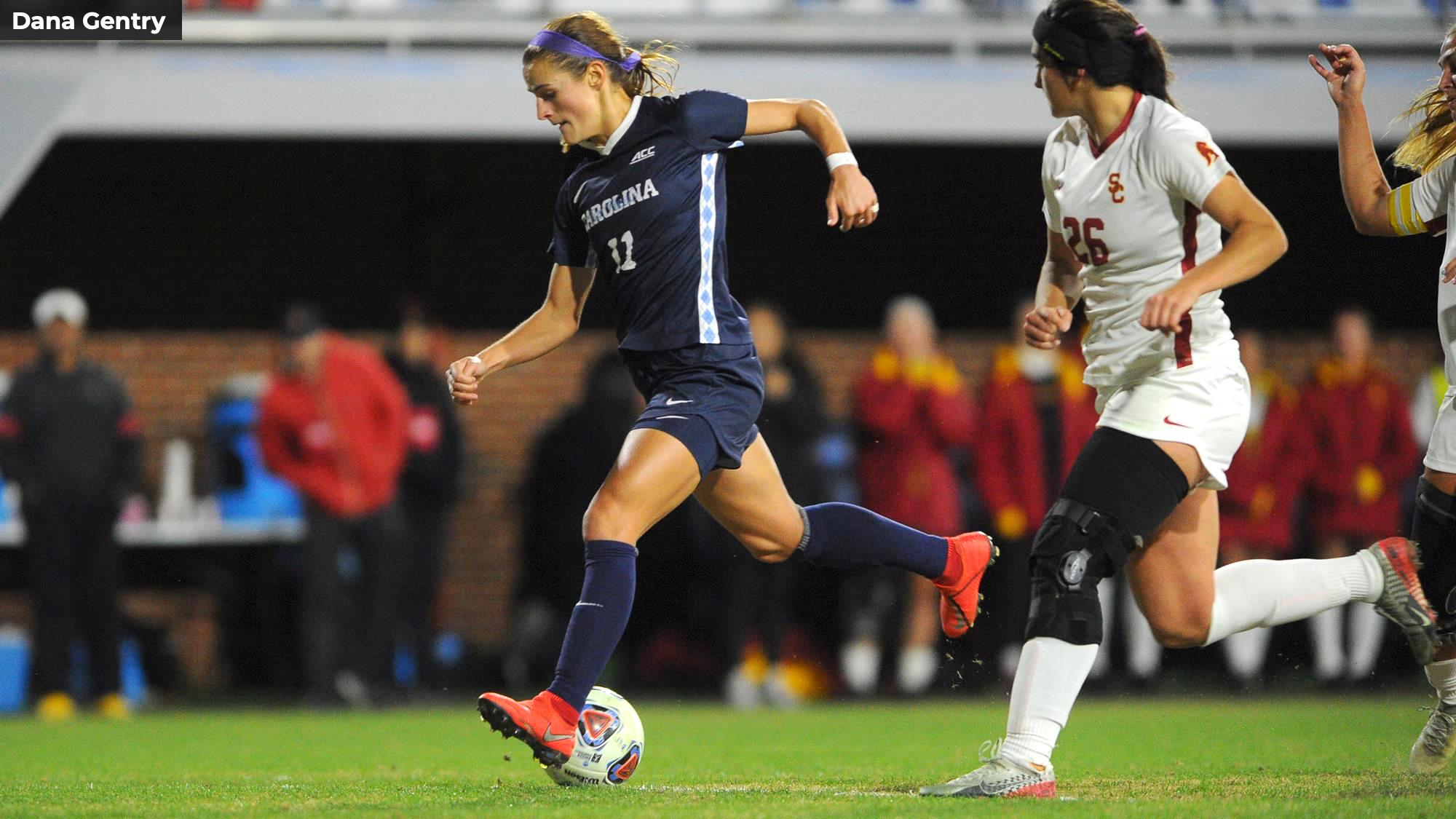 GREENSBORO, N.C. – After winning the Atlantic Coast Conference regular season and tournament championship last year, North Carolina has been voted the preseason favorite to win the ACC women's soccer title by the league's head coaches.
The Tar Heels, who advanced to their 29th NCAA Women's Soccer College Cup last season and played for the National Championship, received eight first-place votes and tallied 129 points.
Florida State collected three first-place votes and 123 points to finish second in the voting, while Virginia earned 113 points and two first-place votes to occupy third. Duke and Clemson round out the top five with 98 and 86 points, respectively.
Just two points separated Notre Dame and Louisville in the poll, as the Fighting Irish claimed sixth (79) in the ranking and the Cardinals were seventh (77). Virginia Tech was picked eighth, followed by Wake Forest, Pitt, Boston College, Miami and Syracuse.
All 11 members of the preseason All-ACC Team were named to one of the league's 2019 all-conference teams, headlined by Florida State's Malia Berkely, the ACC's Defensive Player of the Year, and North Carolina's Maycee Bell, the conference's Freshman of the Year.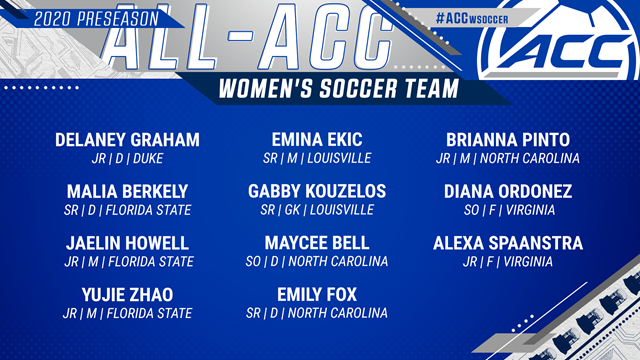 Six first-team selections and five second-team honorees from last year make up the preseason All-ACC Team.
The fall season will kick off on Thursday, Sept 10, with Wake Forest traveling to Duke for a non-conference tilt, while Pitt battles Appalachian State. Conference play begins on Thursday, Sept. 17, with six matches.
Each of the ACC's 13 teams will play eight conference matches this season with an even split of home and away matches (four each). Due to a combination of injuries and not all its members returning for the semester, NC State will not compete this fall.
The top eight teams in the final league standings will advance to the ACC Championship, which is planned to be played in its entirety at WakeMed Soccer Park. Quarterfinal matches are set for Tuesday, Nov. 10 with the semifinals on Friday, Nov. 13, and the final on Sunday, Nov. 15.
2020 ACC Women's Soccer Preseason Coaches Poll
North Carolina – 129 (8 First-Place Votes)
Florida State – 123 (3)
Virginia – 113 (2)
Duke – 98
Clemson – 86
Notre Dame – 79
Louisville – 77
Virginia Tech – 64
Wake Forest – 50
Pitt – 42
Boston College – 35
Miami – 27
Syracuse – 13
2020 Women's Soccer Preseason All-ACC Team
Delaney Graham, Duke, Jr., D
Malia Berkely, Florida State, Sr., D
Jaelin Howell, Florida State, Jr., M
Yujie Zhao, Florida State, Jr., M
Emina Ekic, Louisville, Sr., M
Gabby Kouzelos, Louisville, Sr., GK
Maycee Bell, North Carolina, So., D
Emily Fox, North Carolina, Sr., D
Brianna Pinto, North Carolina, Jr., M
Diana Ordonez, Virginia, So., F
Alexa Spaanstra, Virginia, Jr., F