ACC men's soccer preseason rankings and watch list unveiled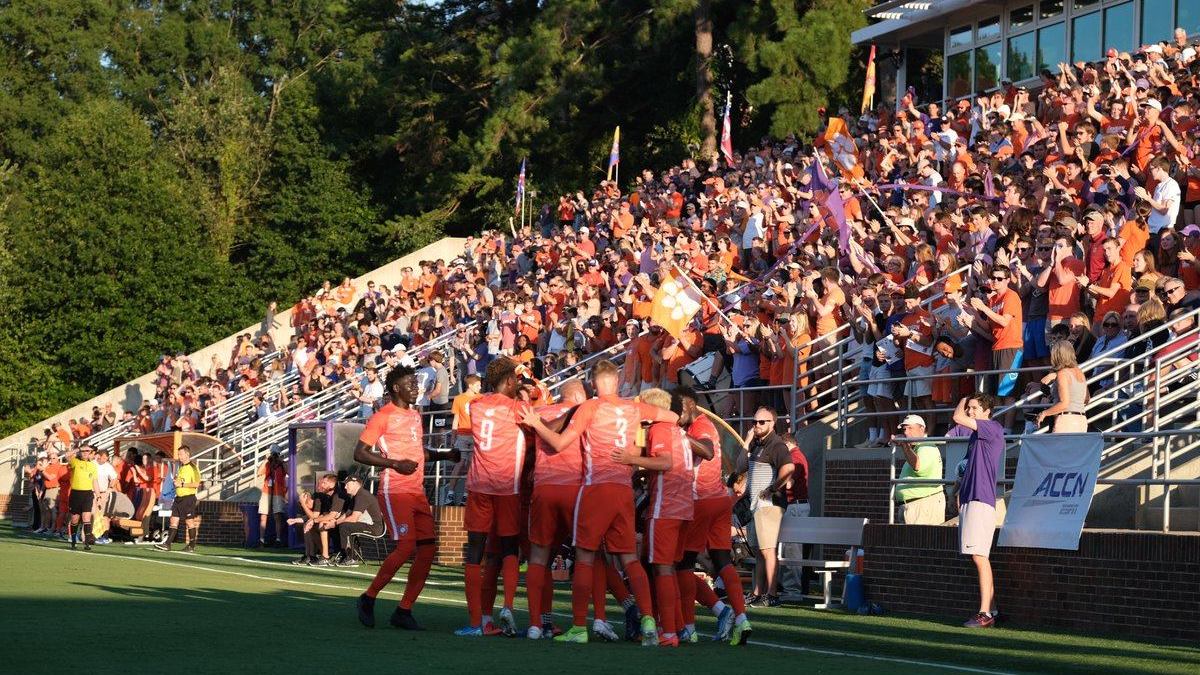 GREENSBORO, N.C. – Clemson has been tabbed as the preseason favorite to win the 2020 ACC Men's Soccer Championship following a vote of the league's head coaches.
Clemson edged out Wake Forest by one vote as the overall conference favorite and by one point as the South Region favorite. Receiving first-place votes from nine of 11 coaches, Virginia was picked as the favorite in the North Region ahead of Pitt.
An NCAA Quarterfinalist last season, Clemson finished with 45 points and five first-place votes to top the preseason South Region predictions. Wake Forest, which advanced to the NCAA College Cup in 2019, also received five first-place votes and racked up 44 points. North Carolina received the other first-place vote in the region and finished third in the projections with 33 points. NC State (21 points) and Duke (17) rounded out the South Region.
The reigning ACC Champion and NCAA Runner-Up, Virginia finished a distant first with 59 points in the North Region. Pitt received the other two first-place votes and was second with 44 points. The other teams in the North Region were bunched closely among Virginia Tech (35), Syracuse (30), Louisville (29) and Notre Dame (28).
This fall, ACC teams will play in two regions in an altered league schedule this season, with six conference games against regional opponents over a nine-week period. Due to a combination of injuries and not all of its members returning for the semester, Boston College will not compete this fall.
The 2020 ACC men's soccer fall season officially gets underway on Friday, Sept. 18, when Clemson plays host to Wake Forest. An eight-team ACC Championship will begin Sunday, Nov. 15, and continue with the semifinals on Wednesday, Nov. 18. The four North Carolina institutions will serve as quarterfinal and semifinal venues. The championship game is planned for Sunday, Nov. 22, at WakeMed Soccer Park in Cary, North Carolina.
2020 ACC Men's Soccer Preseason Coaches' Poll
North Region
1. Virginia (9), 59
2. Pitt (2), 44
3. Virginia Tech, 35
4. Syracuse, 30
5. Louisville, 29
6. Notre Dame, 28
South Region
1. Clemson (5), 45
2. Wake Forest (5), 44
3. North Carolina (1), 33
4. NC State, 21
5. Duke, 17
Overall Champion
Clemson, 5 votes
Wake Forest, 4
North Carolina, 1
Virginia, 1
First-place votes in parentheses
2020 ACC Preseason Watch List
Kimarni Smith, Senior, Forward, Clemson
Jack Doran, Graduate, Midfielder, Duke
Pedro Fonseca, Junior, Forward, Louisville
Alec Smir, Junior, Goalkeeper, North Carolina
George Asomani, Senior, Midfielder, NC State
Jack Lynn, Junior, Forward, Notre Dame
Edward Kizza, Senior, Forward, Pitt
Sondre Norheim, Senior, Defender, Syracuse
Nathaniel Crofts, Senior, Forward, Virginia
Kristo Strickler, Senior, Forward, Virginia Tech
Michael DeShields, Senior, Defender, Wake Forest